As compiler of the English Premier League Injury Table on PhysioRoom.com, I often get asked questions about the rehab of Premier League football players, whether it be on the PhysioRoom.com site, via @physioroom on Twitter, PhysioRoom.com Facebook page or in my regular appearances on Talksport.
The picture below shows the rehab facility at Manchester Cityֳ Carrington training ground and gives an insight into how professional footballers are supported as they undergo rehabilitation following injury.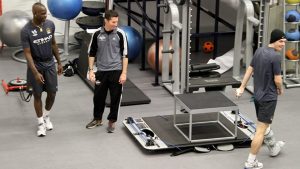 On the left, as part of his recovery from a knee injury, Mario Balotelli is doing some resistance work (they havenִ tied Mario down to keep him in the rehab room!) under the supervision of American specialist, Bill Knowles.
On the right of the picture, you can see England international, Adam Johnson, who is wearing an Aircast XP Walker which allows him to walk on the injured left ankle, giving him mobility despite his injury. The Aircast XP Walker gives the ankle the same level of support and protection as a plaster cast, while providing compression to speed up healing. It is also more hygienic, as it can be removed for bathing.
You can also see medicine balls and Swiss balls, which are typically found in most Premier League clubsՠrehab facilities. Medicine balls are used to build up strength after injury and Swiss balls for core strengthening.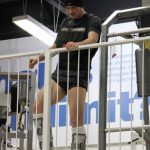 In the second photo, you can see that Adam Johnson is now wearing an Aircast XP Walker on both ankles, enabling him to do more intensive rehab, while protecting him from further injury.