I hate Fantasy Football! Itֳ not because itֳ a bad game. Itֳ due to the fact I֭ absolutely rubbish at it. I mentioned in a previous blog (which you can read here) that whatever transfers I make they never work out for me. This is also true when I play my wildcard (in the game we play, a wildcard is where you can make as many transfers as you like).
You are likely to ask what sort of idiot would play their wildcard and not bring in Wayne Rooney? ME!!! Which unfortunate sole removed Sergio Aguero from their team this week when he scored a hat-trick? Yeah, youֶe guessed right. I removed Sergio Aguero for Edin Dzeko. In my defence who֤ have thought Roberto Mancini wouldֶe dropped Edin Dzeko after his four goal haul against Tottenham in his last match? Certainly not I.
I made two further changes to my strike-force which actually did work out for me. I brought in Emmanuel Adebayor and Daniel Sturridge who both scored goals. In my midfield I had David Silva and Samir Nasri who got three assists between them. With Nathan Dyer coming in for Edin Dzeko the rest of my team scored me a whopping 11 points between seven players. Cheers lads. The other mistake I made was leaving Ryan Shawcross on my bench who kept a clean sheet despite Liverpoolֳ 78% possession.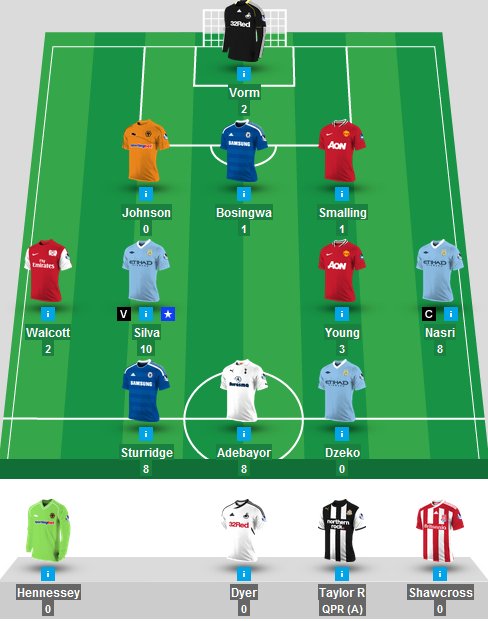 At the top of the PhysioRoom Fantasy Football league Stuart Mills is still sitting pretty. Letֳ just say he didnִ have the greatest of weeks scoring an almighty 37 points and picking up the award for the lowest points this week (please note there isnִ an award Stuart).
Again, scoring the most points in consecutive weeks is Sean Watson. He had Rooney as his captain (hat trick and 34 points), Sergio Aguero (hat trick and 17 points and John Terry (goal scoring defender 11 points) who got most of his points. If he continues on that charge he֬l certainly be at the top of the table before long.
Last weekֳ bottom of the table Stephen Jacques also had a marvellous week scoring 75 points. Again he had Sergio Aguero as his captain and John Terry. He also had Vincent Kompany and Wojciech Szczesny (the most difficult name in the world to spell…fact!!!) who both kept clean sheets.
Our Managing Director Peter Lilley and ӥxpertӠat Fantasy Football complained to me about the fact I mocked his team last week. Well, Pete I wonִ do it this week. I definitely wonִ mention the fact you would be bottom if it wasnִ for David Gent joining the league this week.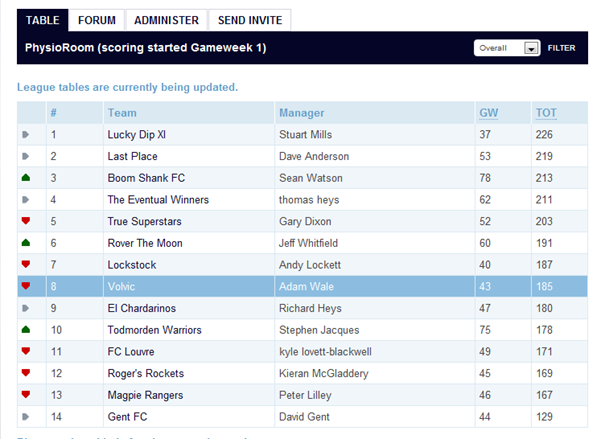 I know there is still a game to be played this game week with QPR V Newcastle United on Sky at 8pm tonight, but I have no players in. So, quite frankly I donִ care about it. One thing to note is I had Adel Taarabt in my team until this week. Heֳ guaranteed to score at least 27 goals.
Iֶe already made my transfers this week. Why Iֶe made the changes so early, God only knows. Iֶe replaced Theo Walcott and Edin Dzeko and brought in Matt Jarvis and Sergio Aguero. I֭ sorry for those who have them in their teams.
Donִ forget to check out PhysioRoom.comֳ English Premier League Injury Table before you make any transfers.ʠIncidentally Bolton Wanderers are at the top of that league.ʠThe big injury over the weekend was poor Tom Cleverleyֳ foot injury.ʠLuckily it doesnִ appear to be broken, but he֬l be out for around four weeks.ʠHe left the Reebok stadium on crutches and was sporting a walking brace.