Knee Braces – A Brief History
Knee braces and supports are one of the most vital aspects of knee injury treatment and rehabilitation. Being able to run, turn, stop and start again is absolutely crucial to being successful in your chosen sport. That's why braces and supports can make all the difference when it comes to preventing injury. There's also no coincidence that when recovering from injury, be it short or long, you'll find sports men and women across the world taking advantage of the latest in brace and support technology.
That hasn't always been the case, however. Using braces for the treatment or prevention of injury is a relatively new phenomenon. The first known example of a brace being used in the sporting world was back in 1967, when Dr. Robert F. McDavid Jr. invented a lateral knee brace with the intention of preventing injury, or more specifically, the relapse of previous injury.
During the 1967-68 NFL season, including the grand finale, the Superbowl. One of the sport's most famous faces, Hall of Fame quarterback Joe Namath famously wore a knee brace designed by Jack Castiglia and noted physician Dr. James Nicholas. The brace afforded Namath enough comfort to play, despite being constantly hit with knee injuries. Such is the fame of the knee brace, it is now on display in the Pro Football Hall of Fame.
Knee braces have come a long way since those days, but the idea remains the same. Knee braces and supports now come in different shapes, sizes, intentions and benefits.
So let us here at PhysioRoom provide you with a quick guide to the world of knee braces to clear up those what's, why's and where's. Alternatively, if you have had knee surgery we have a guide on returning to sport after a knee injury.
First let's ask, what level of support do you need?
We'll break it down in to three categories.
Basic
Basic level braces are perfect for ongoing conditions that may require a low level of support. They are best used in the short term for minor injuries and sprains/strains while longer term use is appropriate for ongoing knee conditions that cause mild to moderate pain.
They will usually be pull over supports made of elastic or neoprene that mould to the users body part and provide compression. Alternatively, they could be wrap around supports that are usually secured by Velcro.
Most of our braces will provide you with information as to which conditions they can help, but as a general guide, here are some conditions that are most likely to be appropriate for basic level braces:
Mild Knee Pain
Sprains
Arthritis
Patellar Tendonitis
Cartilage Irritation
Bursitis
Runners Knee
Chondromalacia Patella
Osgood Schlatters
Knee Swelling
If you need a knee support, take a look at our full range of great quality knee supports.
Advanced
Advanced level braces are great for providing moderate support and protection to the conditions that are most commonly responsible for knee pain. They are appropriate for short term use after injury and can be used longer term with ongoing knee problems causing moderate pain.
Most of the braces at this level of protection are the wrap-around style with adjustable straps made of Velcro, which means you can get an accurate fit and level of compression.
Typically, they will feature a hole on the front where the kneecap is in order to help support the kneecap and improve patella tracking while not putting too much pressure through the actual patella or knee bursa.
Thinner knee straps may fall in to the more advanced protection, and are helpful for such conditions as runner's knee. Take a look at our range of hinged knee braces.
Most of our braces will provide you with information as to which conditions they can help, but as a general guide, here are some conditions that are most likely to be appropriate for advanced level braces:
Sprains
Arthritis
Ligament Injuries
Runners Knee
Osgood Schlatters
Chondromalacia Patella
Patellar Tendonitis
Cartilage Irritation
Bursitis
Elite
What are considered 'elite' level supports are pieces of equipment such as orthopaedic knee braces, which provide the maximum support and protection for moderate or more severe knee pain and instability. Mostly they're used after serious knee injuries or after surgery.
These braces offer more protection than the simpler basic pull-up sleeves or wrap around braces. They'll usually contain hinges which offer lateral stability and stop the knee hyper-extending.
Braces such as orthopaedic ones usually have two to four Velcro straps to ensure a personalised and accurate fit. Which is especially handy for controlling compression levels depending on the presence of swelling.
Most of our braces will provide you with information as to which conditions they can help, but as a general guide, here are some conditions that are most likely to be appropriate for elite level braces:
Cartilage Tears
Arthritis and Chronic Weakness
Ligament Injuries(major knee instabilities)
ACL Repair
For an even more in-depth look, let's take a look at the braces by style:
Pull up
The simplest type of support, the pull-up knee sleeve can offer support to the knee area while giving compression and warmth.
The key to how simple they are is really in the name, all you have to do is pull it up over your foot.
They're great for the first few days after a minor injury, as well as towards the end of a rehab period of a more serious injury when activity is increased.
Variations:
Open-Sleeve – Open sleeves will have a hole at the front where the kneecap is. This reduces pressure on the kneecap and allows the knee to breathe.
Built-in Stabiliser – Some may have built-in stabilisers that will provide extra support for injuries such as mild ligament damage.
Here's a selection of knee sleeves from our range that you might find useful:
PhysioRoom.com Elite Knitted Snug Series Knee Support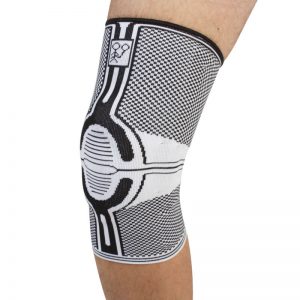 The Snug Knee Support with Spiral Soft Stay is a high quality hinge-free knee brace, which provides comfortable and stable support for a range of knee injuries such as cartilage injuries, mild arthritis and collateral knee ligament injuries.
PhysioRoom.com Neoprene Patella Knee Support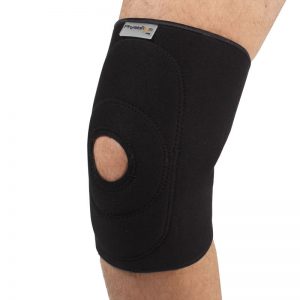 This high quality patella knee support has been made from high grade closed-cell neoprene sponge, which has been covered with highly flexible stretched polyester fibres to provide superior comfort, support and protection to your knee, this helps to relieve knee pain and swelling without adding pressure to the knee cap.
Wrap
Knee wraps, more often than not with adjustable Velcro straps, are a simple-to-use solution when you're looking for basic or advanced support for common causes of knee pain.
The straps mean they offer a unique fit and will often stay in place better than pull-up support. It also means they can be adjusted for swelling and that one size fits all.
Variations:
Basic – The more basic version of the wrap with straps, suitable for conditions like mild knee sprains, tendonitis, bursitis, cartilage irritation and arthritis. Conditions that require only a low level of support.
Advanced – Some wraps will be able to provide a moderate level of support and will be suitable for conditions such as sprains/ligament tears, arthritis, cartilage tears, runners knee, chondromalacia patella, osgood schlatters and patellar tendonitis.
PhysioRoom.com Neoprene Stabilising Knee Support

The PhysioRoom.com Neoprene Stabilising Knee Support is an ultra-comfortable hinge-free knee brace that provides support for cartilage injuries, mild arthritis and collateral knee ligament injuries.
McDavid Neoprene Ligament Knee Support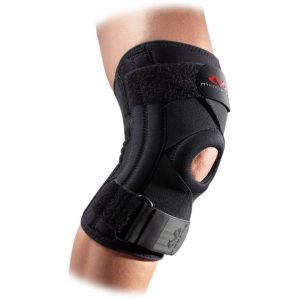 Improves knee stability during sports following cartilage, medial (inside) and lateral (outside) ligament injuries. Two horseshoe buttresses, two medial and two lateral stays, plus an open kneecap provide support and ventilation without the restriction of a metal hinge.
Hinged
Hinged braces offer more stability and protection than the more simple wraps and sleeves and are one of the best ways to reduce knee pain and instability.
The hinges offer lateral stability and stop the knee hyper-extending, making them a great option for ligament injuries.
They're also a good option for arthritis, cartilage problems and general weakness and instability that needs moderate support, leading to a much more comfortable experience when performing day to day activities or sport.
The handy thing about hinged braces is that they can be locked at different  angles of flexion and extension, meaning you can have controls over how far your knee is able to bend. This makes the hinged knee brace versatile, especially for those recovering from surgery.
Hinged braces are capable of being used for anything from everyday activities up to sport, providing maximum protection in the process.
PhysioRoom.com Elite Hinged Knee Brace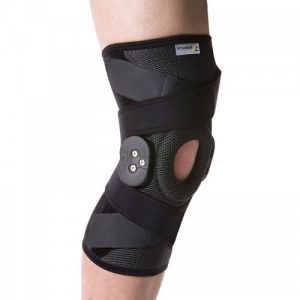 A high quality knee brace, designed for the treatment of knee ligament injuries and cartilage tears. Provides excellent support and fits beautifully. Ideal for the stiff, weak or painful knee and as a rehabilitation knee brace following knee injuries.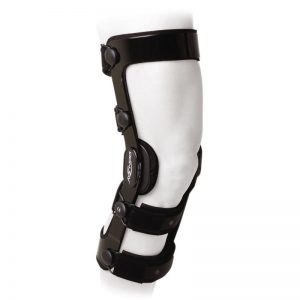 Ideal for rehabilitation of all knee ligament and cartilage injuries for active, sedentary and adolescent patients. Also ideal for support when returning to sports.
Knee Strap
Knee, or patellar straps are applicable for a number of knee injuries and are simple but extremely affective.
You may often see these straps referred to as jumper's knee straps, that's because they're perfect for jumper's knee.
But patellar knee bands can be used for a number of different knee problems. They are designed to apply pressure to the patella tendon and support the kneecap, improving patella tracking (movement) as a result. This pressure helps reduce the forces going through the kneecap.
The patellar strap is perfect for the use of Osgood schlatters, patellar tendonitis (jumpers knee), runners knee and chondromalacia patella. Not only that but they're handy for general anterior knee pain around the patella.
There's also the double knee strap which works well for iliotibial band syndrome.
Check out the patella straps we have in store below:
PhysioRoom.com Elite Jumpers Knee Patella Strap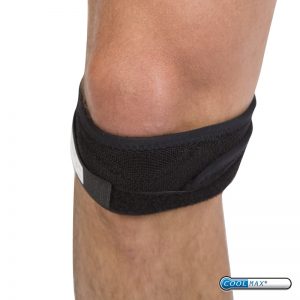 The patella strap is a high quality adjustable knee strap that has been designed to help provide relief from the symptoms of patella tendonitis (jumpers knee) and osgood schlatters disease. The patella strap provides adjustable and comfortable compression, while the hook and loop closures adjust for an easy, custom fit.
Ultimate Performance Ultimate Runners Knee Strap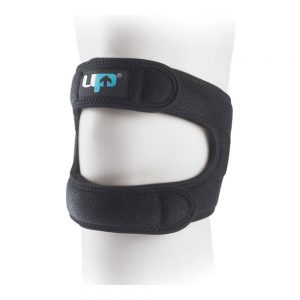 The three way compression provided by this strap gives relief against numerous knee complaints including arthritis, patella tendon pain and runner's knee. If you think you might have runners knee, read more about it on our article which talks all about runners knee. We also have a range of  knee supports for running.
Please note that all advice offered is of a general nature, you should contact your doctor or chartered physiotherapist before purchasing braces.