As I recovered from my sprained ankle, I gradually reduced the wearing of an ankle support, until I wasnִ wearing it at all for speed sessions on the road and gentle training runs off road, but was not sufficiently confident to leave my ankle unsupported during longer or harder training sessions on the fells.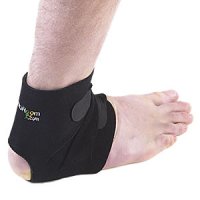 Despite my sprained ankle, I managed to train hard during the last two weeks of February, as I prepared for my biggest test of 2011, to date РLong Mynd Valleys Fell Race, the first race of the English Fell Racing Associationֳ 2011 Championship. This was to be my maiden championship race in the veteransՠ(V60) category and, having set myself the target of winning a medal at the beginning of the year, I was keen to get my campaign off to a good start.
In my only other attempt at Long Mynd, in 2001, I had clocked 2 hours 9 mins, quite slow for an eleven mile race, but this race is a brute. It starts with two short(ish) steep climbs before several miles of fast running, interspersed with more short climbs. However, the majority of the ascent comes in the last 4 miles in the form of three monster climbs.
Sunday, 6th March dawned cloudy but mercifully fine, following a period of frequent rain, which had left the valleys muddy and slippery, so I took the precaution of wearing an ankle support on my sprained ankle. Almost 500 runners congregated in the picturesque Carding Mill Valley, before speeding up the first 400m of tarmac and onto the steep hillside.ʠAfter a fast start (not my normal style), I ran strongly in the middle part of the race and was feeling OK as the first of the final climbs loomed. Although a bit tired, I climbed all three strongly, gradually picking off competitors on the climbs and equally steep descents.
Chasing a group on the final descent, I went over on my left (sprained) ankle and, after an expletive had left my lips, offered a silent prayer for my trusty ankle support. ˁ strong finishing burst brought me home in 132nd place in a time of 2 hours 3 minutes; 6 minutes faster than 10 years ago and only 90 seconds behind the V60 category winner (& gold medallist for the last 2 years) Рthe nearest I have been to him in any race. A good start.
Tired but happy, I returned home, where an inspection of my ankle revealed no further swelling. It was just a bit sore & weak again. Back to the wobble cushion and rehab exercises!