Wimbledon may just have finished and British hearts broken again. In four hours of hard hitting tennis Federer won again and left Andy Murray in tears.
Both players are amazing athletes. They are able to play the game with such speed and intensity for hours and then come back the next day and do it again.
To do this their bodies need to be at the peak of physical perfection. Thanks to modern rackets the ball moves quicker so the modern player has to be fast and agile as well as skilful.
Because he trains so hard it is widely acknowledged that Murray is one of the fittest men on the tour.
Strength
Murray splits his training time between tennis practice and gym work. He has said, Ӆarlier in my career I used to spend a lot of my time practising tennis. Now Iֶe learnt that itֳ better to do just a couple of hours on court and two gym sessions a day.Ԝn
His strength workout includes weight lifting, jumping exercises, medicine ball throwing and lunges.
One exercise he does is to jump on and off a one metre high box. This is clearly done to strengthen the knees because tennis players like skiers and footballers put a lot of pressure on their knees. The sudden changes of direction can lead to knee ligament damage.
His core body strength has to be good but tennis players tend not to be muscle bound as they also need to be quick and adept at getting the ball back. Muscle is heavier than fat so they need to be strong but they also need to be lithe as well.
Speed
To make sure he can run down the balls and get them back Murray has to work on his speed. As an athlete he spends many hours running on the track.
As a tennis player he needs to have the explosive burst of the sprinter combined with the stamina of the distance runner. He will start off by running a mile followed by some 400m runs. In between runs he will be stretching his muscles.
The running helps to improve lactic acid removal so that he can run faster for longer.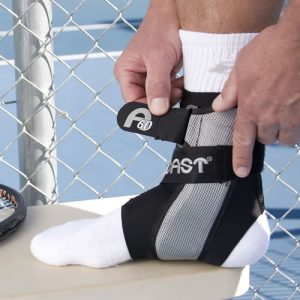 Murray does suffer with his ankles and during the final there was concern when he slipped and fell. He does wear ankle supports on both ankles to protect them. Like Federer he has also had back problems and at the French Open needed help from the physio.
Hopefully, next year or at the Olympics in a few weeks time all this hard work will pay off for Murray and he will finally win.