Five Items to Enhance your Yoga Experience
One of the best selling-points for doing Yoga is that you don't need an awful lot of equipment to do it.
But another aspect of yoga is its dynamism, the way even slight adjustments to a tricky pose or position can change what muscles it effects and how.
That's why it's beneficial to expand on your yoga repertoire with some handy, not to mention cheap, items!
We looked at five items from our range of Yoga-specific products, making notes as we went as to the benefits of these products and how they can be incorporated in to your routine…
Let's take a look…
Yoga Mat
On first glance, this is a fairly obvious suggestion, although it's entirely possible to practice yoga just about anywhere without the need for a mat.
However, yoga mats naturally offer a comfortable and cushioned platform to make it that bit easier to get stuck in anytime, anywhere. A non-slip design will strengthen your grip as well as ensure that getting sweaty won't affect your ability to support yourself.
Here's a couple of options: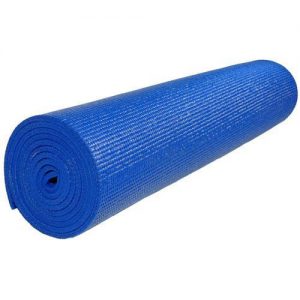 The PVC Yoga Mat provides a cushioned, non-slip workout space to stretch, exercise and take a break. Durable yet lightweight, this mat can be taken anywhere.
It is designed for gymnastics, aerobics and use at gyms and fitness clubs during Yoga and Pilates classes.
Produced to the highest standard, the PVC Yoga Mat is instantly ready to use. Its non-slip surface gives added peace of mind during exercise allowing for extra stability and a soft surface to work on.
The Calyana Yoga Mats feature a sophisticated anti-slip texture and underside with the perfect cushioning for comfort and joint-friendly workouts.
Each mat is light-weight in design and inherently stable, whilst being durable ensuring long lasting yoga enjoyment.
Oeko-Tex Standard 100 certified means they are manufactured using sustainable materials with environmentally friendly technologies.
Yoga Block
Using yoga blocks can be a fun way of challenging yourself to improve on a pose, while they can also be incorporated into strength exercises.
For those of you who may not be as flexible as you would like, using the yoga block during stretches means you can reach the floor from a shorter stretch.
It's also a good way of introducing yourself into difficult positions, leaning on the block with your hands or feet means you can gradually push against the blocks to lower yourself closer to the floor.
This type of support can also be provided in other areas, such as the back or the neck and head area.
Additionally, gripping the block between your thighs or your feet and moving your legs while lying on the ground, as per the video below, is a fantastic way to strengthen the abdominal muscles.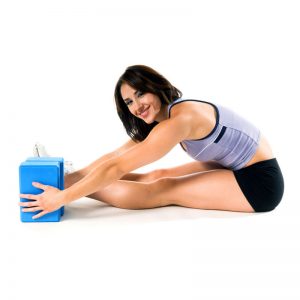 The yoga foam brick stretching aid help to improve stretching, posture and strengthens muscles as part of a regular yoga routine.
Each yoga brick is lightweight so you can lift it without straining. The yoga bricks are made from EVA foam and have a hardness of 26-30.
Use the yoga bricks to develop your reach or place under your feet, hands or buttocks to provide support and aid posture during exercise.
Resistance Ring
This somewhat odd-looking contraption is often used in pilates, but it can also beneficial for yoga due to its ability to aid the development of flexibility and strengthening of the core.
Leg exercises, pelvic routines and upper0body work are all methods in which the ring can be utilised, in both floor-based and standing exercises.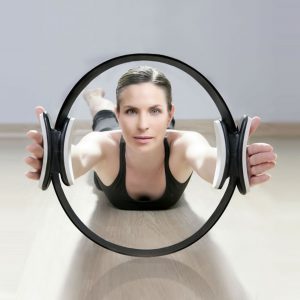 Featuring an inner and outer gripping section, the elite resistance is perfect for strengthening, flexibility and toning exercises. Equally useful during yoga, pilates and even standard strength or core training exercises, it is suitable for all shapes and sizes.
It is ideal for floor based and standing exercises which engage the core and supporting muscles of the spine.
The PhysioRoom resistance ring utilises the user's own body weight and is capable of usage by just about anyone.
Yoga Strap
Another simple-but-effective piece of kit, the yoga strap can be a great way to introduce beginners into some of the more complex positions.
By wrapping or pulling it around certain parts of the body, such as the base of the foot, around the outside of the arms or behind the back, the strap can be used almost as an extension of the limb, meaning a particularly demanding stretching exercise can be achieved in a simpler way.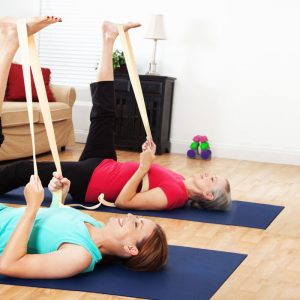 The Yoga Strap is perfect for use when performing certain yoga positions such as binding postures including the reclining hero stretch.
It's also ideal when extending in a forward bend like the head on knee position. Yoga straps are also beneficial to people who aren't very flexible and help by stretching to their limits which in turn increases flexibility and muscle strength.
Spiky Massage Balls
Spiky massage balls can complement the stretches and postures you practice during yoga by ensuring that the muscles you use are well looked-after.
Rolling the massage balls along various parts of the body can improve circulation and ease tension in these particular areas, easing the tension in some of the most over-used muscles and allowing for a quicker recovery before your next yoga class.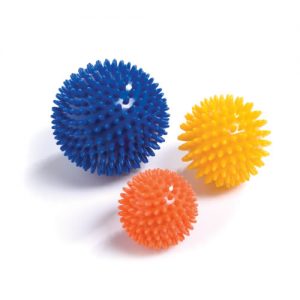 Use the PhysioRoom.com Spiky Massage Balls for self massage or with assistance to treat back pain, improve circulation, stimulate muscles and ease tension.
Individual sizes are specifically designed to target different areas of the body. The large 10cm blue is for use on the back, the 8cm yellow for the arms and lower legs and the 6cm orange for massaging the hands and feet.
Can be purchased individually or as part of a set for instant massage therapy.