Well that was a bit of a whirlwind 24 hours!
After Sky Sports picked up on our most injured Premier League XI we have been inundated with queries about players who you thought should have made the grade.
So, because we love to answer questions about injuries here at PhysioRoom, we thought it might be a good idea to explain how some players got their name on this unfortunate team sheet, while others just missed out.
Here's who made the cut.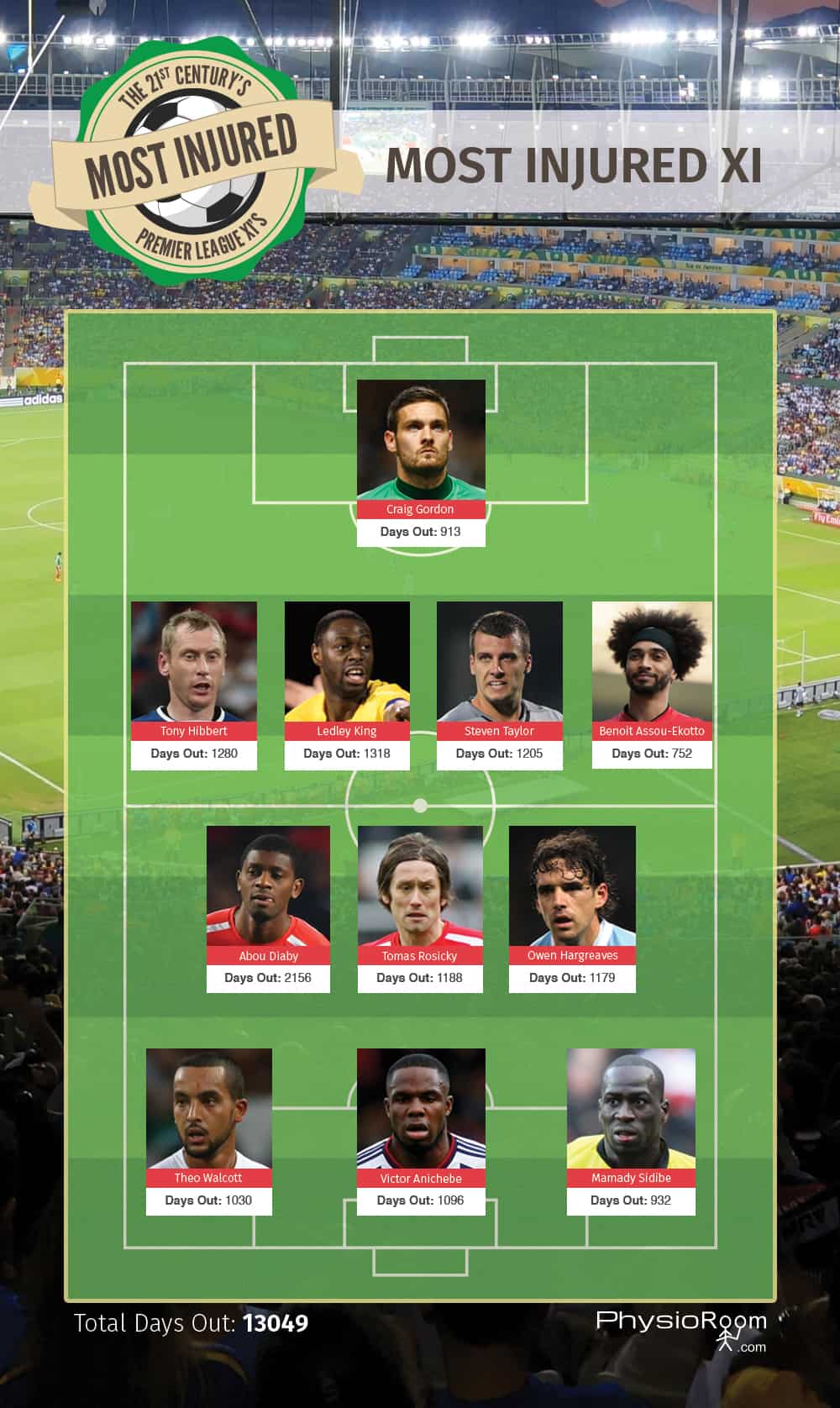 Who Nearly Made It?
There have been a few of you asking why the likes of Kieron Dyer, Chris Kirkland and Dean Ashton haven't made the grade, and a few others wondering where Darren 'Sicknote' Anderton and Big Duncan Ferguson are too.
Well, let me explain.
This is the definitive '21st Century' XI, so the likes of Ferguson and Anderton (who made most of their injury headlines back in the 90's) have not been included.
Not only that, but we only began keeping records back in 2001. So without a football time machine (HOW COOL WOULD THAT BE?), we're going to have to leave anyone before the start of the noughties out.
Of those that were eligible for inclusion – the likes of Jack Wilshere, Daniel Sturridge, Kieron Dyer and Andy Carroll (all of whom have pretty shocking injury records) still don't have enough days on the books to warrant inclusion.
Wilshere (894) – who has spent more days out injured than Assou-Ekotto (752) – could have played at left back in this team, but as he doesn't feature in that position for Arsenal, he didn't make this 'non-starting XI'.
Both Sturridge and Carroll have big numbers alongside their names (and both are still chalking up more days as we speak), but they each have less than the 932 of Stoke City's former striker Mamady Sidibe.
Sturridge has clocked up an impressive 594 days out and Carroll – who is expected to be out till October with an MCL injury – has 648 and counting. But in all honesty they would still have missed out on a berth in the front three as they lag some way behind Aaron Lennon (724), Gareth Bale (736) and Shola Ameobi (861) – each of which didn't make the cut either.
And Kieron Dyer, who many of you thought was a guaranteed inclusion and who has been vilified for his paper-boned career at almost every club he has played for, clocks up 774 days out – a long way back on the forward line in this team.
How We Collected the Information
Here at PhysioRoom we have kept a record of every single Premier League injury since the start of the 2001 – 2002 season.
It doesn't matter if it has been a minor knock, a broken leg or a serious concussion, if it has happened to a footballer playing in England's top division this century we have included it in our database.
To date we have tracked the progress of just over 14,000 individual injuries to thousands of different players in the league.
Some omissions to the list have been made.
For example, out of respect to their individual struggles, Stylian Petrov and Darren Fletcher were left out for obvious reasons.
But every other injury that has been stored in the database has been considered and number crunched in order to arrive at this definitive XI.
So whether you think that Michael Owen (722) or Harry Kewell (747) should have been included or not, we can say without hesitation that this team has been put together using the very best and up-to-date injury information and, according to our records at least, is the definitive Most Injured XI the Premier League could possibly produce in the 21st century.
If you want to know how many days a player has spent on the sidelines, or you're just curious as to how we monitor the progress of the injuries to your favourite Premier League stars, leave a comment below, or contact us on Twitter and don't forget to keep up-to-date on all the latest Premier League injuries by visiting our injury table.
Oh, and keep your eyes peeled over the next few weeks as we begin to release the #MostInjuredXI of every current Premier League club (exc. Bournemouth).