Personal Trainer and blogger Alexis Fletcher gives us her weekly fitness, exercise and nutrition tips. This week Alexis gives us a run down on the benefits of spinning. For more, check out her 'flex' blog here
I'm Spinnin' Around!
There's no denying that everybody needs to have some sort of cardio workout. As you know it's good for your heart, burns calories and can be fun (trust me on this one!).
Spinning – or indoor cycling – is a great cardio alternative to pounding the pavements – especially in the great British winterweather.
Great for the lower body in particular, spinning works your quads, hams, back, glutes and hips whilst maintaining a strong core. It will really give you a full body workout.
The best thing about indoor cycling is you can carry it out to your own intensity, obviously by controlling the speed that you pedal but also by the resistance applied through a weight on the wheel. This is normally managed by turning a knob on the frame, easily reachable in your workout and you can just as easily hit the brakes by pushing the stop button!
As well as helping you to achieve fat loss (through HIT training), improved endurance and resistance training, indoor cycling is also a good way to rehabilitate any problems with your lower limbs. You can build up resistance as your muscles repair and get stronger.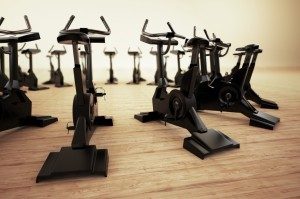 Beginning Spinning
If you're unsure of whether indoor cycling is for you, you will no doubt find an array of classes in your local area where spinning is carried out to loud music and disco lights to get you motivated! You can burn up to 500 calories in an hour and working in the correct heart zone can help you achieve your goals in no time at all.
With lots of different options from uphill standing climbs, to fast-seated sprints and jumps you really can take yourself on a journey. You can really max yourself out at 110 RPM for 25 second spins to get your heart rate up to 90% for that high intensity blast!
So go on, clip your feet in – I dare you! – get Kylie on and have a spin!
Note to oneself – water and towel also advisable!