Anyone looking to meet their fitness goals should always have resistance products as part of their workout routine.
Resistance bands, loops and tubes have numerous applications that are suitable for training for a number of sports.
Resistance training has over the years become part of, or has been incorporated in to any modern workout routine for athletes or even non-athletes.
The beauty of resistance products are that regardless of your level of strength, aerobic fitness and flexibility, you can find a product that will be suitable for you.
Whether it's someone in their front room getting in a quick 20-minute workout or it's a professional athlete in training for the Olympics, resistance products are universal and all-encompassing. They are great for body weight workouts and for adding that extra tension to otherwise normal exercises.
Both inexpensive and easily portable, you can take bands, loops or tubes on the road with you, meaning you can workout in places like hotels when you're away from home.
Another big plus is the rehab aspect. Starting to work out again after injury is always tough, that's why being able to adjust the stress on your muscles and joints and being able to build up are vitally important.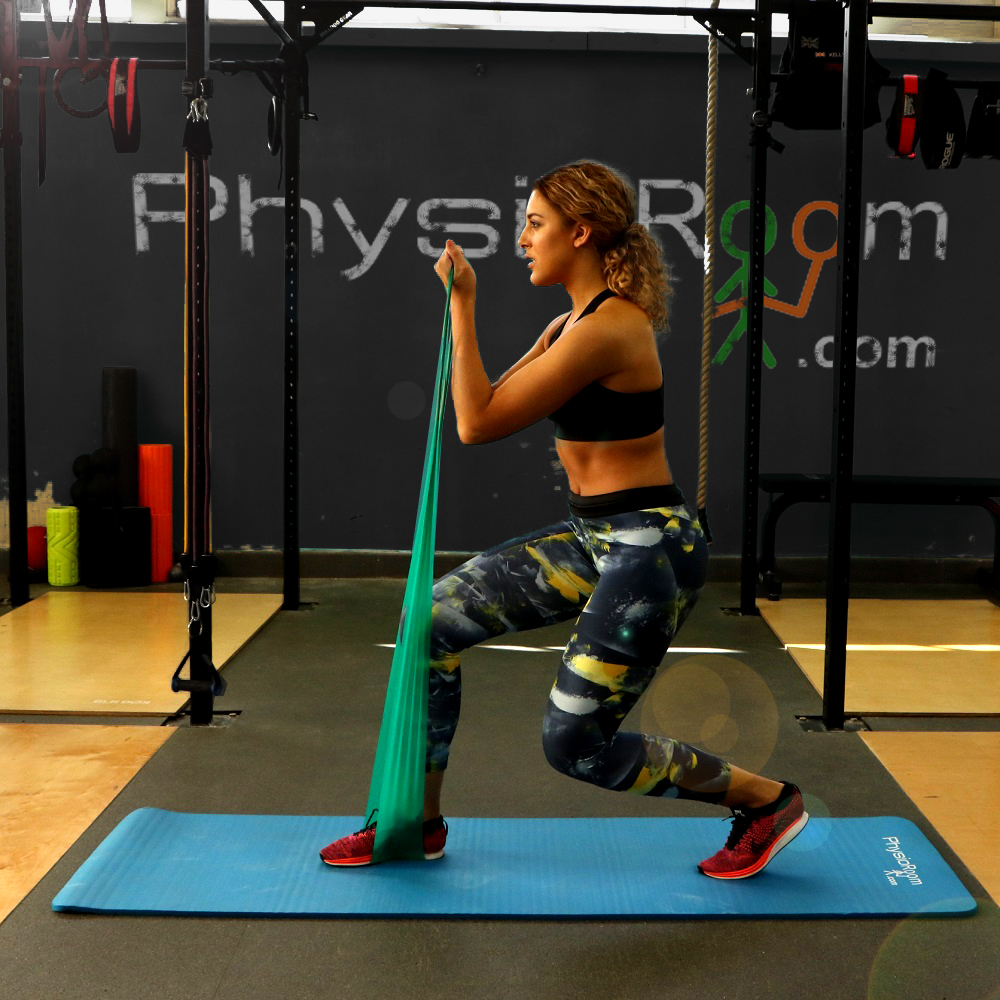 Bands, loops or tubes?
You may see these words flying around all over the place. Don't worry, we'll explain as we go forward. But just to give a little insight, usually resistance products will be bands, loops or tubes. These have varying different uses, so it's important to find what's right for you and your specific goals!
Three Levels
More often than not, resistance products will come in three strengths, light, medium and heavy. It's important not to over do things at first, so unless you're an experienced user, it's usually advised that you start out light while you become accustomed to using resistance products within your workout routine. Starting out light means you can first focus on getting form completely correct.
Resistance Means Resistance
One things to remember about resistance products is that the resistance increases the more the band is stretched. Unlike using free weights such as dumbbells or barbells, the weight isn't consistent, leading to a more dynamic, body based workout.
Now, loops, bands or tubes? Let's explain…
Loops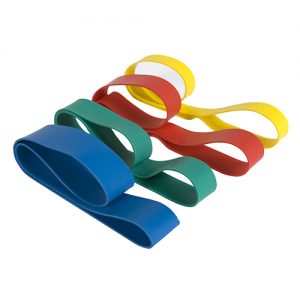 With these high quality PhysioRoom.com Resistance Band Exercise Loops, muscle groups and tendons can be stretched and strengthened as part of rehabilitation training or sports training. With a choice between four different levels of resistance you can gradually ease back into exercise or take on progressive training.
As well as being used for the treatment and prevention of hamstring and thigh muscle injuries, these resistance band exercise loops can be used to add variety to standard workouts. It's an excellent method of resistance training for the development of specific muscles and tendons.
Three different weights offer a gradual challenge and aid to build muscle strength. Start with the lowest level of resistance and build sets and repetitions gradually. Then once the exercises become too easy, move on to the next level of resistance provided by the next exercise loop.
Bands


These PhysioRoom.com Resistance Exercise Bands are designed for increasing strengthening exercises during rehab and sports training. The resistance provided by a latex band is ideal for targeting and working specific muscle groups and tendons.
Bands by PhysioRoom.com are made from a high grade medical rubber, 99.998% free from latex allergens. They provide a graded amount of resistance to movement depending on their elasticity. To use – simply fix them to a secure object such as wall bars, and they will provide an excellent method of resistance training.
Unlike weight and pulley devices and weight machines, latex bands have the added advantage that all strengthening exercises can be done in functional, sports related movements. This makes them ideal for sports training – not just for people with injuries.
Tubes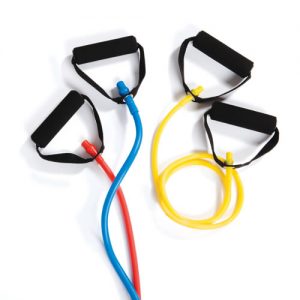 The PhysioRoom.com Resistance Exercise Tubes have soft grip handles for uninterrupted rehab and training exercises. Red, blue and yellow coloured, levelled, tubes provide light to heavy resistance, ideal for progressing strengthening exercises.
The figure of eight tubes allow for all strengthening exercises to be done in functional, sports related movements. These resistance exercise tubes are also a great way of introducing strengthening exercises for sports related training and not just for rehabilitation. The wide range of sports related movements that can be done with these tubes is never ending which provides a perfect opportunity for additional strength training.
Resistance Tubes are made from a high grade medical rubber, 99.99% free from latex allergens. Depending on their level of elasticity, they provide a graded amount of resistance to movement. They provide an excellent method of resistance training for the strengthening of specific muscles and tendons
Now let's look at some of the main benefits to using resistance bands, loops or tubes.
Cost
Our resistance products are usually available as both individual pieces and as sets, and either way they're a shrewd add to your home gym equipment thanks to them being so cheap.
Levels
Resistance products are dynamic in that they more often than not come in different strengths, more often than not in light, medium or heavy. What also adds to their dynamism if the fact you can create more resistance by simply allow yourself more or less slack during an exercise.
Dynamic Exercises
Most resistance band, loop or tube exercises are based on traditional movements from weight training. Not only that but you can experiment and build on these exercises using different angles for example, and really find what works for you, something you can't do on a machine in the gym.
Full Body
There are exercises for pretty much every-part of the body with resistance products. This means you don't have to buy completely different equipment for different parts of the body.
Space Saving and Convenient
Home gyms can take up a lot of room, using resistance products is a great way to workout and take up little space. And because they're so portable, you can take them pretty much anywhere without too much fuss. At home, at the hotel, on holiday, anywhere!
Variety
If you do plan to continue weight-training at the gym, then resistance bands can be a big part of your routine. After a while of doing the same exercises muscles can adapt, so switching between resistance bands, gym machines and free weights ensures your muscles are always seeing something different.
Safety
Resistance products allow you train for strength without the risk of hurting yourself or dropping a dumbbell on your toes. This means that you won't need to be that guy or girl asking for a spotter, because you don't need one.
Example Exercises
And finally, here's some simple exercises you can do at home!