With a rapidly growing fanbase on Twitter and Facebook, it's clear the PhysioRoom.com Premier League Injuries Table is proving popular. And, with a recent mention in the Mirror Football section, we're truly beginning to realise just how seriously people take Fantasy Football.
Praising the Table, reporter John Cross wrote in his column: "PhysioRoom is a fascinating website and it goes into detail about every Premier League team's injury list." (Read the full story on Mirror Football here)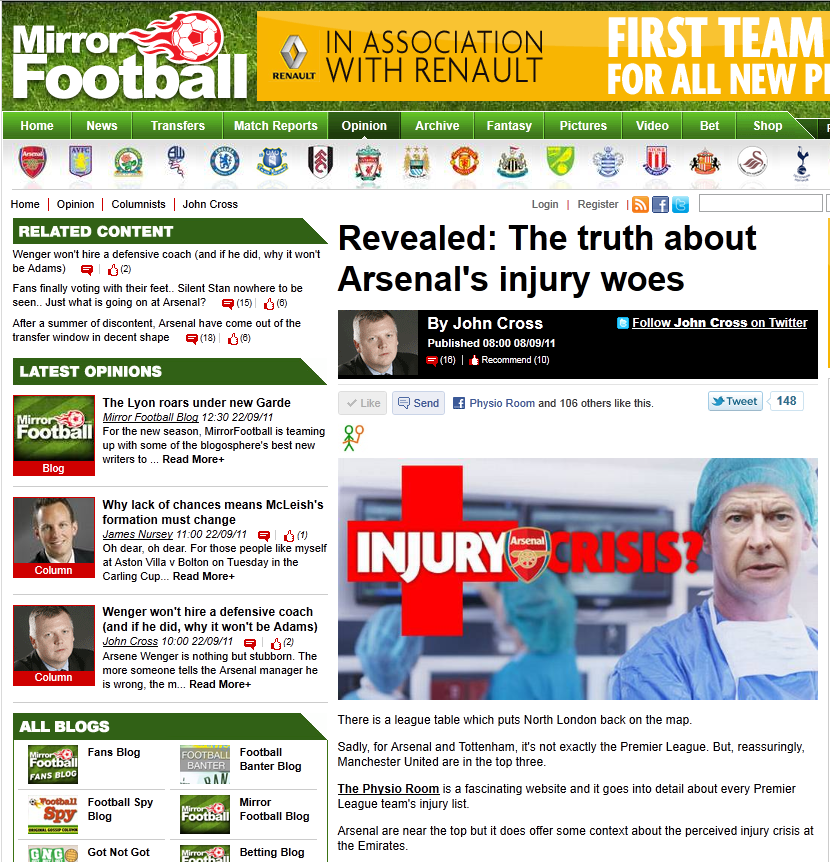 Indeed, it's this attention to detail which keeps Fantasy Football fans fixated. Our regularly updated table takes into account all clubs across the Premiership. It's become a vital resource amongst those in our office who play Fantasy Football and often shapes which players will be in their team each week.
Funnily enough, they aren't the only ones… Take our Twitter account for example. We now have 2,930 followers, most of which I'm sure are taking advantage of our injuries news.
MuseLuver Tweeted: "@physioroom A must for any Arsenal fan ;o) I like the league table of injuries!"
Local_Zero wrote: "Just checked my Fantasy football team with @physioroom Looks like I need to make some subs! ;)"
The level of interaction with PhysioRoom and our followers across our social media networks is a great thing to see. People send us updates on football injuries and, vice versa, we strive to keep our table (cue pun) on the ball! So if you hear something before we do be sure to let us know by following us on Twitter @PhysioRoom or on our Facebook page PhysioRoom.
Author: Laura Davis