The highly successful PhysioRoom.com Premier League Injury Table will once again be seen in the Football Manager gaming series.
Since 2004, the Injury Table has been used as a top authority on which teams and players are suffering the most from injuries in the English Premier League. PhysioRoom.com's predictions of when players can be expected to return to games is also an essential tool.
Football Manager Injury Table In Association with PhysioRoom.com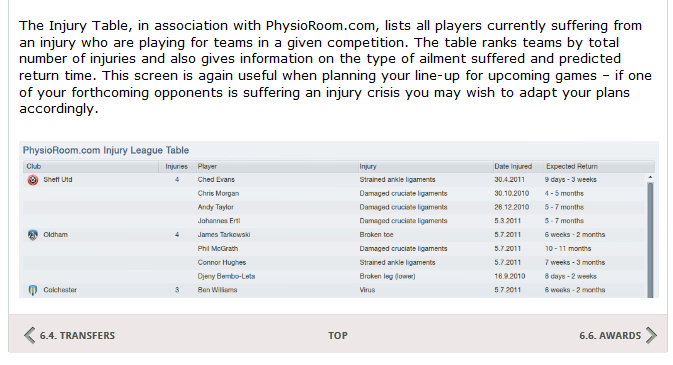 Created by Sports Interactive, Football Manager allows you to put your managerial skills to the test and shape the fate of your favourite football team. The series, available on a range of gaming platforms, has a dedicated fanbase with more than 7 million copies sold worldwide.
As well as the returned use of the PhysioRoom.com Injury Table the 2012 edition includes social networking options and over 800 new features.
Commenting on the release of Football Manager 2012, Miles Jacobson, Studio Director at Sports Interactive, said: Ӊtֳ another year of evolution, with some revolution thrown in for good measure so weֲe pretty sure our dedicated communities, and hopefully lots of new people too, get to play and enjoy the game.Ԝn
Stuart Mills, Brand Manager at PhysioRoom.com, said: "It's great to see the use of the PhysioRoom.com Injury Table once again in Football Manager. It's an excellent resource and we're thrilled with it's continued success!"
Football Manager 2012 is out now!
Author: Laura Davis