Football is described as the beautiful game. Fans marvel at Messiֳ sublime skill, the speed and control of Ronaldo and the cultured passing of Xavi. They light up the game brighter than the floodlights that shine down upon them. Yet football is a physical game, a fast and furious sport and the darkness at its heart are those truly horrific moments that can occur.
As well as impact injuries football because of the stress it puts on the body causes shocking long term injuries. Many older footballers suffer from chronic knee pain as well as hip and back problems. You will find that when you watch senior players play they always wear knee supports because of the sheer stress their knees have come under just through playing football.
David Busst
Peter Schmeichel is a big, strong man. He has seen most things in his time as a goalkeeper. But when David Busst collided with Denis Irwin and Brian McClair playing for Coventry against Manchester United in 1996 the big Dane was seen to vomit at the horrific nature of Davidֳ injury. The giant keeper even needed counselling to help him deal with the memory of the sight.
David suffered compound fractures to both his tibia and fibula of his right leg. The lower part of the leg was twisted back almost ninety degrees. After over twenty operations he never played again.
Crowds flocked to his testimonial because of the tenacity and bravery he showed as he coped with the mental and physical trauma of such an awful injury.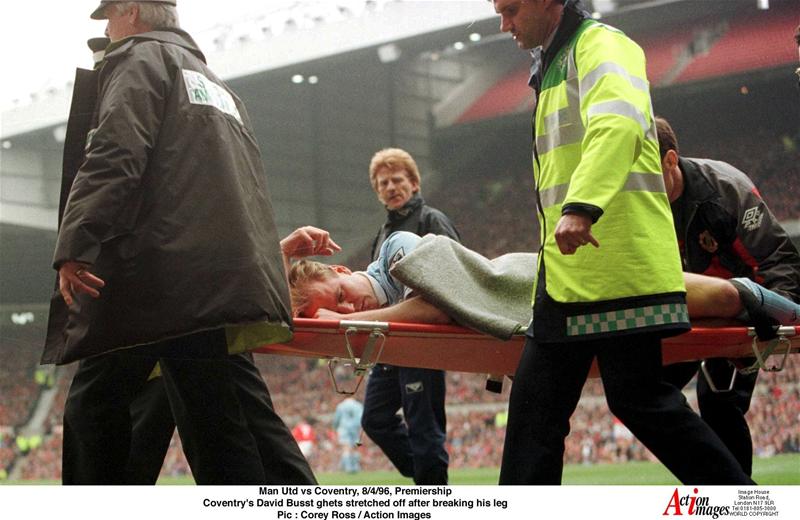 David Beckham
When David Beckham broke his metatarsal in 2002 it was a shock for the nation. It is probably forgotten now but in 2002 Beckham was the England team. He had single-handedly ensured Englandֳ qualification for the World Cup in Japan and South Korea.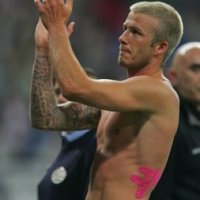 I was actually at Old Trafford when he injured his foot. I remember thinking that I would be able to tell my future grandchildren that I had seen the England captain play in the flesh. At that very moment a Deportivo La Coruna player stood on his foot.
He just hobbled off and it did not seem too serious at the time. It looked like a sprained ankle and I thought a couple of weeks in an ankle support and he would be fine as I had done the same thing the previous month.
Suddenly The Sun was printing pictures of David Beckhamֳ foot and asking people to touch it so he could be fit for the World Cup. He did make it but England lost to Brazil in the quarter finals.
Bert Trautmann
In the days before substitutes and modern physios with their high tech first aid supplies ready to treat the modern player as soon as they fall over there was Manchester Cityֳ Bert Trautmann. A German prisoner of war who decided to stay in this country after World War Two he will be forever remembered as the player who carried on playing with a broken neck.
Whilst diving down at an incoming ball he collided with an opposing player and broke five vertebrae in his neck. With fifteen minutes to go and no substitutes allowed he had to carry on and amazingly made crucial saves to help his team win the cup.
Not only is the injury he suffered shocking but so is the sheer bravery of this amazing man.