As the old saying goes չou donִ know what youֶe got until you lose it!ՠand that was certainly the case during the International Break, with the 2012/13 EPL campaign still in its infancy my Fantasy Football tinkering is already an integral part of my weekend!ʠCould this early season sojour provide the opportunity to re-evaluate the squad and allow me the necessary changes to take me back where I belong? Well, in short NOɠ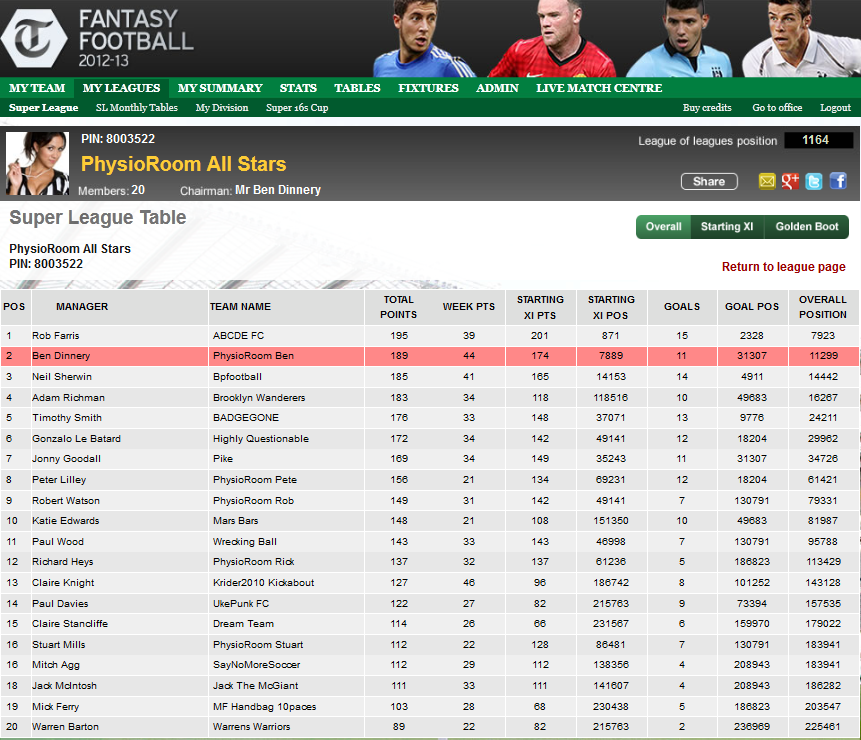 Rob Farris (@lilbobbyfarris) and his originally named ՁBCDE FCՠmaintain top spot narrowly holding off yours truly who managed to produce a mightily impressive 44 points on the board. However it wasnִ quite enough to win the Քeam of the Weekՠaward with Claire Knight (@KRider2010) providing a Phoenix from the Flames esq performance and erradicating those disappointing rounds from memory #WellDoneThatGirl.
Adam RichmansՠBrooklyn Wanderers (@AdamRichman) slipped from second to fourth but remains in touching distance, while Neil Sherwin (@bpfootball) stays tight to my shirt tails with another solid performance. Other notable mentions from Week Four, resident expert @PeterJLilley couldnִ get his PhysioRoom.com troops up for the challenge and along with Katie Edwards (@KatieEdwards_11) collect the prize for the Weekly Wooden Spoon (21 points) РI am available for hints and tips any time people J!
No change at the bottom, Warren Barton (warrenbarton2) and Mick Ferry (@MickFerry) epitomise the essence of consistency ensuring the gap between them and the rest of the group grows ever wider. Mick didnִ realise you were planning on bringing your own brand of humour to the League ɮ Tim Smith (@BadgeGone) canִ be ruled out, the ՁllStarՠmaintained his solid start and must be considered a threat. Special mention also goes to Gonzalo Le Batard (@DLHQ) and his Highly Questionable side plugging away in sixth. The ESPN2 Host based in Florida has provided a more than respectable start to his All Star League Career, flying the flag for our American cousins.
Injury talking points of the week again gravitate towards Manchester, hat-trick hero RVP provided the ՗ill he? Wonִ he?ՠtalking point after picking up a slight thigh strain while on International duty for the Netherlands. The Dutch striker made the bench versus Wigan. Many a FFL manager was sweating on the impending return of Sergio Aguero from a knee injury after a month out but the Argentinian was deemed ծot readyՠby the City medical team. Newcastle took an injury ravaged squad to Everton for MNF, Pardew didnִ have a good break losing Krul (elbow), Coloccini (hamstring) with Tiote (calf) taking longer than expected to recover. Managers Moyes (Everton) and Allardyce (West Ham) confirmed Darron Gibson (thigh) and Andy Carroll (hamstring) are unlikely to be seen in a first team shirt soon dispelling the almost Super Human myth that the latter would be considered after only two weeks…
Until the next timeɠRegards #TheChairman
Author: Ben Dinnery