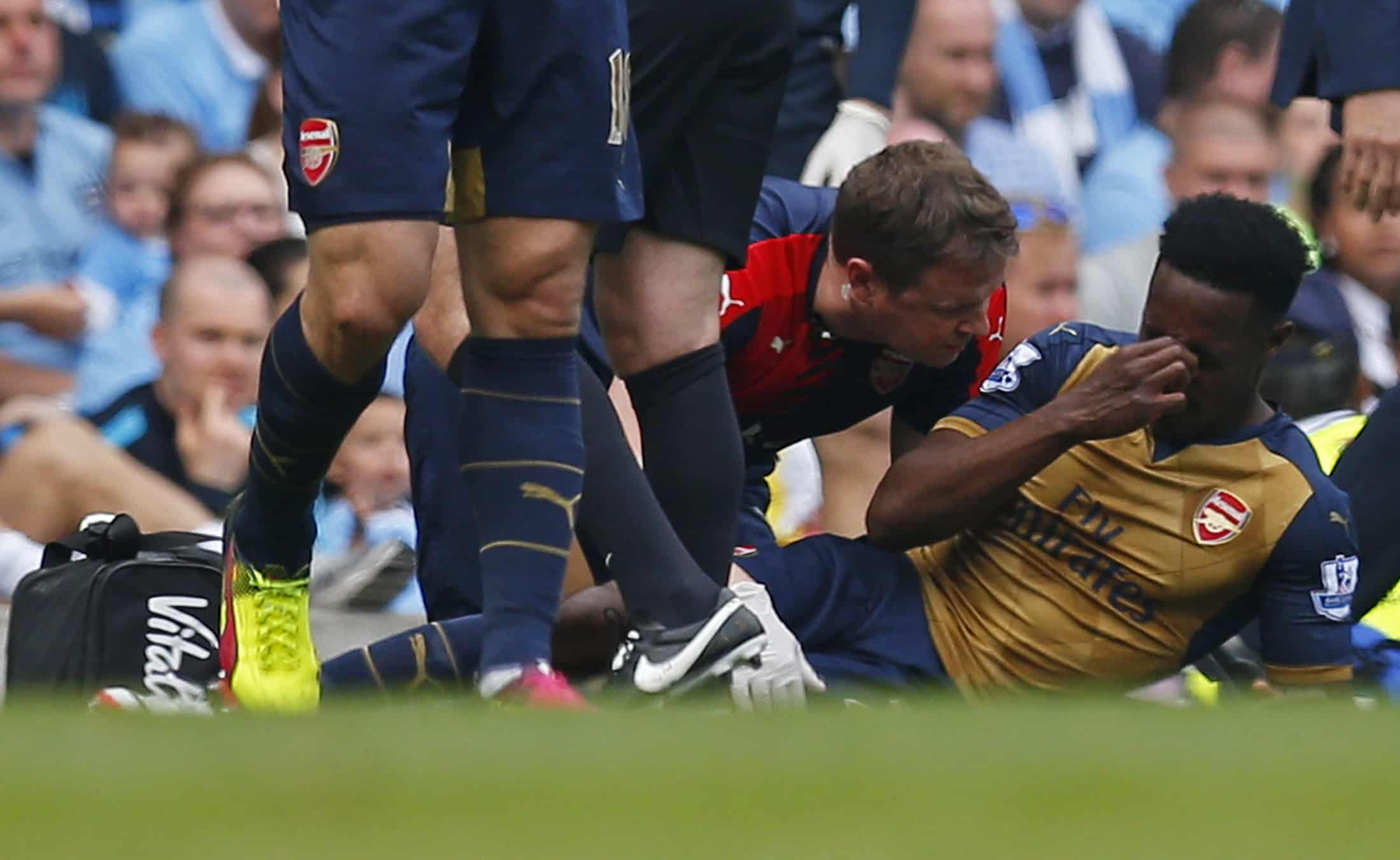 Wednesday's breaking news story dealt a huge blow to Arsenal supporters as well as England boss Roy Hodgson; Danny Welbeck has been ruled out of action for nine months following surgery on significant cartilage damage in his right knee.
Welbeck limped off after just 24 minutes of his 15th Gunners appearance of the season against Manchester City, a particularly cruel chain of events considering he has only recently returned from a 10-month lay-off following surgery on a cartilage injury to his left knee.
The 25-year-old has scored five goals and set up two more since February, his post-comeback form earning him a place in the starting line-up against Germany in March. Welbeck was widely expected to be named in Hodgson's Euro 2016 squad, but now we will be lucky to see him back to his best before the end of the year.
In light of Welbeck's injury, the PhysioRoom take a look at how knee injuries occur in football and provide advice on how PhysioRoom can help you recover from your knee cartilage injury.
Why do knee cartilage injuries happen in sport?
Knee cartilage damage can be quite common in sports like football as it can be caused when the knee is twisted while the joint is bearing weight, such as during a sudden turn, an abrupt halt or a seemingly innocuous tackle.
The term cartilage damage often refers to a tear to the meniscus. There are two menisci within each knee joint: the medial meniscus on the inner side compartment of the knee, and the lateral meniscus on the outer side compartment of the knee. Both menisci are located on the top surface of the shin bone, and they stabilise the knee during movement, acting as shock absorbers during weight-bearing activity.
A small tear produces a flap which interferes with the knee joint, but is usually straightforward to remove, completed in a keyhole surgery procedure in which the meniscus surface is smoothed off. However, a larger tear to the meniscus will need to be repaired by sewing it together, a rather more severe injury which requires a longer period of rehabilitation.
Arsenal have not released any specific details regarding Welbeck's injury but, speaking after the match, manager Arsene Wenger admitted his fears about the striker's lateral meniscus. It would certainly have to be a significant tear to keep Welbeck side-lined for so long.
How to manage knee cartilage injuries
We at PhysioRoom decided to investigate what kind of items Welbeck and his fellow knee cartilage damage sufferers may encounter along the road to recovery.
Knee ice therapy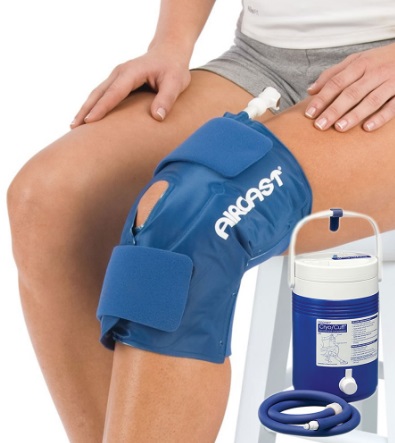 In the early stages of the injury, as well as following surgery, it is important that the knee and the patient are kept as comfortable as possible. The area is likely to be very painful, while the initial swelling can make it difficult to diagnose the problem swiftly.
One way to reduce these effects is to apply ice therapy, and the Aircast Knee Cryo/Cuff with Cooler is a better bet than a simple ice pack, as it can circulate ice cold water and apply controlled compression for several hours.
So, speed up your recovery with the ultimate knee ice therapy device and check out the Aircast Knee Cryo/Cuff with Cooler!
Post-surgery knee brace
After undergoing an operation on the cartilage, patients may require a sturdy knee brace in the immediate aftermath of the surgery.
The Donjoy X-Act ROM Knee Brace is specially designed to aid recovery following cartilage repair as well as a variety of other procedures including ACL reconstruction and patella realignment. It extends at various angles and allows a range of movements to provide a comfortable and supportive fit.
Aid your knee injury during the post operation period by purchasing the Donjoy X Act ROM Knee Brace today!
Hinged knee brace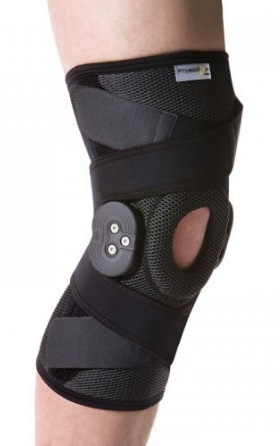 Some braces, such as the PhysioRoom.com Elite Hinged Knee Brace, are designed for the treatment of cartilage tears, and actively aid the recovery process. The hinge is adjustable and allows stabilisation of the joint, preventing hyper-extension and thus reducing the chance of an injury re-occurring.
Setting the hinge will limit the knee's range of movement as much as the wearer desires, and the breathable and cushioning material provides excellent support. Check out the PhysioRoom.com Elite Hinged Knee Brace today!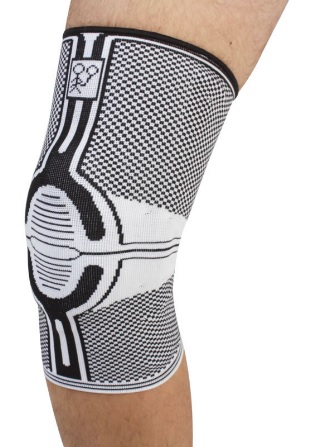 Sleeve-like knee support
A thinner and more flexible sleeve-type support can be beneficial for patients who want extra support while undertaking activities such as walking or running, or even just for normal everyday wear.
The PhysioRoom Snug Elasticated Knee Support is a hinge-free brace which can help improve stability following a cartilage injury. It has been designed to snugly fit around the contours of your knee to provide maximum support, while the gel pad feature creates a massage effect to the muscles in the knee to promote blood circulation.
Get back to playing the sport that you love with the PhysioRoom Snug Elasticated Knee Support.
Rehab exercises
As early as the patient can comfortably bear weight through the affected knee, the rehabilitation process should include proprioception exercise, which refers to the awareness of the position of one's body and, more specifically, sensing the position of the joint.
Using a Wobble Board is a good example of how the patient can achieve this; undertaking balancing exercises on the affected leg can help improve motion in the joint and restore stability to the area.
Browse our wide range of wobble boards now.
A wide range of further knee support products at PhysioRoom
If you have suffered a knee related injury whilst playing sport and have been unable to find the specific product that you are looking for on this page, then fear not because we have many additional knee supports and braces that can help you recover from your injury!
Our knee supports and braces consist of a wide selection of different products that can help with numerous stages of the rehabilitation process, so you are certain to find the product that you are looking hear right here at PhysioRoom.
So, enhance your levels of stability and support by taking a look at our selection of knee supports and braces today!