The Victorians called women, Ӵhe fairer sexӬ they obviously had not seen girls playing hockey. I remember watching them play at school and they could be vicious!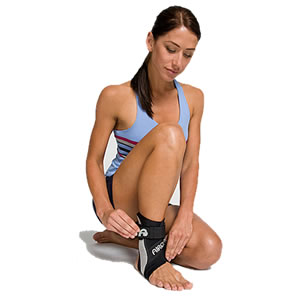 Women first competed in the Olympics in 1900 and they were only allowed to take part in lawn tennis and golf. These were deemed the only ladylike sports.
At London 2012 women will finally be able to compete in all the same sports as men when boxing will finally have womenֳ events.
Not matter the type though, sport at all levels causes the body to go through stress. Different sports cause different parts of the body to suffer more damage. Male or female the sportspersons push their body to the limit to achieve their goal (or gold!).
Here are the most popular injuries suffered by women:
Anterior Cruciate Ligaments (ACL)
In the knee, amongst other things, we have the anterior and the posterior cruciate ligaments. They both work to support the knee from front to back. The anterior ligament helps the athlete to move around properly.
Women are five times more likely than men to suffer ACL tears. They often take place either because of a sharp impact on the knee or when sharp changes in movement are needed at high speed. When an athlete suffers an ACL injury they suffer not just severe knee pain but a wobbly feeling caused by the sudden instability in the knee.
It is quite common to see female tennis players like Serena Williams wearing a ligament knee support. In a game like tennis where players have to stop and turn at high speed ACL tears are not unusual.
Shin Splints
Technically known as Medial Tibial Stress Syndrome (MTSS), shin splints is a very painful condition. It is often caused by prolonged activity and is characterised as an overuse injury.
Research shows that it is more prevalent in women than men. Also females are up to three and half times more likely than men to progress to stress factors than men from this injury.
The best way to treat shin splints is rest.
Plantar Fasciitis
The plantar fascia is the band of connective tissue extending from the heel bone along the sole of the foot to the toes. Plantar Fasciitis is usually felt as a pain under the heel or some sufferers can have difficulty bending the foot properly because of it.
Women are thought to be more prone to this problem because they have a lower centre of gravity and it often causes runners to suffer from knee pain.
Foot orthotics (supports) often helps this condition as does massage therapy and stretching. As a last resort some people have had surgery to relieve the problem.
Some Advice
It doesnִ matter if an athlete is amateur or professional they all accept they will get inured from time to time. The secret is to get back out there as soon as you are one hundred percent ready to go.