Although the team here at PhysioRoom can't offer you a miracle cure for your sprained ankle, we can provide you with a particular set of ankle supports and braces that can aid you on your road to recovery.
Whether you've been unfortunate enough to have been involved in a crunching tackle out on the football pitch, or have simply rolled your ankle whilst stepping off the kerb, PhysioRoom can help you treat, repair and prevent any future mishaps.
What is an Ankle Sprain?
Ankle sprains are one of the most common injuries that occur during participation in sport. Ankle sprains occur when the ligaments required to connect the bones of your leg to your foot are damaged, and yes, it can be excruciatingly painful!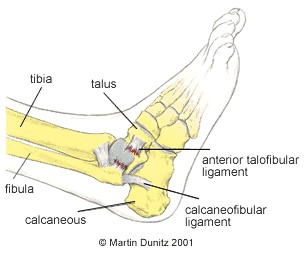 Ankle ligament damage happens so frequently in sports as you are most likely to suffer a sprain whilst sharply twisting, turning, or landing on an unusual angle, which subsequently strains or tears the ligaments involved.
There are multiple different ankle ligaments that can be affected during a sprain, with the most commonly affected being the Anterior Talofibular Ligament, or 'ATF' for short.
How Long Does it Take to Heal a Sprained Ankle?
FIrst, let's clear up the levels of severity of ankle sprains. They can be classified as follows:
First degree, where only a few ligament fibres are damaged. – This less severe ankle sprain usually takes 5 to 14 days to heal.
Second degree sprain refers to more extensive damage to the ligament with associated swelling. – Second degree sprains can take up to 4 to 6 weeks to heal.
Third degree sprain refers to a complete rupture/tear of the ligament with swelling and a possible joint dislocation. – Due to the instability a tear can create in the ankle, these can take 8 to 12 weeks to heal.
What's the Best Ankle Support?
There's no such thing as the 'best' ankle support, it entirely depends of the severity of your sprain and the level of support you're looking for. You may want a support to wear during sport, you may want something a little more comfortable for every day wear. The best thing to do is check out your options.
Our Top 3 Ankle Braces and Ankle Supports for a Sprained Ankle
To help you identify the ankle support that can help you most in recovering from an ankle sprain, the specialist team at PhysioRoom have singled out three of the ankle rehabilitation products that are most popular among our customers.
Aircast A60 Ankle Brace
Thanks to its pair of sleek stabilisers that are located on each side of this support, the Aircast A60 Ankle Brace is the ultimate tool to support you sprained ankle by substantially reduce the chance of ankle rollover.
The Aircast A60 Ankle Brace is the choice of British tennis star Andy Murray and is manufactured using Breat-O-Prene material to ensure that it is comfortable to wear whilst also offering a light weight design. To learn more, check out the Aircast A60 Ankle Brace now.

Advanced Adjustable Ankle Strap
This ankle support can be simply applied to your sprained ankle, and then easily adjusted to create a custom fit that firmly compresses the injured area to guarantee total comfort whilst out on the field or court.
The Advanced Adjustable Ankle Strap is ideal for providing ankle stability, improving ankle function, and aiding ankle a sprains and arthritic conditions. To enhance your ankle recovery progress, try out the Advanced Adjustable Ankle Strap today.

What is the Best Ankle Support for Football?
Adjustable Soccer Ankle Support
The Adjustable Soccer Ankle Support by PhysioRoom has been specifically designed with all the footballers out there in mind. This brace allows you to move freely whilst also heavily reducing the possibility of you rolling your ankle and subsequently suffering more damage to your ankle ligaments.
If you play football on a regular basis and are looking for the ultimate support for your sprained ankle, then look no further than our Adjustable Soccer Ankle Support!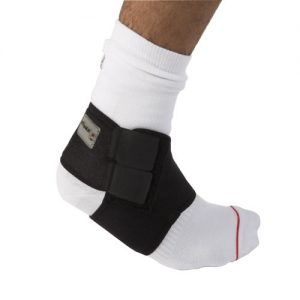 An unrivalled range of ankle supports and braces
Have you still not found the ankle support that you need to help with your ankle injury? Well fear not, because at PhysioRoom we have an abundance of additional ankle rehabilitation products for you to choose from!
To explore the entire range of ankle supports and braces that we have available, simply head over to our Ankle Supports & Braces section now.