So, you've found yourself with an injured ankle. Fate has cruelly conspired to roll your foot under you and make the next few weeks of your life somewhat inconvenient.
It could have been in work, at home or more likely on the field, but whatever the cause, ankle sprains and fractures can happen anywhere, at any time. You don't have to be a professional athlete, you might just fall off a curb one day!
But don't worry, PhysioRoom.com has you covered. In this article, our experts provide you with a selection of different ankle supports and braces to give you some the best options for your road to recovery.
A wide range of ankle supports and ankle braces at PhysioRoom
At PhysioRoom, we have a wide range of ankle supports and ankle braces that are ideal for those who have recently suffered an ankle injury. The following products are key if you are looking to prevent further damage or a reoccurrence of your injury when partaking in sporting activity.
The experts at PhysioRoom have singled out a few of our favourite ankle supports that are sure to help you during the rehabilitation process.
Aircast A60 Ankle Brace
The Aircast A60 Ankle Brace design incorporates a pair of sleek stabilisers located on either side of the ankle. These stabilisers are moulded at a 60-degree angle to help guard against a sprained ankle and prevent ankle rollover.
Manufactured from Breath-O-Prene material. The A60 ensures that the wearer stays comfortable, cool and dry, while the light-weight design easily fits in athletic footwear without creating additional bulk. So, join the many who have chosen this magnificent support as their rehabilitation tool by purchasing the Aircast A60 Ankle Brace now.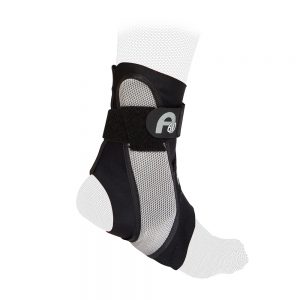 PhysioRoom.com Elite Knitted Ankle Support
Our very own Elite Knitted Snug Series Ankle Support features a four-way stretch, breathable material to ensure of total comfort and a perfect fit.
The ankle support uses an advanced German knitting technique which forms a three-dimensional shape that provides equal compression to your ankle, while the contoured gel pads provide extra protection that creates a massage effect to promote blood circulation, to relieve pain and help speed up recovery. Check out the PhysioRoom.com Elite Knitted Ankle Support today.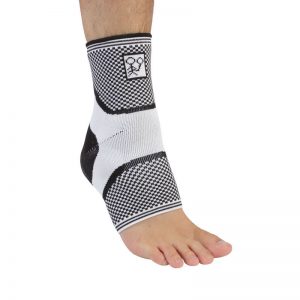 Ultimate Performance Neoprene Ankle Support with Straps
The Ultimate Performance Neoprene Ankle Support with Straps is an adjustable ankle support that is a great ankle support for sprains and tendonitis. This support is comfortable to wear, can be worn on either ankle and has an elastic strap that allows you customise how the support fits.
For more information on this superb ankle support, take a closer look at the Ultimate Performance Neoprene Ankle Support with Straps now!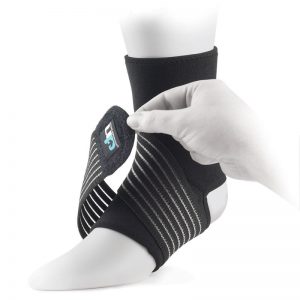 Can't find the ankle support that you're looking for?
If the ankle support or brace that you desire isn't on this page, then don't worry. At PhysioRoom we have an abundance of additional ankle rehabilitation tools to help you with your injury.
We have a range of further ankle supports for you to choose from, alongside a collection of Achilles straps, plantar fasciitis supports and post-operation braces to help you get back playing the support that you love.
To take a look at our complete range of ankle rehabilitation tools, check out our dedicated ankle supports and branches section here.