Whether it's Serena Williams applying kinesiology tape, or Rafael Nadal wrapping his knee for protection, it's not uncommon to see elite professional tennis players competing while wearing some form of extra support.
With that in mind, even the more casual tennis fans may have noticed that 2016 Wimbledon champion Andy Murray always seems to play with some sort of contraption strapped over his socks. He even co-ordinates their colour with the rest of his tennis attire, choosing either white or black depending on what outfit he is wearing.
So, in our latest article, the PhysioRoom team take a deeper look into why Andy Murray needs to wear ankle braces, the positive impacts that they have on his performance and how we can provide you with similar support to help you with your injury rehabilitation!
Why Andy Murray chose to opt for the Aircast ankle brace
Due to previous injury problems, Murray has worn at least one ankle brace for as long as 11 years. The Scotsman's first issues in that area occurred in his youth, when a bad twist to his left ankle rendered it more flexible and therefore more prone to rolling.
As an 18-year-old, he was given a wildcard for the 2005 Queen's Club tournament but lost in the third round to Thomas Johansson after twisting the same ankle. From then on, he wore a brace on his left ankle to ensure its vulnerability did not hinder him on the court.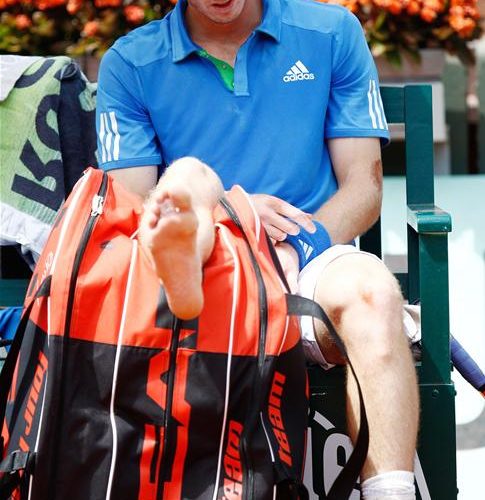 It wasn't until 2011 when Murray began to wear braces on both ankles, after suffering a partial tear to a tendon in his right ankle during his third-round French Open victory over Michael Berrer.
After winning the first set 6-2, Murray was 2-1 ahead during the second set when he sustained the injury chasing a drop-shot from the German. As onlookers winced in sympathy at the noticeable way his ankle twisted sharply while he slid to reach the ball, Murray hopped to the side-lines before lying down on the clay, clearly in intense pain.
He then spent eight minutes getting his ankle strapped before returning to the court and managing to battle on and take a 6-2 6-3 6-2 victory. After the match, he admitted:
"I've never had a problem in my right ankle, I was obviously pretty worried."
Though he continued to tape his right ankle, Murray wore only one brace for the remainder of the tournament, beating Viktor Troicki and Juan Ignacio Chela before losing to Rafael Nadal in the semi-final. A large amount of very, very strong painkillers helped keep his ankle from troubling him as he competed.
Just three days after his clash with the Spaniard, Murray was pictured during a practice session at Queen's, this time wearing an Aircast A60 brace on both ankles.
After taking expert advice on his injury as Wimbledon approached later that month, he was reassured that though competing in the tournament may slow down his recovery from his tendon injury, it was unlikely to make it worse. Murray continued to take painkillers as he got used to using a brace on his right ankle for the first time and went on to win the title, beating Jo-Wilfried Tsonga in the final.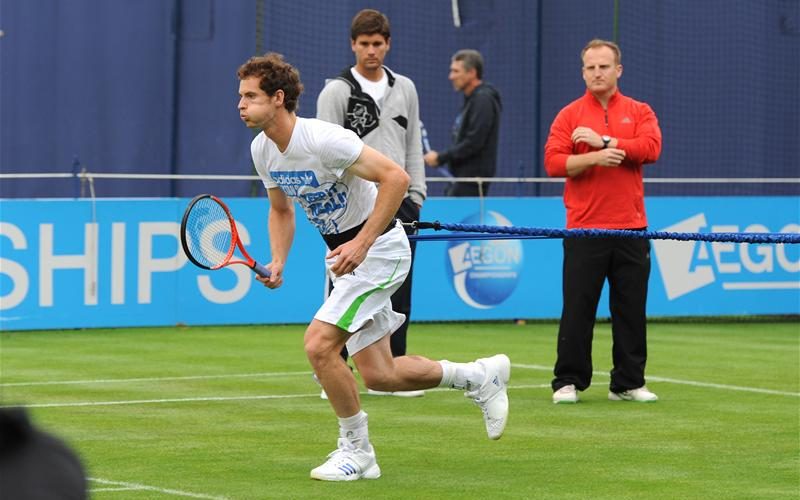 Shop the Aircast ankle brace and more at PhysioRoom!
Thanks to its lightweight design, the Aircast A60 is lightweight enough to wear comfortably over socks to minimise intrusion into Murray's top-level game, while the stabiliser guards within the brace help protect his ligaments.
After an ankle injury, many of the receptors used for balance become damaged meaning the joint continues to feel unstable even after the ligament has healed. Using a support will help reduce the heightened risk of re-injury, especially when playing sports. Using a wobble board or wobble cushions in rehab can also help by stimulating the receptors to start regenerating and strengthening the ankle again in the long term.
PhysioRoom.com Wobble Cushions
PhysioRoom stocks several different Wobble Cushions to suit every need be it rehab or for active sitting. To check out our full range, click here.
The Aircast A60 Ankle Brace is ideal for those with particularly weak or unstable ankles, or for sports players who have suffered troublesome ankle injuries in the past and are at a greater risk of repeating the injury. The Aircast A60 Ankle brace is the champion ankle brace for a champion British tennis star, and PhysioRoom is the number one place to get your hands on one.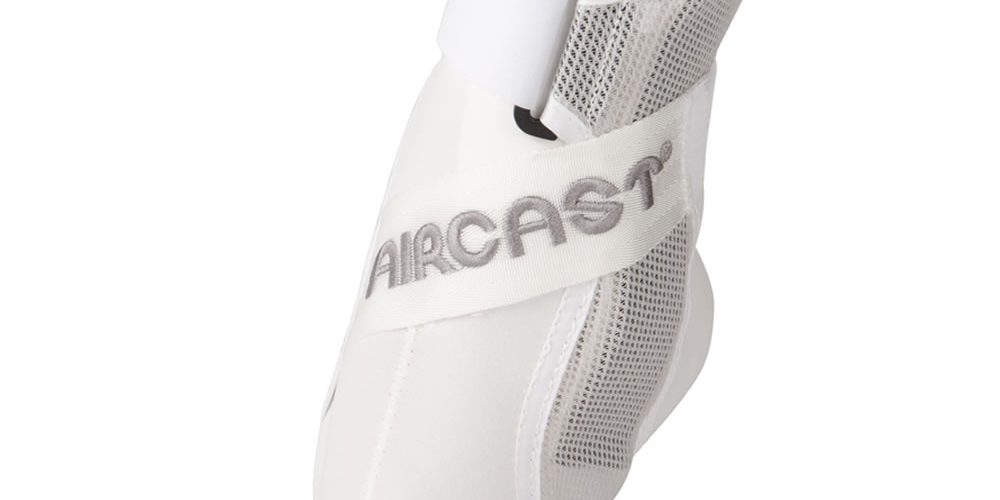 In terms of the ankle brace, it is easy to see why Murray opts for the Aircast A60. The white version was designed specifically for him, allowing him to stick to Wimbledon's strict clothing regulations, and is exclusive to PhysioRoom. For more information, take a look at the Aircast A60 Ankle Brace in white now.
Or if white isn't your colour, the Aircast A60 Ankle Brace is also available in black.
At PhysioRoom, we also provide our clients with a range of additional ankle braces to help them get back playing the sport that they love. So find your ideal injury rehabilitation tool by heading over to our dedicated ankle supports and braces section.