Employee Bekki took on her first 5k last weekend. Here's her perspective on what to expect.
Navigating a five-kilometre mud-drenched obstacle course probably isn't on many people's list of things to achieve this year, but the idea sounded strangely appealing when my workmates suggested that we complete the Race for Life to raise money for Cancer Research UK.
After signing up for the 5k Pretty Muddy race in Lancashire, the four of us were focusing more on Googling pictures of the various climbing nets, slides and crawls, or predicting which of us would end up the muddiest, rather than actually preparing for a 5k race.
As the big day grew closer, with my pre-race exercise routine involving not much more than the odd game of tennis at the weekend or a five-minute run around the neighbourhood park, things did not look great at my end. But, as we eagerly compared our fitness levels at work, I quickly established that I wasn't the only one of us who spent more time eating and sleeping than working out.
Race day was suddenly upon us, but surprisingly enough, when we arrived at Avenham Park in Preston, we found ourselves surrounded by women who seemed to be in the exact same position as us. The mass horde of pink which greeted our arrival was made up of ladies of all shapes, sizes and ages as well as varying fitness types; some incredible fighting-of-the-inner-couch-potato was visible that day. Everyone was ready to give their very best and finish the 5k in style, it was quite inspiring to see!
Although I was initially slightly intimidated by the distance of the run and the obstacles along the way, I quickly realised I had nothing to worry about. Everyone was happy to give their everything and the same applied to taking breaks and casual strolls in between. There was no shame, no blame, and no stress. The only time you could hear people shouting at each other was when support and motivation was needed.
After the first 2k, which involved both uphill and downhill running, I noticed my feet felt a little uncomfortable in my shoes. As I knew we would be crawling, climbing and scrabbling through mud, I didn't fancy putting my crisp new trainers through that dirty trauma, so I grabbed an older (and apparently slightly smaller) pair from the back of the wardrobe instead. I soon realised this was a mistake when I revisited the feeling of slamming my feet practically against the bare earth through the tatty, paper-thin soles, plus the not-so-subtle pinching of my toes. Mind you, it was a small sacrifice to make; there was no way my good trainers were going to entertain even the slightest speck of mud!
As we made our way along the course, which was fantastic fun, by the way. We were encouraged by onlookers as well as signs marking each point of the race, although we somehow missed the 3k sign and so it felt like the longest kilometre of our lives!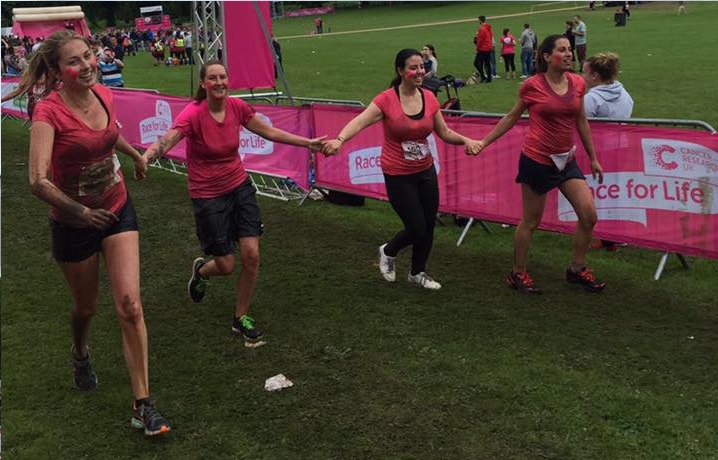 One of my colleagues found it a little tougher than us on the home straight. An old injury had decided to reacquaint itself with her knee around the halfway mark and we could see it had started to bother her. But there was no way we were going to finish the race without her! Harnessing the true spirit of the Pink Army, we joined hands and crossed the line to mark the end of an enjoyable and worthwhile adventure, raising money for Cancer Research UK in the process.
From looking around and speaking to other competitors on the day, I realised there are little things we can all do, whether we're marathon fanatics or complete beginners like myself, to keep us going during the race. The four of us enjoyed it so much we're thinking of challenging ourselves to run a 10k, but I think we all need a little more preparation before that one!
One thing I did get right, albeit accidentally, was my post-race routine. After returning home with my pride intact but my dignity tainted with mud, I fully intended to rid myself of every particle of dirt before spending the rest of the day on the sofa. As I allowed my own inner-couch-potato some TV and relaxation time, my partner discovered some muscle balm in the bathroom cupboard from his five-a-side football days. The smell wasn't the most appealing thing in the world, but it seemed to work like a charm as I was considerably less achey than my colleagues on Monday morning. It'll be on my list for the 10k for sure!
PhysioRoom Says:
Good effort, ladies! We've come up with three tips of our own ahead of your next race:
Find a solution to poor-fitting shoes: This is one of the biggest troubles for inexperienced runners, but one which is easily solved. It certainly helps to have the latest running trainers, but they aren't vital! If buying a brand new pair is out of the question, or you want to keep your favourite ones free from the risk of damage or extreme dirt, there are other options. Fitting a set of insoles is an easy way to ensure that your feet are given more protection and support. We have a wide range available on PhysioRoom.com, but for beginners, these Physica trim-to-fit insoles are a safe bet. Heel pads, such as these Sorbo RX Blue Heel Pads, are also widely considered as a cheap and convenient method of providing more comfort not only while running but for everyday use, too.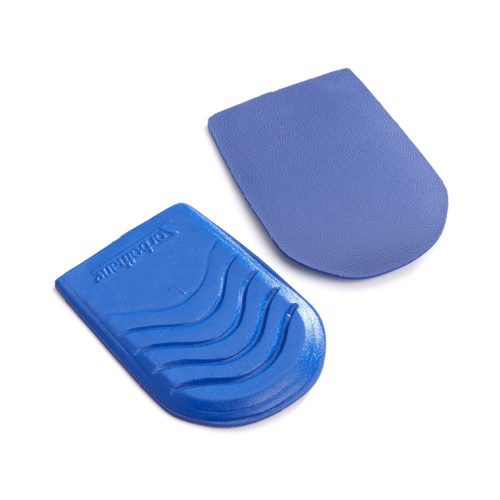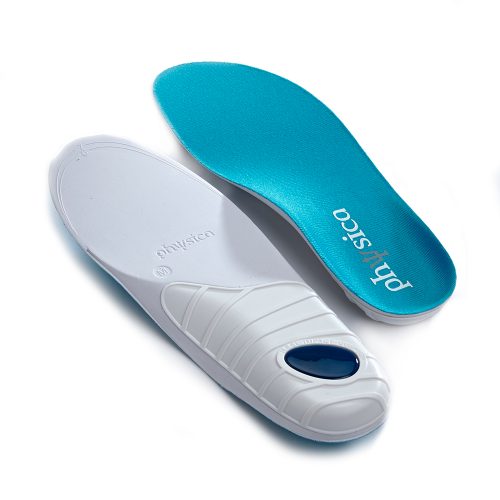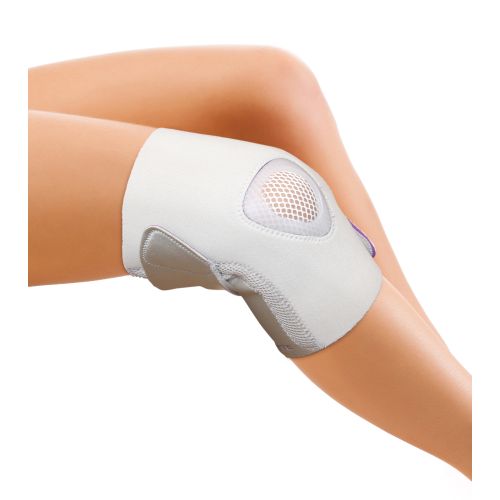 Look after previous/recurring injuries: If you've had surgery, broken a bone or suffered a long-standing injury in the past, it's likely you'll want to protect yourself during any future physical activity. Whether you're running five kilometres or 26 miles. Naturally, there are hundreds to choose from and all of them serve a different purpose or offer an alternative function, so it might seem an impossible task to decide which one suits you best. You don't need to spend a fortune on covering your leg in the most complicated robot-looking brace out there if you don't feel you need it, either; hinge-free and knitted sleeve options are available. For example, Bekki's colleague could try out our Elite Knitted Snug Series Knee Support to provide her with a bit more stability for her old injury, or the Wellgate High Performance Knee Support, designed for women with stiff, sore or weak knees.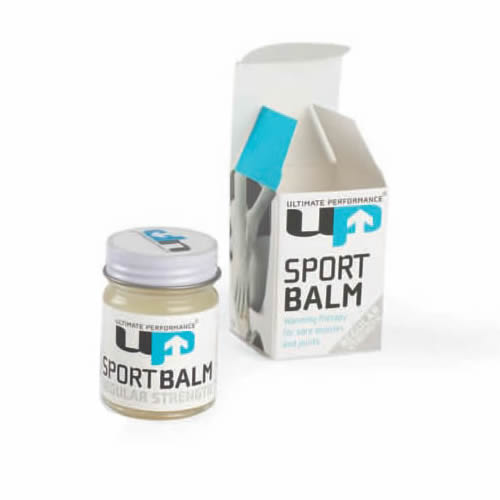 Aftercare is important: She may have been a little lucky about it, but the muscle balm Bekki used certainly provided her with more comfort in the days following the race. When you've done more exercise than you're used to, you may experience delayed onset muscle soreness, or DOMS for short. We've written all about it here, but to summarise, DOMS refers to the tenderness, pain or discomfort you often feel in your muscles a few days afterwards. Muscle balms can be a very effective way of beginning to combat this. Ultimate Performance Sports Balm, which comes in regular or extra strong depending on how badly you're feeling the effects, provides soothing pain relief for tired muscles. Treatment room favourite Deep Heat also have a Bath Foam complete with an aquatheraputic fragrance, allowing you to truly relax after a day of working those muscles.