We all marvelled at the fantastic fitness and abilities of the athletes at London 2012. To watch the top people in their sports competing in the Olympic Games was a joy to behold. It was humbling to witness their talent and dedication as they made the human body do amazing things.
Obviously, they did not just turn up on the day to compete. The body of that athlete you saw at the Olympics was honed by months of hard work. While the games take place in the summer all the blood, sweat and tears are shed in the winter.
Success and failure
It could be said that success or failure is not decided in the sunny stadium but on the chilly training track. If a competitor is forced to miss part of their winterֳ training through injury they will not be able to compete to the best of their ability.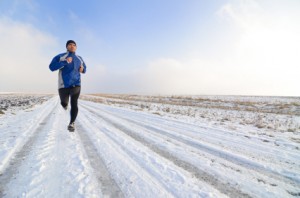 For instance, Dai Greene was the favourite for the 400m hurdles going into the championships. But persistent knee pain meant that he had to have surgery during the winter which delayed his training programme.
He told the BBC: Ӊ meant to start training in October. I couldnִ start until halfway through January.ӠHe managed to finish fourth but he admitted: ҨHe was) lacking a bit of endurance at the end.Ԝn
If he had been able to train during those vital months he may have had the extra strength to challenge for a medal. As it was despite showing fantastic spirit and courage he just did not have the strength to compete.
Getting away from it all
Most of the top athletes search out a bit of sun when it comes to training in the winter. Not only is it more pleasant to train in warmer climes research suggests it is better for their bodies. There is less chance of an athlete getting injured if they go abroad.
Warm weather makes muscular injuries less likely and first aid kits should not be needed. Cold muscles tend to tighten and this leads to muscle strains and tears. Ironically, when this happens the athlete needs a cold pack to ease the injury.
The sun is also a natural source of vitamin D. It is well known that vitamin D deficiency can affect athletic performance and make the body prone to injuries. By training in hot weather the athlete can get his or her fill of this vital vitamin without having to take supplements.
Psychologically it has got to be better putting in the hard yards in the sunshine than on a bleak snowy day somewhere in the UK. However motivated these athletes are they are more likely to be up for training in sunny Spain than snowy Salford.
By getting away from it all they can focus completely on their sport. They are not distracted by anything when they are at the training camp. To get to the top you have to be single minded and focused and a few months away in the sun allows our potential champion to concentrate completely on their event.
Sacrifices have to be made to be a winner but when they are on the podium wearing the gold medal suddenly it all seems worthwhile.