Went out for a great run tonight. It was fab. I was two seconds quicker than last night. It doesnִ sound like a lot but I am over five minutes quicker than when I first started. I feel so good. I know it is endorphins or something that goes to the brain after exercise but it feels so good. I feel fantastic!
Itֳ all thanks to Brian at work. I said to him that I fancied getting back into running. I was quite a good athlete at school but I had let myself go in recent years. But I had put off running because of a knee injury I got whilst playing five-a-side football. I told myself that my knee would hurt so I decided to not bother.
Bri then just said, in that laid back way of his, ӈave you tried a ligament knee support?Ԝn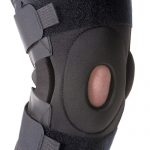 Ӂ what?ӠI said.
ӏr a knee brace?Ԝn
ӌook, these things help. I use one,Ӡhe said and as if he was taking part in some sort of Masonic ceremony he rolled up his trouser leg to reveal this support style thingy on his knee. The office turned to look at him and he showed it off like a model on the catwalk.
Now, you would never know that Brian needed such a thing as he seems so fit but you just never know what lurks under the surface. So I bought a knee support and started to run again.
I canִ believe how good it has made me feel. The first few steps were tentative but once I knew my knee was safe I gained more confidence and started to forget about it. After all these years I was running and I wasnִ even thinking about my knee. Remarkable.
Just to know I can run again has been great, As soon as I get home from work I get out there and start pounding the street. That half marathon I entered is only months away… To think that I will be running a half marathon is amazing. It would have been unthinkable a few months ago.
To think that I became imprisoned by my knee pain into thinking that I could not jog again seems so daft. But that is all in the past and I have a new lease of life.
Thank you, Brian!