If you've ever stopped during your workout at your local fitness centre of choice and taken a glance around the wider world of the gym floor, you may start to notice just how many contraptions, accessories and tools people employ to achieve their goals.
Be it kettlebells, balance trainers or foam rollers, there's always something new and innovative dropping off the conveyor belt of the fitness world.
But for every piece of solid advice, there's an advert featuring Cristiano Ronaldo telling you all he did to get his rock-hard-abs was throw an alien device from the future on to his stomach and look in the mirror, so it's always difficult to separate the wheat from the chaff.
But when it comes to suspension training, you've got some serious wheat my friend.
With every new innovation comes cynicism of course, so when TRX launched their products in the mid-2000's people were unconvinvced. But fast forward more than a decade and building muscle with nothing more than two elastic bands and somewhere to fix them too is a widely accepted method of training.
According to TRX, Randy Hetrick is the man who conceptualised and developed the prototype of the TRX during his time in the military as a Navy SEAL.
What he was after was a way he could do his usual exercises and maintain his fitness levels no matter where he was or what equipment was available.
Much like it's military origins, suspension trainers, which is usually the term which all TRX products and others are grouped under, are both functional and minimalistic.

How do they work?
The premise of suspension training is that it works to the same principles as calisthenics and body weight training which allows for the building of functional muscle with a cardiovascular twist.
Body weight training however is not a limitless workout spectrum and many exercises that are performed in the gym with the use of weights are typically unable to be replicated by using merely the body alone.
Suspension training exercises offer a solution to this problem by adding an extra dimension to body weight training.
The suspension training systems such as those developed by TRX can be used in a huge variety of ways from simply adding resistance to providing a platform for the improvement of difficult training exercises such as pull ups and muscle ups.
How do I use it?
A suspension trainer is typically attached to a fixed point based above the athletes head and acts as either a basis for support during exercises such as pull ups (by taking the weight of the feet) or as an added form of resistance such as when performing inverted push ups.
By providing functional weight baring movements using the body's own natural weight, the core is constantly engaged within the activity and as such, is one of the major beneficiaries of this type of training regime – a factor that normal high-volume weight training often ignores.
Here's a couple of beginner exercises to give you a flavour:
Inverted Push-Up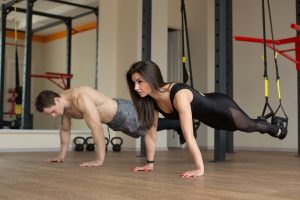 What is it? A push that isolates the upper body. Usually performed against a wall and known as a handstand push up.
Suspended: By fixing the feet into the suspension trainer instead of onto a wall, the inverted push up is make far simply whilst also engaging the core laterally due to the each leg moving separately of the other.
Plank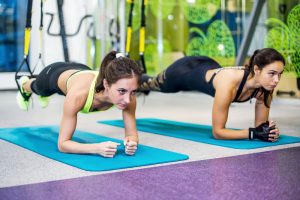 What is it? The bane of every gym goer's life, the plank is an isometric strength exercise that involves maintaining a position over time.
Suspended: By using a suspension trainer and placing the feet in the foot holds provided the core is engaged laterally and the oblique's are also brought into the equation which adds an extra dimension to the workout. The added benefit of taking the weight off the feet – which often stay hyper-extended during a traditional plank.
Benefits of Suspension Training
Total Body Workout
The acronym TRX actually means Total Body Resistance Exercise. The resistance comes in when your body weight combines with gravity to put a load on your muscles that can help increase strength, fat loss, endurance or flexibility, meaning suspension training is a good tool for pretty much any fitness goal.
There are hundreds of exercises with hundreds of variations on top with suspension training, with everybody part receiving its focus, which ensures that a full body workout is not only possible, but can be enhanced in a number of ways, including the fact you don't have to change equipment, which minimises the time needed to do an entire workout!
Core
An impressive core is more than just six-pack abs, it's about looking moving and feeling better in everyday life.
Any exercise done with the help of suspension trainers forces the core muscles in the abs, obliques and lower-back to stabilise and brace you in order to let you perform the exercise.
Suspension training is about functional strength. Meaning it's not about how big your biceps are, but how much easier everyday things like picking something up and carrying it are.

Suitability
The nature of suspension training means you can simply adjust your body's position to increase or subtract resistance, meaning you're in control of how much you want to push yourself on every exercise.
It's this handy feature that makes it the perfect piece of equipment for people of every fitness level, be it Olympic gold medallist or veritable couch potato.
That suspended state also means that it's a low impact training method, which can obviously help in the never ending pursuit of injury prevention.
Versatility
As we mentioned earlier, TRX/Suspension training was developed a Navy SEAL who was looking to maintain his fitness levels while travelling.
Suspension trainers are supremely easy to move around and take up barely any space at all.
So whether you want to work up a sweat at home or while you're working away or on holiday, all you need to start exercising is some sort of anchor point and you're off!
Products
PhysioRoom stocks three TRX Suspension Trainers as well as our own branded trainer…
TRX Suspension Trainers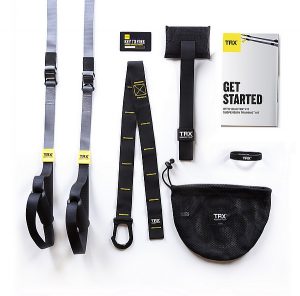 Weighing less than one lb this is the lightest, entry-level suspension trainer that can be set up in less than 60 seconds giving users the opportunity to perform an intense workout anywhere.
The TRX Fit Suspension Trainer comes complete with Get Started Guide, Door Anchor, Instructional and Training Videos, Suspension Anchor, Mesh Carry Bag, Workout Poster and Wrist Band.
It has comfortable foam handles and Includes two 20-minute workouts conveniently printed to post on the wall or take with you.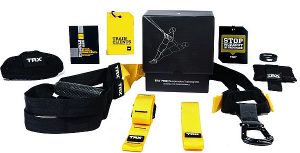 Ideal for fitness professionals looking for the perfect mix of equipment and content to train clients of all ability levels, anywhere.
It is durable, easy to clean rubber handles and has 3 different types of anchors for maximum versatility, as well as a locking karabiner to deter theft with maximum loading of 917kg.
The TRX Suspension Trainer comes complete with a Get Started Guide, Xtender Strap, Trainer Basics Online Video, Door Placard, Wristband, Wrench, Suspension Anchor, Door Anchor and Mesh Carry Bag.
A lightweight, highly portable and scalable suspension training system that can be set up anywhere.
Perfect for the fitness enthusiast at home, it has comfortable foam handles and at 1.4lbs, the straps are made of a heavy-duty, but lightweight nylon webbing.
It has 1300lbs tested Karabiner, equalising and locking loop and barrel locking adjusters with maximum loading of 580kg.
It comes complete with Get Started Guide, Six Digital Video Workouts, Suspension Anchor, Door Anchor, Door Placard and Mesh Carry Bag.