The 2001 – 2012 Premier League season has been one of the most, if not the most, exciting football seasons that anyone can remember.
A round up of this season's injuries…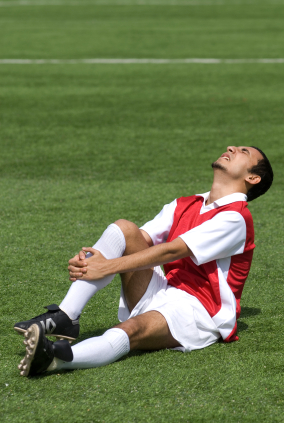 The fight for the title was neck and neck all the way between the two Manchester giants until it was decided in its dying seconds by the right boot of City striker Sergio Aguero.
United fans point to the serious knee injury suffered by Nemanja Vidic as a reason for the teamֳ failure. The club captain and defensive linchpin was stretchered off in a Champions League game at Basle in December and was ruled out for the season.
The pictures of him the next day using crutches and wearing a ligament knee support were distressing for all fans of the reds to see.
Knee Injuries
Vidic is not alone in suffering a cruciate knee injury this year. Emmanual Frimpong of Arsenal ruptured his anterior cruciate ligaments whilst playing for Wolves against QPR.
Bolton fans can point to the loss of their star American midfielder Stuart Holden as a reason for the team being relegated this year after more than a decade at the top.
His injury nightmare has been such that he has been out since March 2011. He did make a comeback last September in a Carling Cup tie but the club confirmed he needed another operation on his knee due to cartilage damage.
With a scream of pain last November as he twisted his knee in the turf Fulham defender Zdenek Grygera indicated the intensely painful nature of ligament injuries. As he left the pitch needing oxygen and on a stretcher fans feared the worst for his career.
Modern surgery though means that such an injury does not lead to the end of a playerֳ career and he is already in the gym getting fit for next season.
Ankle Injuries
The England squad for the European championships has been announced. Someone who may have been in that squad is Michael Dawson. He was called up for the last World Cup and has been outstanding for Tottenham this season when he has played.
On the 7th March in a cup tie with Stevenage he ruptured his ankle ligaments. He fell awkwardly after an aerial challenge.
This summer he will have to keep his feet up, with his ankle support on, and support the team from the comfort of his living room.
Other Injuries
Newcastle had a fantastic season and they defied the pundits by finishing a fantastic fifth in the league and qualifying for Europe.
Their strike force of Cissά Ba, and Ben Arfa were exciting to watch and all three scored marvellous goals. But another Newcastle striker Peter L࠶enkrands ruptured a muscle in training in March which put him out for the season.
However, the least surprising injury story of the year concerned Kieron Dyer who must travel everywhere with a first aid kit.
On his debut for QPR in August he injured his foot and was out till December. He then picked up another injury on his reserve team comeback which put him out for the season.
He must be the unluckiest player ever to play football and it is anybodyֳ guess how many minutes he will play next season.