In a list of rough, tough sports rugby has to be high on the list. It is a hard game played by hard men. Followers of rugby, be it league or union, tend to look on footballers as soft. If you want to play a real manֳ game you play rugby.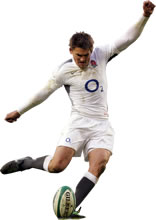 It is a game that is so physical it can lead to very shocking injuries. Famously rugby players have cauliflower ears and smashed up noses, and they are the good looking ones. When you see rugby players at the gym are the big guys jogging with the ligament knee support.
Johnny Wilkinson
The road for the man who won England the world cup with that famous drop goal has been littered with some shocking injuries along the way and he has defeated them all.
Despite the amount of time he has spent in the operating theatre he holds the record for the amount of test points scored and points scored in the Rugby
World Cup
It is a testament to his dedication and his talent that he has set these records when you consider he has broken his shoulder, seriously injured his medial knee ligament, dislocated his knee, suffered a haematoma to his arm as well as having appendicitis and kidney problems.
Tom Williams
This injury was shocking for the fact that there was in fact no injury. It led to Harlequins director of rugby to be banned from coaching for three years and seriously affected the reputation of the sport.
Tom Williams faked a blood injury so that fly-half Nick Evans could return to the field in a Heineken cup match with Leinster. Evans had departed injured but his replacement also went off injured later in the half.
With what appeared to be blood coming from his mouth, Williams could be replaced by the specialist kicker Evans as Harlequins tried to come back and win a close match. Ironically, Evans missed a drop goal and the Irish side held on to win 6-5.
It appears that instead of using his first aid kit the physio used his theatrical blood kit so that Williams, who allegedly winked at the bench on his way off, could play his role in this shocking affair.
Tony Caine
But for a truly shocking real injury you have to look at Tony Caine.
In a rugby league match between the Cronulla-Sutherland Sharks and the New Zealand Warriors Caine suffered a knee injury so severe that his surgeon said was similar to the sort of trauma you would see in someone who had been in a motor accident.
Making his debut for the club he attempted a kick in play and was charged down by Warriors prop Steve Price. He sustained the injury as his knee took the full of force of the 17 stone Price crashing into it.
He needed surgery on his anterior, lateral and posterior ligaments as well as his calf. Bravely, he did fight back to play again.
I mean, whatֳ a little bit of knee pain to a rugby player.