The tennis season got back in to full swing with the opening stages of the first grand slam of the season in Melbourne this week, so we at PhysioRoom.com thought we'd give you a rundown of some common tennis injuries
The Australian Open got under way this week, and with its commencement, it signalled the beginning of the new tennis season. Our very own Sir(still feels weird) Andy Murray will be looking to exercise some old demons in Melbourne as he aims to finally make that last step to the summit after previously playing in and losing five finals in the Rod Laver arena. If he's to do it, and in the process delight millions of Australians who love supporting British sportspeople, he'll have to hope his luck with injury stays as steady as it has been in recent years.
Meanwhile those with slightly more modest ambitions will be hoping to advance as far as they can without having something snap or tear under the undoubted slog of a grand slam fortnight. But as sure as it is that at some point our Andy will put on display his Sir-ly ways and scream at his coaches in the stands, so is it that someone will suffer an injury.
That's why PhysioRoom.com is on hand to give you the low-down on a few of the most common tennis injuries, and how you might go about treating and preventing them.
So, let's get in to it…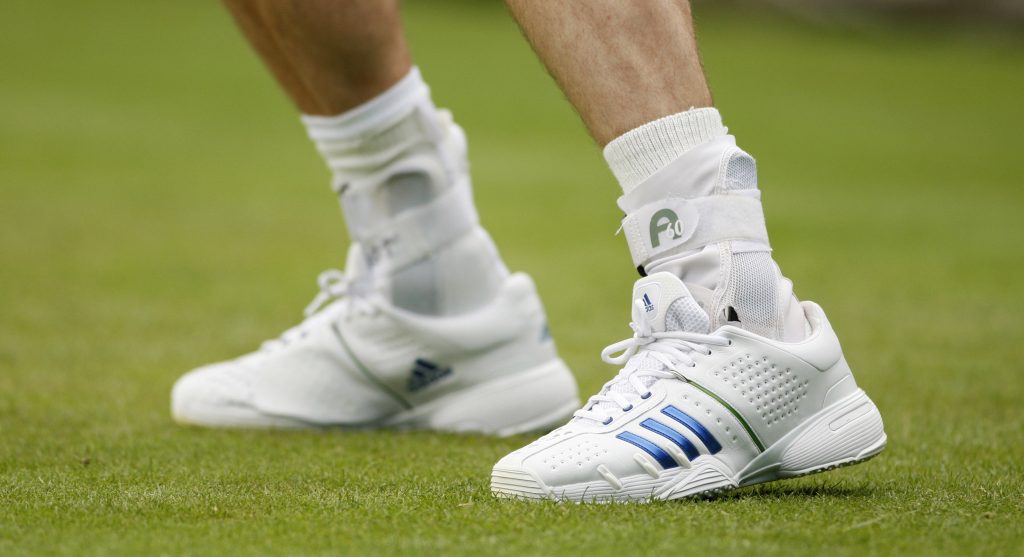 Ankle Sprain
What is it?
Ankle sprains are relatively common in tennis players. The sudden sideways movements that are required from top-class tennis stars can cause ankles to twist, especially if the surface is slippery or the player is fatigued.
A twisted ankle causes damage to ligaments and other soft tissue around the ankle. This damage then causes bleeding within those tissues, which produces the swollen area that can be rather painful.
The likes of Roger Federer and Andy Roddick have been known to suffer from ankle sprains, but none more so than our very own Andy Murray.
Who do we know with ankle troubles?
Murray's style of play is all-action. Gut-busting sprints followed by tendon pinching turns and ligament tinging stops and starts. The Scot might run along that baseline, side to side, for up to 5 hours in a grand slam.
And due to Murray's consistently high level, which means he'll progress to the end of most tournaments on tour, wear and tear is unavoidable, meaning the Scotsman has a storied history with ankle injuries, experiencing them since his teenage years.
He's worn at least one ankle brace for 11 years and now often wears them on both ankles for that extra support. The current world number one once said of his injury problems:
"My injury will never go away. It's already become chronic so there's no chance to fix it so i can play without pain."
Murray even had ankle troubles this week in his second round victory over Andrey Rublev. In the third set Murray appeared to roll his ankle and cried out in pain. He was able to continue and close out the match, afterwards saying:
"It's just a little sore. It's not too serious,"
"I definitely rolled it a bit and I'm sure I'll get some ice on it. I was moving OK. I can put weight on."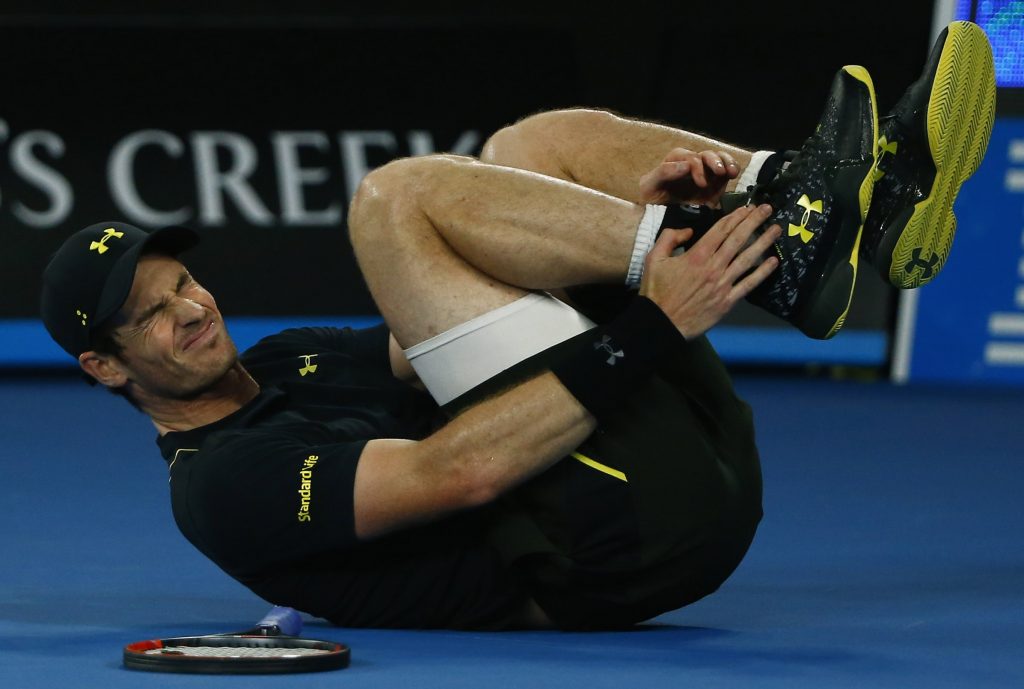 How can we treat an ankle injury?
It just so happens you may have noticed Murray sporting our very own Aircast A60 Ankle Brace. And in fact, the white version of the Aircast A60 Ankle Brace was actually designed specifically for him to fit in with Wimbledon's strict, all-white, dress code.
With this brace, stabiliser guards are fixed at either side of the ankle at a 60 degree angle offering optimal ligament protection against ankle roll.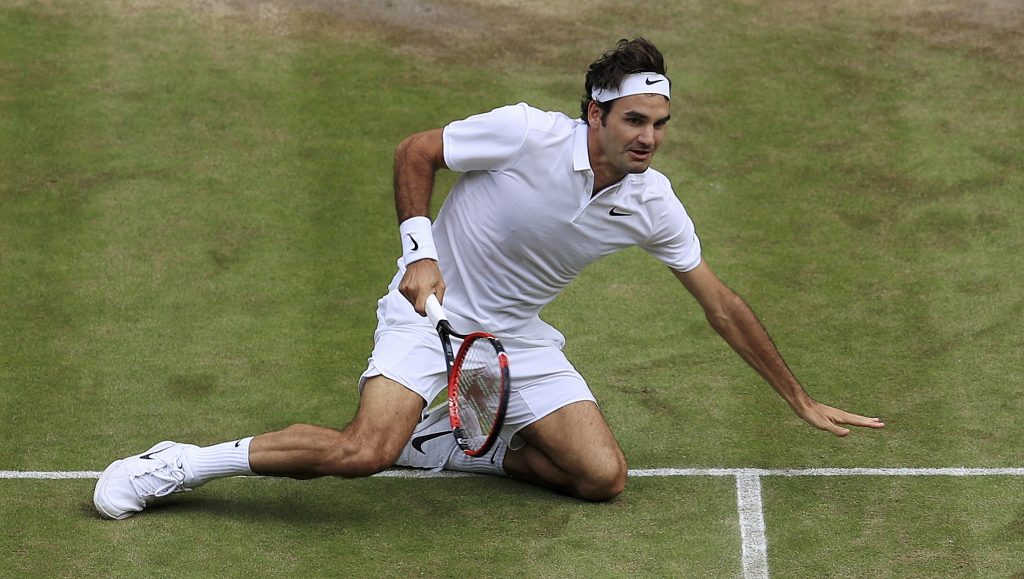 Torn Knee Cartilage
What is it?
A knee cartilage tear is a common knee injury in not just tennis but all sport. As the knee joint bends the thigh bone moves on the top surface of the shin bone. Under certain circumstances, the meniscus (often referred to as cartilage) that provides a 'cushion' between the two bones can get nipped and torn.
In some cases, after the initial knee pain and swelling, the swollen knee joint settles down and normal activities can be resumed without knee surgery. However, in the case of a top-class athlete, if the flap of torn cartilage causes knee locking or giving way, surgery is required.
Who do we know with knee troubles?
Tennis' classiest operator and all-time leading Grand Slam winner Roger Federer enters this tennis season off the back of a meniscus tear that required surgery, which kept him out for six months.
Once the sport's premiere name and most recognisable face, we haven't seen Roger cry tears of joy/devastation, depending on whether he won or lost the grand slam final, for some time.
There's no doubt that when fit Federer can float across the court and hit shots with such finesse that they wouldn't mark freshly laid show. But such distinguished movement usually requires a working knee to pull off, something which going in to this tennis season, Federer was more than aware of:
"After Wimbledon, the race was on for Australia really, trying to make it for here," Federer said.
"I knew I had plenty of time. Probably, in actual fact, if I would have kept everything short, it would have taken me four months then. That was pushing it. I would have had to take chances, test the knee earlier than what would have been good. But by giving myself six months, I had enough time, except if I had some setbacks. I never had that. So actually at the end I had plenty of time."
How can we treat a knee injury?
If unlike Roger you don't have ample rehabilitation time, there's always some supportive solutions available from the PhysioRoom.com.
If you liked how seamlessly I linked Federer's injury problems to our products, then feel free to check out the Elite Pro Hinged Knee Brace. The Elite hinged knee brace provides outstanding knee protection during a range of activities.  It helps to improve the stability of the knee following partial or complete tears or surgery to the knee ligaments, as well as being ideal for use following a meniscus (cartilage) injury.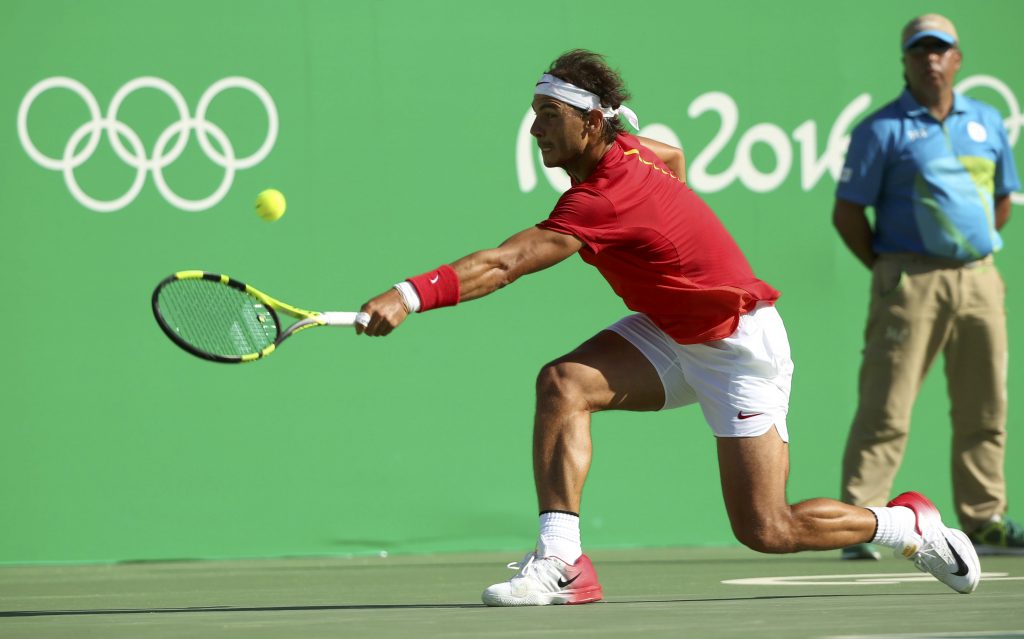 Broken Wrist
What is it?
A broken wrist commonly occurs following a fall on an outstretched hand. A scaphoid fracture is the most common fracture of the wrist region (a colles fracture is the other common type of wrist fracture). The scaphoid is one of the eight small carpal bones that make up the wrist. A fractured scaphoid will be painful, but the wrist may not be swollen.
If a wrist fracture is suspected the patient should be taken to an accident and emergency department without delay. Rehabilitation begins by maintaining the range of movement in the shoulder, fingers and thumb on the side of the broken wrist while it is in plaster or brace. This prevents secondary stiffness in these areas and helps to resolve swelling in the wrist.
Who we do we know with wrist troubles?
Hoping to finally shake off a troublesome wrist injury and return to the tour is everyone's favourite man with asymmetrical arm mass, yes, it's Rafael Nadal. The Spaniard was forced to pull out of his third-round match at the French Open last year due to an ongoing wrist problem, bringing an end to his bid to win the tournament for a record-extending 10th time.
He was also made to miss Wimbledon which failed to give hope to his legions of fans that he'd ever truly return to not just fitness but crucially, form.
Rafa has been blighted with injury trouble since 2012 and admitted his return and gold-medal-winning performance at the Rio Olympics was riddled with pain, saying:
"Because (the) Olympics, even if was a great event, I still had a lot of pain on the wrist. Was so difficult to play."
How can we treat a wrist injury?
Pain in the wrist and playing through injury isn't uncommon in elite sportsmen, especially tennis players with their often hectic schedules like Nadal. That's why we here at PhysioRoom.com, perhaps purely by sheer coincidence, just so happen to offer products like the Elite Knitted Snug Series Wrist Support with Adjustable Strap!
This wrist strap is perfect for strains and sprains but also for assisting rehabilitation following a wrist fracture where the user want to get back to daily activities as quick as possible.
Author: Chris Coates