I wrote this piece for Newcastle United's largest independent fanzine The Mag back in August, just before the start of the new season and just before the disaster that was 'The Etihad'.ˁfter only three Premier League games ( 1 win / 1 draw / 1 loss) and with the team currently sitting in 12th place am I wrong for thinking – Where has it all gone wrong!?
As I thumb through the daily tabloids and click on the various websites hoping for just a snippet of good news I am underwhelmed by the distinct lack of summer activity and pertinent˴alking points. May be Iֶe come to expect more, last summer the country was riding high on a wave of Olympic spirit, supporters of Newcastle United˷ere confident of building upon the success of a heroic 2011/12ˣampaign and life seemed good, exciting, full of hope for a 'New Season'.
That optimism has long since gone and any harbouring belief is built upon super-natural happenings with miracles and magic, the stuff normally reserved for comic book legends Roy of the Rovers, Hotshot Hamish and Billy the Fish.
If Newcastle approached last season lacking strength and depth in keys positions, then the predicament we find ourselves in now simply beggarsՠbelief. Out go Danny Simpson and James Perch, both solid squad members while the potential and talent of Shane Ferguson will once again be the reserve of the Championship with another loan spell at Birmingham.
If Newcastle were to take one positive from last season, then fitness is paramount. Having the ability to field your best players when you need them most! This is not a luxury afforded to the few; this should be a prerequisite for all top-flight clubs and one which regularly evaded Alan Pardew last season.
Fitness is very much in vogue at this time during preparations, it certainly seems to be the բuzzwordՠof the day, as if an FA directive had instructed players and staff to praise the benefits of high-intensity summer training camps away from prying eyes, each lauding the fabulous work of the trainers and backroom staff.
Striker Connor Wickham was quoted recently when questioned about Sunderlandՠthe Di Canio regime
Ӊtֳ been difficult, but all of the lads were expecting a difficult pre-season. Now weֲe back in the North East, we֬l be one of fittest teams in the league, without a doubt. We are feeling fitter and stronger in the games, so I think itֳ only going to help us and improve us as a team.Ԝn
Manchester United defender Rio Ferdinand
"We're fitter than when we came so that's a plus, the lads have enjoyed it, we're tired but it's been more than worthwhileԜn
Arsene Wenger revolutionised football in this country when he introduced a concept and created a new ethos. Out went the drinking culture and endless running along sand dunes, pushing players to breaking point, he introduced new training methods, nutritional plans, total body and mind preparation. Have Newcastle finally understood the importance of this foundational work?
Gutierrez offered one explanation for his teamֳ misfortunes during 2012/13
ӗe have to do things the right way. There were some things that went wrong last season, the training sessions for example. They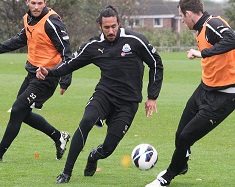 had no intensity. Our training sessions were really light and then we suffered in matches. The senior players, including me, have talked with Pardew as we wanted changes. Letֳ see if the training sessions change this season and have more intensity.Ԝn
Time will only tell but the early signs are encouraging, five friendly fixtures so far and with the exception of a few minor issues the squad has remained on the whole fully fit.
Pardew has been vocal regarding the progress and steps taken to address any previous issues "At the back end of last year I warned the players that pre-season would be the toughest of my time here, for sure, and one of the toughest I've ever done.Ԝn
A comprehensive preseason training programme forms the cornerstone for any athlete regardless of level to prepare themselves mentally and physically for the demands thrust upon their bodies during the battle of competition. It allows the medical team to assess fitness and measure progress throughout the summer tailoring sessions unique to certain players and positions. Take Tim Krul as an example, as well rehabilitation on his dislocated shoulder the goalkeeper will put through a number of punishing drills and routines designed to improve his reflexes, agility and positioning. The same is not necessarily relevant for a Hatam Ben Arfa or Yohan Cabaye. Given their past problems, the French duo can expect targeted strengthening exercises to address imbalances or muscle weakness in particular to the hamstring, quadriceps and groin. Those groups heavily involved in the fundamental actions of the game – kicking, twisting and turning with quick changes of pace as well as focussing on technique and work-rate.
The importance of a full preseason cannot be under-estimated; our own statistics show that those players who fail to complete this building-block to their overall fitness are more likely to be injured, particularly as the season progresses. Take Steven Taylor as an example, the defender missed out on valuable training due to a hamstring complaint last summer. He went onto to miss 77 days through injury last term, compare in contrast to players such as Gutierrez and Cisse who played almost 6000 minutes of Premier League football between them in 2012/13. Neither suffered any long term problems with only Jonas picking up anything significant in the form of a knee injury back in December.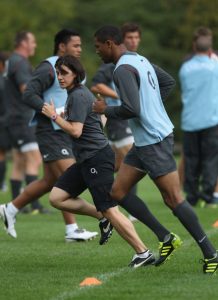 It therefore came as no big surprise to me that the first and biggest signing to date for Newcastle United this close season has been Faye Downey, a fitness consultant boasting a wealth of experience. The former England Rugby World Cup and British Olympian Strength and Conditioning Coach will need every bit of her knowledge and expertise to halt an alarming trend in the number of injuries Newcastle have sustained over the past few years, with specific interest in soft tissue problems I֤ suggest.
Alan Pardew was quick to react to a season which saw Newcastle almost double the Premier League average for the number of days lost to injury (1745), a proactive decision to help prevent reoccurrence rather than a reactive frenzied January transfer window in a bid to maintain top-flight survival.
ӆayeֳ come in to oversee us as a performance director,Ӡbeamed Pardew ӓheֳ making sure that we do it in the right manner.Ԝn
Suggesting the pressure was really on to address a horrendously problematic injury record.
Misfortune, bad-luck and even a freakish turn-of-events can portion part of the blame but year-on-year Newcastle cut a desolate figure with injury totals rivalling any other team within the Premier League. Consistently these on-going problems fragment seasons full of potential slamming shut the door of opportunity, ruining our chances of silverware. We are amongst the elite for injury occurrence rates and recovery time, a Champions League stalwart for want of a better expression, the impact of which will reverberate for years. Newcastle have topped the Injury Table twice within the last four yearsʠand boast figures which are on average 50% higher than those typically seen.
However with fresh insight comes renewed vigour and a determination to desperately succeed, Newcastle United have the quality, the match-winners, and the game-changers. Couple this with a fit and healthy squad and who knows, we might just surprise a few next season, including ourselves!
Author : Ben Dinnery