'Manchester Derby' Sunday 23rd September 2013 marked the end of a quite remarkable run which stretched back to March 2011, but for most United supporters this startling statistic largely went unnoticed given the performance and result in a hugely disappointing day for The Reds.
After 90 consecutive Premier League games, Dutch striker Robin van Persie missed out against city rivals due to an injury he picked up in the UEFA Champions League midweek victoryˡgainst Bayer Leverkuson. Manchester United manager David Moyes later confirmed a slight groin problem during his post-match interview, with a return possible on Wednesday night :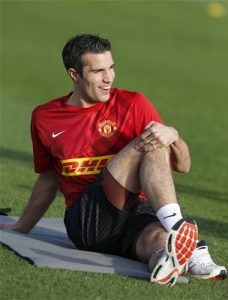 "He did a bit of training in the last couple of days, but he just felt it when he did any sharp movements and he didnִ want to aggravate it, so we took the decision [to not play him today]."
Thatֳ a run which extends back over two and a half years, no mean feat when you consider the player had previously missed almost a third of his Premier League games whilst at Arsenal.
And the secret to Robin van Persie injury-free success? The BodyHelix Omniskyn Thigh Helix!
BodyHelix compression wear is a new and technologically advanced support which utilises state-of-the-art design to provide a uniquely tailored product. Incorporating Flex300˦abric the compression sleeve has a greater expansion and recoil ratio when compared to more traditional neoprene wear forming an extremely comfortable, almost second skin. The distinctive material has been heralded for its injury preventative qualities reducing muscle soreness, cramping and fatigue while the perfectly contoured sleeve with enhance injury recovery with evenly distributed compression across the whole surface area of the skin.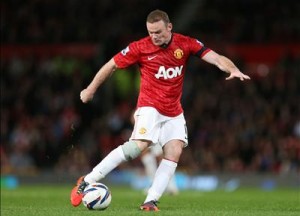 So impressed with the effectiveness of this support Robin van Persie was quick to recommend the BodyHelix Omniskyn Thigh Helix to club team-mate Wayne Rooney back in August 2012.
The Manchester United forward was left requiring stitches to a deep thigh laceration after an accidental clash with FulhamsՠHugo Rodallega. Despite fears that the England International would be missing long-term, Rooney returned within a month thanks to the healing and protective qualities of the BodyHelix Omniskyn Thigh Helix.
PhysioRoom.com have an extensive range of BodyHelix products suitable for almost every body part,˷hether˹ou're a recreational runner, elite level athlete ˯r suffering from age old aches and pains you will benefit from the therapeutic benefits of this revolutionary compression support.
Author : Ben Dinnery