Englandֳ goal scoring options were looking limited after Wayne Rooney got himself banned for the opening 2 games of Euro 2012, but after Darren Bent was stretchered off at the weekend with ankle ligament damage, the number of available strikers with international experience is now at zero unless Bent can be nursed back to fitness before the tournament.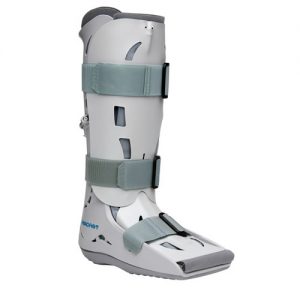 He was seen leaving the DW Stadium on crutches, wearing an Aircast XP Walker, the same style that Wayne Rooney wore when he broke his fourth metatarsal. The XP Walker is ingenious; it is fitted with four specially patented AirCells which inflate via a hand bulb. They apply compression to the swollen area, reduce swelling and promote recovery. The XP Walker is more convenient, comfortable and lighter than a regular plaster cast. It can be removed to wash the foot and perform rehab exercises which further promote recovery and reduce the amount of muscle wastage while you canִ train fully.
Darren Bentֳ recovery hinges around a scan which will take place next week to assess whether or not he will need to be operated on. If the ligament damage is not too serious he could (optimistically!) be back for Euro 2012, if not, he will be watching the summer competition on TV like most of us mere mortals!
Campbell, Sturridge and Welbeck will be the three strikers to be selected for the game against The Netherlands and all three of them will want to make their mark in the game, looking to cement their place in the final squad selection for Euro 2012.
Who do you think should captain England for Euro 2012? Leave your answers on our Facebook page, my vote is for Steven Gerrard, rather predictable from a Liverpool fan!