The dreaded ACL Knee Injury is every sportsman's worst nightmare. It's not just any injury; with that confirmation from a doctor comes a realisation that a difficult recovery journey lies ahead.
For professional athletes, it's almost a jail sentence, meaning they're destined to spend their days locked in the physio room completing a long and arduous rehabilitation period. And for us mere mortals, it means our Sunday League team will be missing their technically deficient "at least he turns up, give him a game" right-back.
So, that being the case, you're going to need a helping hand as you're slowly nursed back to full fitness. And there's nothing better than our range of knee braces and supports.
But before we get on to those, let's remind ourselves of the details behind an ACL injury.
What is an ACL Injury?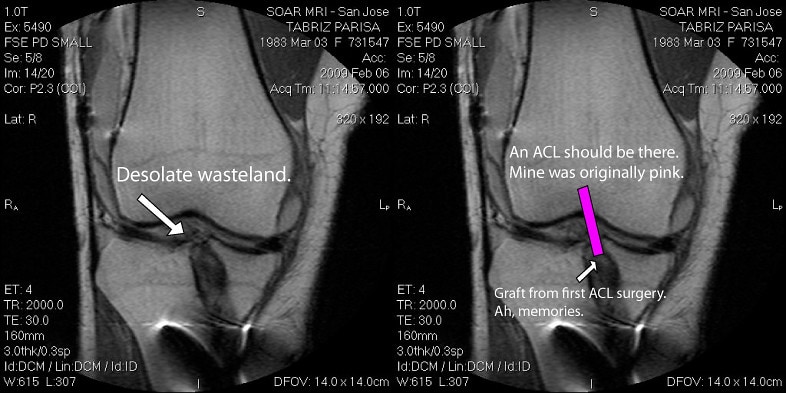 (Image Credit: Flickr)
ACL stands for Anterior Cruciate Ligament. An ACL tear is a common sports-related knee injury that often occurs during rapid direction changes and turns. Like a sprained knee, it can result from a traumatic incident or injury mechanism.
The ACL lies deep within the knee joint, connecting the thigh and shin bones. Its function is to prevent excessive forward movement of the shin in relation to the thigh and to prevent excessive rotation at the knee joint. Overall, it plays a major role in maintaining knee joint stability.
An ACL injury can occur in several different ways. Most notably by landing from a jump onto a bent knee and then twisting or landing on an over-extended knee. In high-contact sports, direct contact with the knee from opponents.
Due to the amount of force required to damage the ACL, it is not uncommon for other structures within the knee, such as the meniscus or medial ligament, to also be damaged.
Signs and Symptoms of an ACL Injury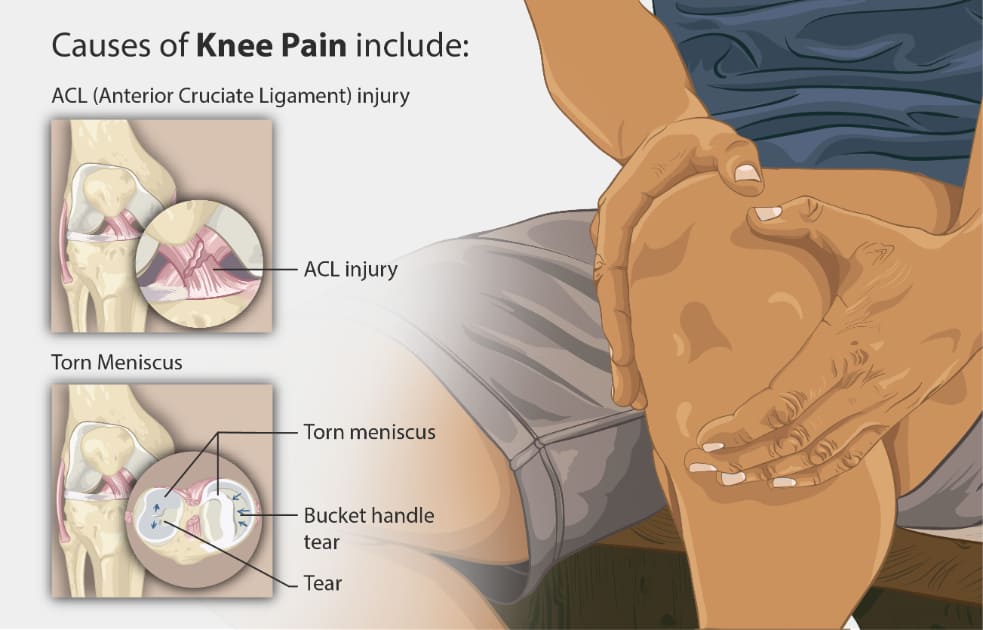 (Image Credit: Wikimedia Commons)
At the moment of injury, the person may experience a snapping sensation deep within the knee joint. There will be pain proportional to the force and degree of damage to other structures within the knee joint. The Medial Collateral Ligament and Menisci, or cartilage in short, are often damaged together with the ACL.
In some cases, the person may feel able to continue playing. But as soon as the knee is under strain during sports activity, the knee joint will become unstable.
The reason the person is unable to carry on could be the restraining function of the ACL is absent. Moreover, there may be an excessive rotation and forward movement of the shin in relation to the thigh, making the knee joint unstable.
After a couple of hours, the knee joint will become painfully swollen due to what is called haemarthrosis, which is the bleeding within the joint.
PhysioRoom offers a comprehensive range of top-quality knee braces for knee pain. Explore our best products for reliable knee stability solutions below: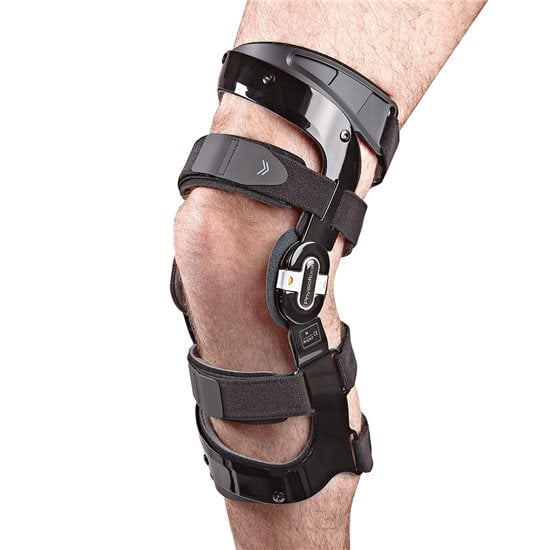 This knee support brace stands out as the best choice. Its exceptional features are tailored for optimal knee support and recovery. And that's only the beginning!
The Elite Defender is constructed from secure and durable materials. It provides a reliable foundation for various knee injuries and joint damage. Adjustable Velcro straps enhance both comfort and stability, ensuring a personalised fit. Its lightweight composition facilitates unrestricted movement, which is vital for rehabilitation.
Furthermore, the high-density foam lining safeguards the skin from friction. This, in turn, promotes comfort during extended wear. Notably, this knee brace is engineered with aircraft-grade aluminium, guaranteeing strength and durability.
The Elite Defender Ligament Knee Brace offers the essential support needed to speed up recovery. This makes it ideal for athletes with severe knee ligament injuries, e.g., ACL issues.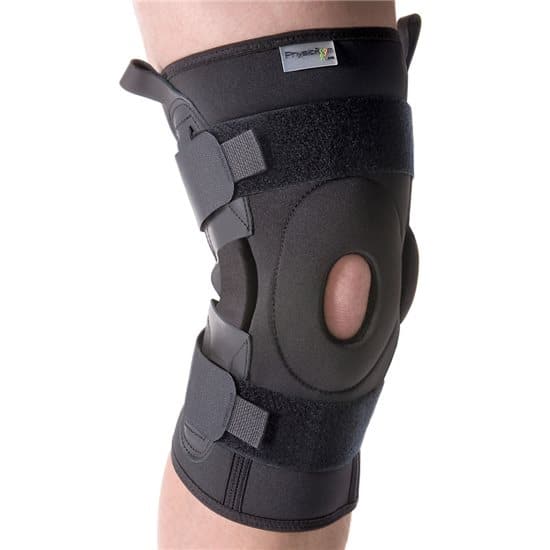 This wrap-around brace earns its reputation as one of the best knee supports. All thanks to its outstanding features that provide unparalleled support and comfort. It offers versatile usage for both daily relief and sports activities. This makes it an invaluable aid for individuals with knee injuries and joint pain.
Key features include the following:
Adjustable straps for security:

This ensures a secure fit. It enhances stability and confidence during movement.

Breathable and durable material:

Crafted from breathable, long-lasting materials. It offers comfort without compromising on durability.

Secure and washable:

Easy maintenance is assured, ensuring hygiene and longevity.

Extra comfort and stability:

The extra adjustable straps contribute to these benefits.

Full knee coverage:

Helps in aiding knee injury recovery by minimising unwanted movement.

Universal sizing:

Makes it accessible and suitable for a wide range of users.
The Wrap Around Hinged Knee Brace excels in delivering the ultimate combination of support, comfort, and adaptability. This, overall, makes it a top choice for those recovering from an injury, managing joint pain, or seeking support.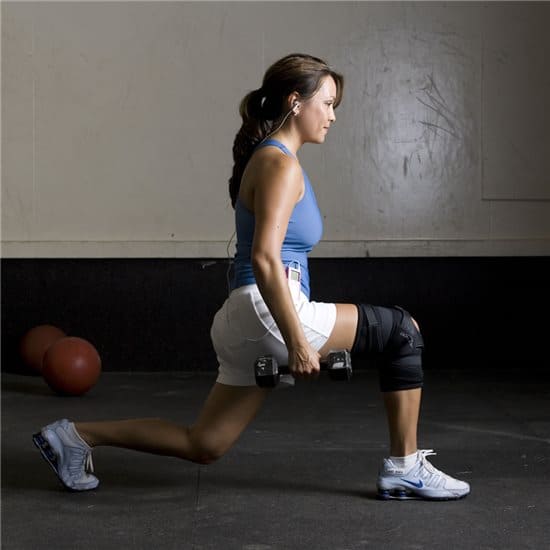 This advanced knee brace is the pinnacle of knee brace technology. It offers exceptional relief and support for those with anterior pain and instability – and there's more!
Starting with the dynamic patella support — one of its outstanding features. This brace dynamically pulls the patella during knee extension. It effectively addresses patellofemoral pain and instability, including:
lateral subluxation/dislocation

mal-tracking

patellas tendonitis
Next on the list is the breathable materials it is made of. This means the knee brace support remains light and comfortable during extended use. It ensures wearability even in active situations, to add.
The independent anchors are another key attribute. They work by preventing brace rotation, ensuring it stays securely in place. And finally, the elastomeric patella strap that pulls the patella during extension. It optimises patellar tracking and support overall.
What's not to love about the open knee cap support design and advanced features it comes with?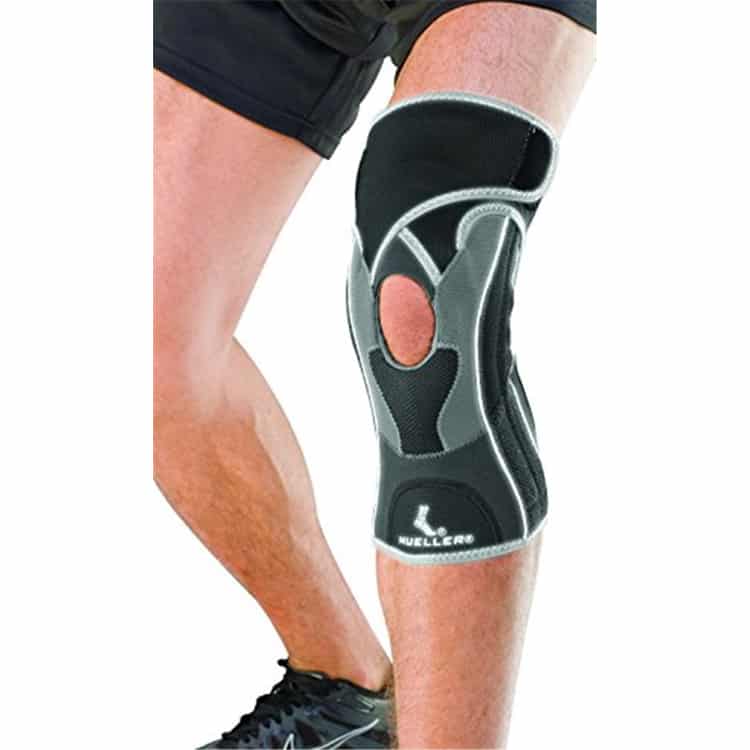 The Mueller Hg80 Sports Knee Brace offers a blend of comfort, support, and versatility. Designed to address various knee concerns, it excels in providing relief and stability. Its top key features are as follows:
Superior comfort and adjustable support:

Effectively manages sub-luxating patellas. Moreover, it offers support for stiff, sore, or unstable knees. Its lightweight yet durable construction incorporates supportive steel springs on both knee sides. This allows natural leg flexion and extension while delivering the essential support.

Enhanced comfort and durability:

All thanks to the extra padding and reinforcements at the top and bottom of the springs. They enhance overall comfort, evenly distribute force and boost the brace's durability.

Breathable fabric:

The use of breathable fabric ensures proper ventilation. It prevents discomfort from excessive heat and moisture buildup.

Neoprene-free material:

The brace is constructed from neoprene-free material. It caters to those with sensitivities while maintaining excellent performance.

Antimicrobial barrier:

It features a permanently bonded antimicrobial barrier, promoting hygiene and freshness.

Hourglass shape:

The hourglass shape conforms seamlessly to the knee. It helps optimise fit and comfort.
This knee sleeve support ensures you can maintain an active lifestyle with confidence and comfort.
Round-up
Selecting the right knee brace can make a world of difference in your journey to recover from an ACL injury. These braces offer the support, stability, and comfort needed during the rehabilitation process. Overall, each of these top-notch options can aid in your recovery and help you regain mobility. Your path to a healthier, more active future begins with the right physio room knee support.
Explore our great selection of supports & braces, including ankle support for walking. Learn more on your next read: What Is a Patella Stabiliser?