There's an old, well used adage in boxing, one you've probably heard, it goes "Styles make fights".
Whoever first uttered those words – if indeed it was one man rather than a phrase that has slowly, burrowed itself in to the consciousness of a sport with repeated use – probably didn't think they'd ever be referring to a cataclysmic super-fight, fought between two men of separate disciplines, that involves a fighter with not one professional boxing bout.
But then again, they probably didn't live in 2017, where, let's be honest, everything's gone a bit mad really hasn't it?
At its core, the phrase means that if Fighter A beats Fighter B and Fighter B beats Fighter C, it doesn't necessarily mean Fighter A beats Fighter C, as you might expect. Are you with me?
Well if not don't worry, because I'm about to pontificate that the phrase has taken on a skewed, and all-together different meaning for this fight of all fights.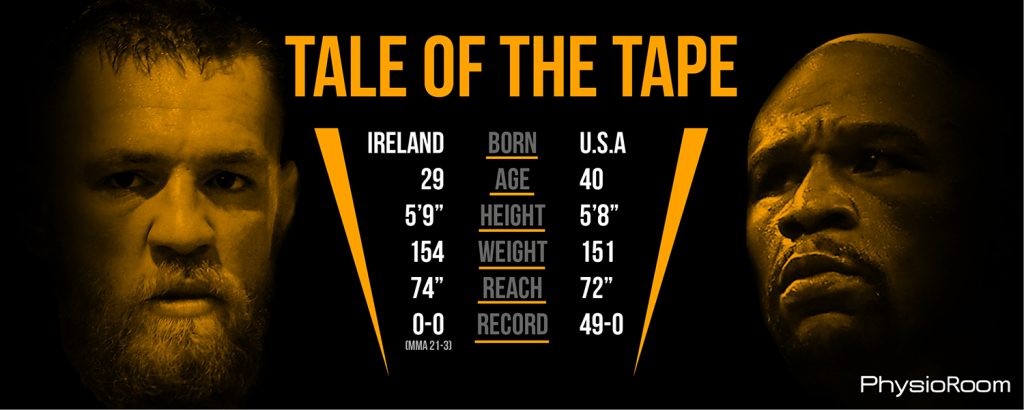 Conor McGregor versus Floyd Mayweather on August 26th is not just a clash of styles, of two men even, it's a coming together of two combat sports, and depending on the outcome, one, or both of those sports may never be the same again.
Such intrigue naturally demands there be money involved, indeed the reality of the fight happening hints for a start that there is, but how much?
'Money May' broke pay-per-view records when he beat Manny Pacquiao in May of 2015, with purchases of over 4.5million at an average cost of $99.
TV Revenue along was thought to have surpassed $400m (£309m) with Mayweather receiving at least $180m, and his clash against MMA's finest is set to generate even more.
Assuming PPV sales stay around the same level of the Pacquiao fight, despite a $100 dollar fee in the US, then the fight purse could be around $300m, with total revenues of around $700m (around £550m).
Overall, when the calculations are calculated, it's thought Mayweather could take home around £230m and McGregor a lesser $70m. The downfall of not being your own boss, Mayweather may preach, but we doubt McGregor is complaining.
So we know he's getting paid, but can he win? CAN HE?!
Well no, probably not, in fact, almost certainly not. But there's another old phrase in boxing, 'Punchers chance' and of course McGregor has one, a very slim one, but one all the same.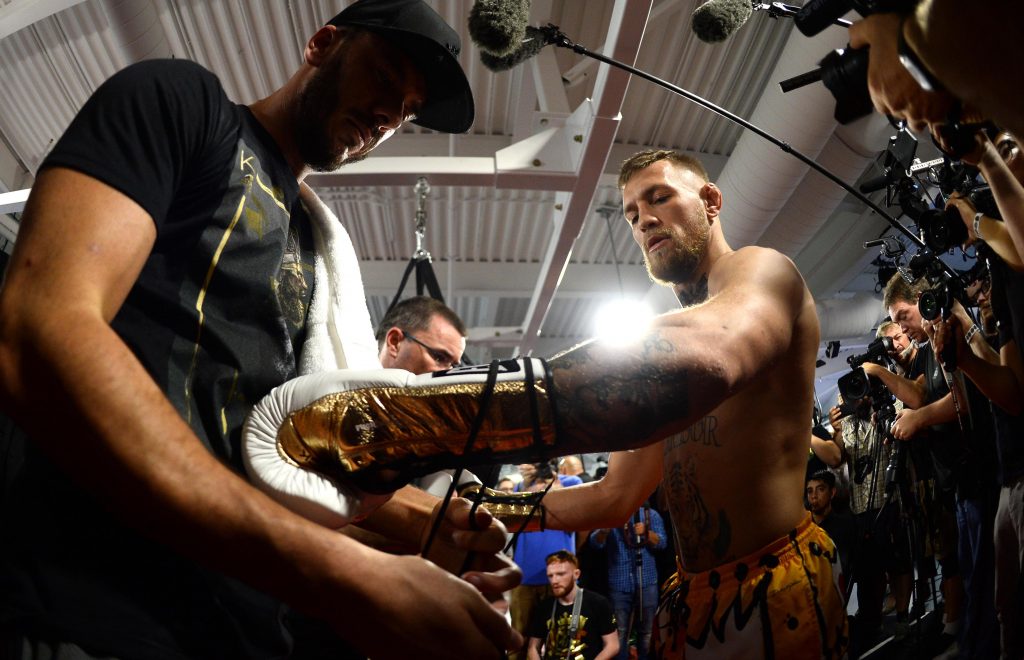 Now we're going to break down some facets of boxing and look at how both fighters measure up.
Speed
Despite being 40 years old, Floyd is still one of the quickest fighters in any combat sport. He may not be quite as rapid with both the hands and feet as he used to be but Mayweather still has significant quickness and ability to move his head and body around the ring.
McGregor on the other hand is more about timing and precision than pure, raw speed. He's fast no doubt, but the Irishman doesn't have elite quickness, especially not in terms of boxing and hand speed. Conor may very well rely on his precision, but he's up against perhaps the most precise fighter to ever step in a ring.
Floyd has the advantage here.
Power
This is one of the areas where McGregor may be able to make up for his significant shortcomings. Floyd Mayweather has never really had power, he has a paltry KO percentage of just over 50% over the course of his career and hasn't chalked one up in the books since he, let's face it, sucker punched Victor Ortiz in 2011.
Conor's power meanwhile is scary, albeit usually in the form of four-ounce MMA gloves. The Notorious' left hand is often the last thing his opponents see before they crash backwards to the mat, and if he manages to connect flush, one of the biggest 'if's' of all time for the record, then he may just knock him out.
The pair are set to fight in eight-ounce gloves, so it will the height of interest to see if Conor's KO power can translate, but he undoubtedly has the edge, for once.
Defence
Just as power was easy to call for McGregor, defence is just as easy, if not easier to hand to Floyd. Put simply, Floyd Mayweather is the greatest defensive boxer of all time. You can count on one hand the amount of times he's been caught cleanly, never mind hurt. He is quite literally a human puzzle, a code that no one has been able to crack, no matter the tools they bring.
McGregor's boxing defence is a complete unknown, and it's hard to rely on takedown defence statistics to make a case for the 29-year-old in this one! Conor has never been known for his ability to slip shots and get out of danger, usually proffering a gung-ho style. As close to a boxing match we've seen Mcgregor in is maybe against Nate Diaz, who employs a dirty boxing style, and McGregor was hit frequently in both of those fights, which isn't a good sign if Floyd actually delivers on his pre-fight promise of going looking for Conor.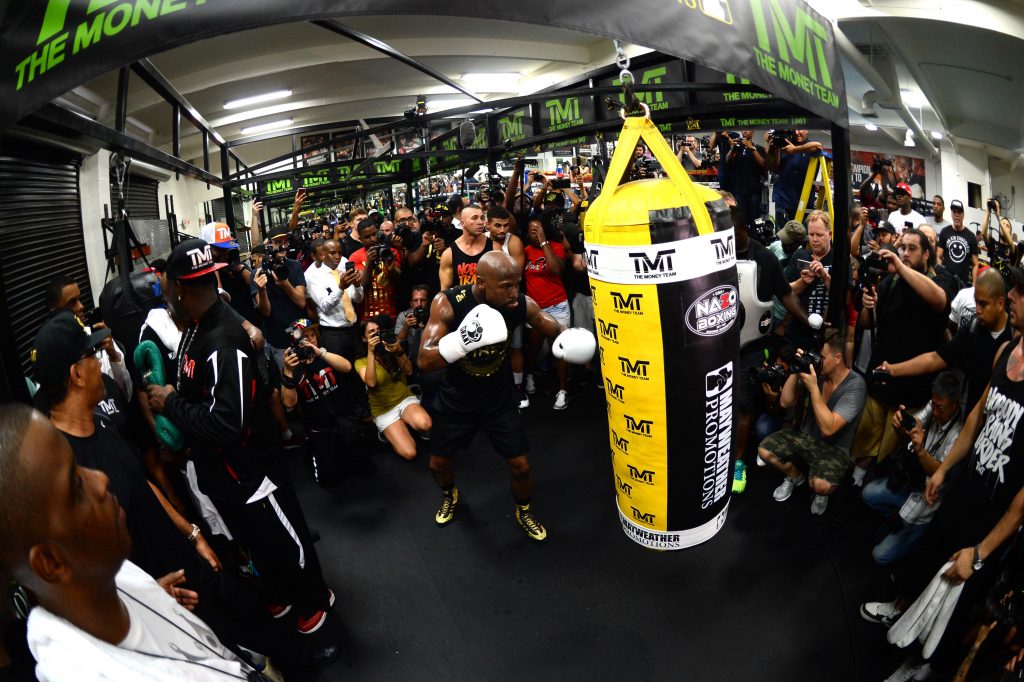 Stamina
A happy by-product of Floyd's lack of power is the fact he will always certainly go all 12 rounds in pretty much every fight. In fact 12 of his last 14 fights have went all the way to a decision, meaning Floyd has that base of fitness, still, despite ticking forward in years, meaning 12 rounds will still be a breeze.
McGregor on the other hand has shown vulnerability in his cardio. In MMA, if he hasn't blown his opponent out of the water in the first round he can struggle, as we saw in both fights against Nate Diaz. You could attribute the first performance to going up in weight to 155lbs and he managed his stamina much better in the second fight, but it's still a red flag.
With that said, Mayweather won't be trying to literally wrestle him to the ground and testing him that way as in MMA, so we'll get a good insight in to the general stamina levels of fighters from each sport.
Chin/Durability
This one's a little trickier to consider, as Floyd's career is so devoid of incidents to analyse. He's probably been hit hardest by Shane Mosely and Marcos Maidana, but even then he regrouped, turned on the mind mathematics and started outclassing his opponent. Does this mean he has a good chin? Or has he had to hone his defence because he can't afford to get hit? Honestly, we'll probably never know.
There's also questions about Floyd's hands. The Las Vegas native has notoriously brittle hands, which could go some way to explaining his poor knock-out percentage and more conservative fighting style. If he does go to attack McGregor, he'll have to be extra vigilant of damaging the things he needs most.
We talked about McGregor's defence earlier, and while not the best, he makes up for it with what appears to be a solid chin. Add to that general advantage in just sheer physical size and presence, not to mention he's in his prime and the much younger man at 29, and you have to give Conor the advantage here.
There's a lot of unknowns in this fight, that's a given with a fighter without a professional boxing record, but that's where McGregor's chances live, in the unknown, in the little slice of limbo between the two disciplines.
McGregor's decision to hire Joe Cortez, referee of some of the biggest boxing bouts of all time, as his sparring referee signal he is testing the water, seeing how far the rules can be bent without breaking.
Just how unorthodox McGregor is on the night under a different referee remains to be seen, but to be unorthodox is 100% his plan, and it's what will provide him with the 1% chance he has.
If he incorporates MMA-like movements, minus the MMA strikes, it could confuse Floyd.
We must remember though, despite allegedly lacking such fundamental life skills like reading, Floyd's brain is a boxing super-computer, who won't take very long to run the diagnostics on the Irishman's intentionally wild and unpredictable patterns.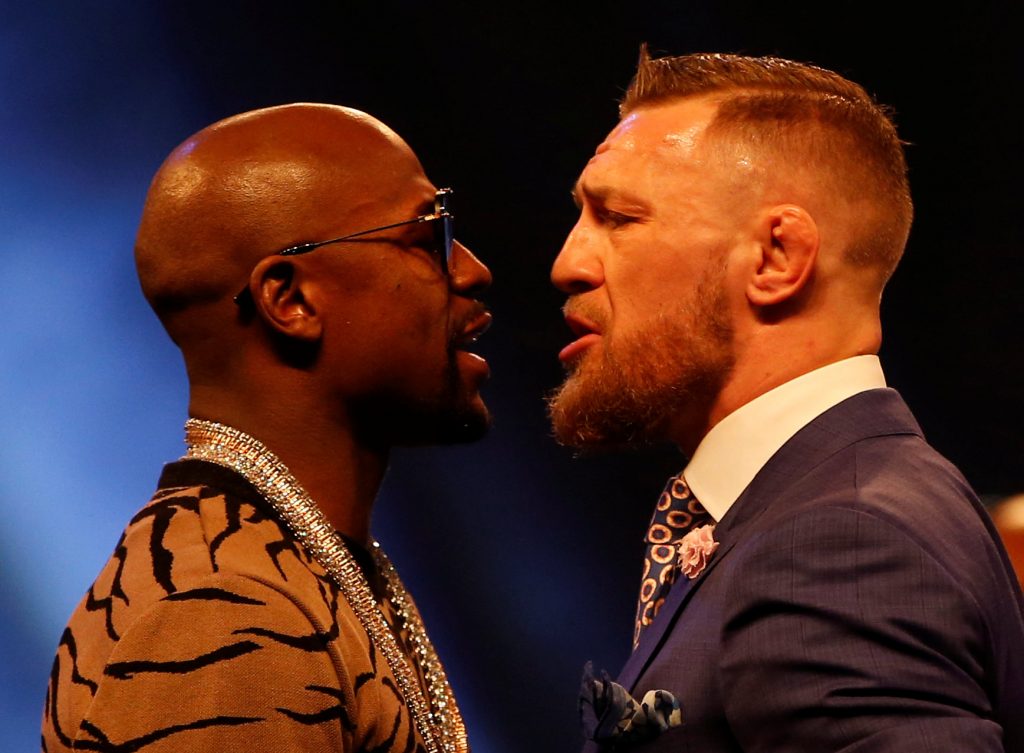 But in truth, any analysis lain on the table comes with a caveat. Which is that whatever the outcome, which we've established is 99% likely to go one way, there is no losing for either man.
The only way either leaves this fight with their tail between their legs is if Mayweather suffers a loss or god forbid a brutal KO at the hands of McGregor, which would have massive ramifications for Floyd's legacy, and importantly, boxing's overall credibility.
But otherwise, if Conor loses a decision, he comes away with his reputation and bank balance enhanced. Even if he loses via TKO or KO, no one in their heart of hearts expects him to win the fight, and he gets to return to a sport where losses aren't seen as pivotal or crucial to a fighter's career, often being seen to make them better.
Either way, when all is said and done, they'll both be sleeping with a big bag with a cartoon $ sign on it later that night.
Author: Chris Coates | @Coates_17
The fight is expected to start around 4-5am BST on Saturday night/Sunday Morning and will be shown on Sky Box Office in the UK.