Brit singer Jessie J continues to be spotted out and about wearing her customised SP Walker since suffering a broken ankle earlier this summer. The pop star took to wearing the Aircast SP Walker after taking a tumble during a rehearsal in June. She was originally thought to have only sprained her ankle but tests later revealed a more serious injury.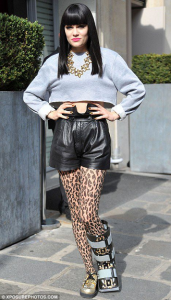 Throughout the festival season she was seen performing at numerous high profile events including Glastonbury and 4Music V Festival, despite needing reconstructive surgery.
The 23-year-old recently told the press that she has had a full bone transplant, she was found to have four fractures. Speaking to Radio One's Newsbeat she said: "None of my ankle bone is now mine. I've now had someone else's put in."
Thankfully, it appears that the singer/song writer is back on the road to recovery (of course with the help of her trusty pneumatic walking brace).
This month she posted on Twitter: "I just walked in my boot without my crutches for the first time."
Get well soon!
Author: Laura Davis