On February 24th the great and the good of the film world will gather as this yearֳ Oscars are handed out. Amongst the famous actors and actresses there are few footballers who could happily sit amongst them.
There are players who must go to RADA one day a week to perfect how many rolls they must do to make a tackle look particularly bad. The anguished face, the clutch of the ankle and the heart wrenching scream must all be perfected.
Then there is the limp after they get up from this terrible tackle. If they get it wrong it will come out comedic yet if they overdo it and make it look too tragic the manager may substitute them. They must also decide when it is appropriate to run like a gambling lamb on the first day of spring.
Crying wolf
Football fans get annoyed when they see a man who looks as if he may need a hospital bed at one minute then miraculously get up and head in the winning goal. Feigning injury is one of the curses of the modern game.
The performance is given for the benefit of the referee. They want him to fall for it and either book or send off the opposing player.
When a player is seriously injured the supporters of both teams will watch in horror as the physio runs on with his physio supplies and tries to help the player. He calls for a stretcher and the unlucky footballer leaves the pitch to the applause from all sides of the ground.
If a guy has genuine knee pain following a misplaced kick people will sympathise. We all know cold packs can really help alleviate sports injuries but if the centre forward has been clutching his knee as if he has been shot it is difficult to believe that he has been revived simply by the application of ice.
Those players who have a predilection for pretending to be more injured than they are tend to get a reputation. Especially at the top end of the game where television replays will show that the contact they have received is minimal and they have simply overreacted or worse.
Genuinely crying
Different people tolerate pain differently. Maybe it is true that six foot five, muscular men really do feel that amount of pain when they receive a slight tap on their legs from an opposition player. Also, the slightest touch can really make these less than featherlike specimens of manhood fall down.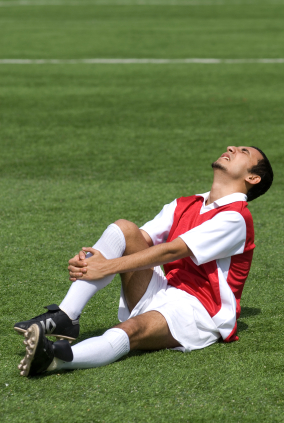 If they do truly suffer such agonies on the field maybe they should not be playing the game. Football is a physical sport and perhaps these blokes would prefer to be on the basketball court where contact is prohibited.
Yet soccer is not alone when it comes to deception. In 2009 Rugby Union had its bloodgate scandal when Harlequinֳ Tom Williams used theatrical blood to fake injury so that they could make a tactical substitution and re-introduce Nick Evans back on to the field.
This is sports acting of the highest calibre. To go to the trouble of buying a blood capsule takes fakery to a whole new level. He probably gave a better performance than Vinny Jones did in Gone in Sixty Seconds.
It is a shame that in the past to be called a sportsman required sportsmanship. These days you just need to be able to act.