One of the most important things for any athlete is that they can achieve peace of mind knowing that by using the correct equipment, they will achieve the highest levels of comfort whilst performing.
Who are Enertor?
Enertor have over 18 years experience in foot protection. They have received multiple awards and endorsements thanks to being focussed on delivering high end orthotics for professional and institutional end users.
Enertor Insoles are designed by leading Podiatrists and made with D3O impact protection technology. This patented smart material cushions the foot when moved slowly, but on impact the material locks together to absorb and disperse energy before instantly returning to its flexible state.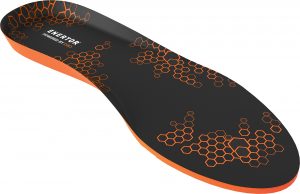 D3O's material scientists carefully tune unique polymer blends to achieve specific properties to the final application such as temperature stability, abrasion resistance or flexibility.
The D3O patented shock-absorption material has been engineered to offer long-term cushioning and superior comfort, supporting normal muscle function, reducing lower leg pain and reducing the risk of injury. Enertor Insoles are perfect for walking, running, and all sports.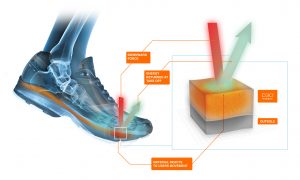 Scientifically proven to reduce injuries – the only insole worn & endorsed by Usain Bolt.
How do Enertor insoles enhance your performance?
Thanks to their patented design, Enertor insoles are clinically proven to help with foot conditions such as Plantar Faciitis.
In January 2017, Enertor conducted a trial on their products in relation to the foot condition Plantar Fasciitis. Plantar Fasciitis is the most common foot condition affecting over 10% of the population.
With a sample size of 120 sufferers who weren't already receiving treatment, Enertor found:
91% reported an improvement in their overall level of pain after using Enertor insoles
Levels of overall pain reduced by 35% on average after wearing Enertor insoles for 4 weeks
83% would recommend Enertor insoles to a friend
After 4 weeks, 83% of chronic sufferers saw an improvement in pain after exercise
87% reported an improvement in how frequently they experienced pain
75% of new sufferers agree the Enertor insoles have helped heal their Plantar Fasciitis
Enertor Insoles at PhysioRoom
Here at PhysioRoom, we have a selection of full-length and ¾ length Enertor Insoles that are certain to improve both your levels of comfort, and performance.
So, enhance your footwear today by heading over to PhysioRooms' dedicated Enertor section now.
Or if you would like to look at the full range of insoles that we have to offer at PhysioRoom, take a look our main insoles page instead.