This is a cheery subject as we approach the New Year but depression in football is more widespread than you might think. Unfortunately, it is not something that can be cured with a magic sponge from the physio when he runs on with his physio supplies.
We all feel down when our team loses. Most of us forget about it as soon as we get home or have sunk the first after match pint. It is, after all, only a game.
Stan Collymore, Tony Adams and Paul Merson have all spoken about how they had to cope with depression during their careers. It may seem strange to some people that fortune earning footballers can get depressed but they do.
Going down
The Secret Footballer in his column in the Guardian newspaper on the 26 November, 2011 wrote, ӏne minute everything is going well and seconds later things have never looked so bleak; sometimes the pressure is simply too much.Ԝn
Given the level of scrutiny the modern game receives the pressure on these young men playing the game is immense. Every movement is watched and a player canִ avoid the mediaֳ view and, probably worse, the social mediaֳ view of every incident.
There is an assumption that because someone is really good at football they must have a healthy body and a healthy mind. Many footballers are very insecure and a perfect storm of circumstances can tip them over the edge.
For instance, there was no first aid kit that could help Robert Enke from committing suicide following the death of his daughter. Yet his depression was not helped by the continual scrutiny of his performances by experts and non-experts alike.
What can be done?
Mental illness is still a taboo subject in our society. If you see someone wearing a ligament knee support you know that they suffer from knee pain and you can sympathise with their problem.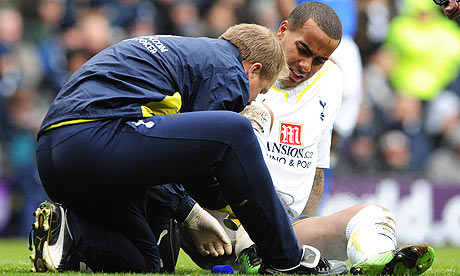 A person that is suffering from depression does not wear any bandages. You canִ see what is hurting them so you canִ understand why they are ill. Because of ignorance the issues and problems that arise from depression are largely ignored.
Tony Adams has set up his Sporting Chance clinic because he does recognise that footballers who suffer from alcoholism, drug or gambling addiction are usually suffering from depression. His centre can help them to confront and defeat their problems.
As a whole though the testosterone fuelled world of professional football finds it difficult to deal with the fact some players have problems. Players who are suffering from depression will then suppress their feelings which could make matters worse.
Hope for the future
When Gary Speed killed himself it came as a shock to the whole football family. Here was a man who was manager of Wales, a respected former player with a family. What could have led him to do such a thing?
Hopefully, his death will make the football world sit up and realise that a footballerֳ head is not just for heading the ball but it needs looking after.