As the FIFA Confederations Cup gets underway in Russia this Saturday, Chris Coates wonders whether the extra games this showpiece requires are worth it for already exhausted players
Ah, the Confederations Cup, football's equivalent of a pregnant woman's water breaking.
Indeed, two equally beautiful moments, but while one signifies the beginning of another precious human life, the other alerts us that the FIFA World Cup is but one short year away.
This is where the analogy breaks down somewhat. The pure innocence of new-born life strikes a stark contrast to what we can only imagine was a dark, smoke-filled room in which Russia were able to secure their hosting of the 2018 World Cup.
But for the purposes of this blog, we shall shy away from the shady dealings of the Russian government and FIFA and simply ask, apart from it acting as the unneeded nudge in the back that the big one is next year…just what exactly is the bloody point?
Sure, us beggars can't be choosers at the moment, and this Confederations Cup would on the surface offer up a significantly bigger thirst-quencher in this barren landscape than even that of the Under 20 World Cup where a young England team guaranteed long careers of scrutiny.
Yet, one can't help but wonder how the players, who have been tasked with even-further putting their summer holidays on hold, feel about this one.
There really isn't much that can be read in to the results at these tournaments, the USA's 2-0 semi-final victory over Spain in 2009, where Jozy Altidore starred, tells you enough on that front.
But putting oneself in the position of devils advocate, you can always argue that logistically this is a necessary trial, a needed dress rehearsal for the main event next summer.
In a time where football infrastructure surrounding major tournaments is hot under the microscope, of the media at least, it's vital that Vladimir Putin shows they can put on a show, or can at least get through the tournament without all hell breaking loose, which seems to be enough these days.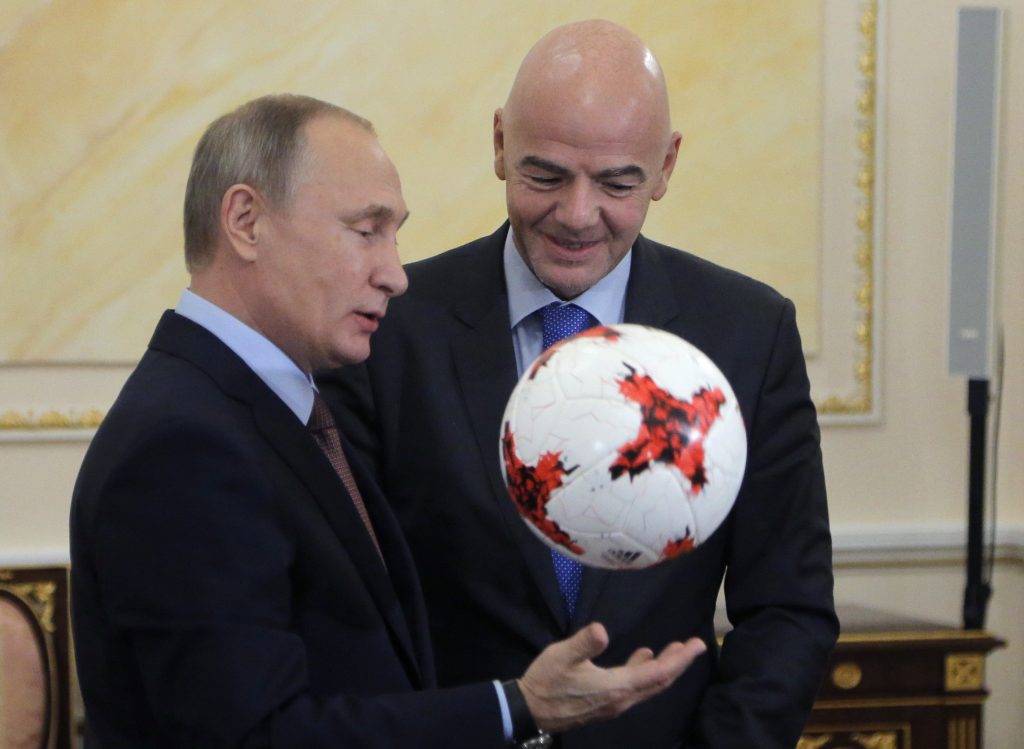 It's this need for ceremony, this desire for the 'event' from FIFA and some world leaders that has perhaps superseded the physical health of the players in recent years.
Sure, looking at Qatar being awarded the 2022 World Cup could lead you to thinking they have desire for something other than ceremony.
But it's another to add to the list of the game's governing bodies putting other factors(whatever they may be) above the well-being of players(and middle-eastern construction workers, seemingly).
The issues come more so in to focus when we consider the current schedules of certain elite-level players, such as Cristiano Ronaldo.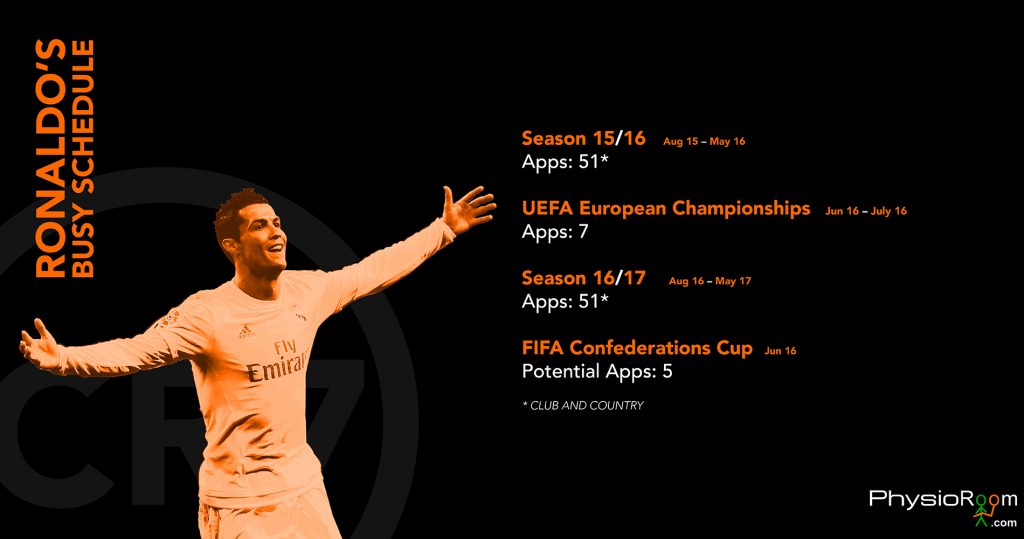 As you can see from our graphic, Ronaldo has had quite the schedule over the past couple of years.
After a 14/15 season that had him nursing knee tendonitis, Ronaldo played out a 51 game season with club and country from August until May of 2016.
Fresh off a Champions League victory, Ronaldo was then straight off to France to lead his nation to victory at Euro 2016 before returning to Los Blancos to take part in a season where they won a league and Champions League double. Again, for club and country playing 51 times.
And now, when you would think he deserved a rest, he's out in Russia. Such is the life of a world superstar and a nations hero as well as captain.
The former Manchester United man will be afforded a small window of rest during the coming pre-season however, Portugal's performance depending.
Real Madrid manager Zinedine Zidane has confirmed CR7 won't set foot on the pitch in the clubs US tour as last year after the European Championships.
But is it enough? For Ronaldo, let's face it, probably. But not every footballer was blessed with his genetics and sheer, insatiable desire to generally be great and along with it, very fit.
With that said, it's not as though Ronaldo hasn't had to manage and nurse himself through periods of games. Cristiano was suffering through knee tendonitis in 2014 that saw him struggle at the World Cup, this sandwiched between two more hectic seasons.
And it's not unusual for the forward to play when hurt, something we witnessed in the Euro 2016 final just last year.
He broke down early in the game with a knee ligament injury, resulting in his now infamous, unofficial touchline coaching stint. As well as the appearance of unfathomably big moths. That was before trying to play on for several minutes while injured.
There's a cause and effect question here; Does Ronaldo's high number of games make him more susceptible to injury? That we can never truly know, but you can't ignore the pattern.
More football brings more injuries, and 'the football' is only getting bigger and more bloated.
It's also worth taking in to account that the Spanish season may start one week earlier than is tradition due to the football world returning to Russia to compete for the World Cup next summer.
Meaning, the likes of Ronaldo may very well have been playing for several years with no real, prolonged rest.
And in Ronaldo's case specifically, he may end up playing from the start of the 14/15 domestic campaign, straight through until the end of the 2018/19 season thanks to next summer's World Cup, with nothing more than a couple of weeks grabbed here and there.
Which given the level he competes at, is quite incredible to think about.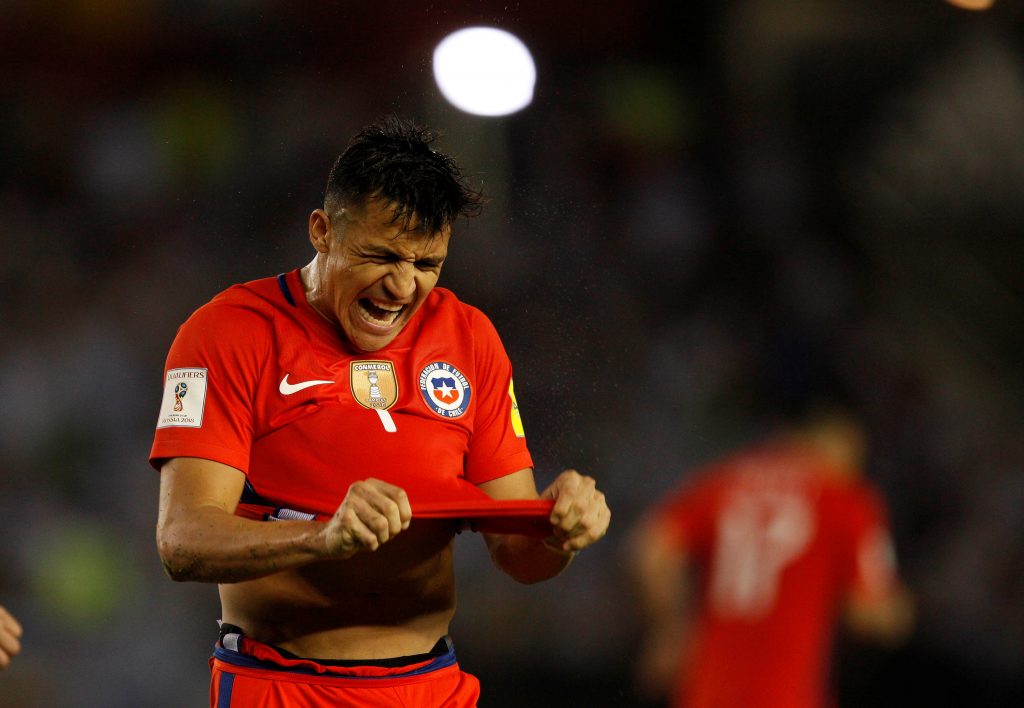 Another great example is Alexis Sanchez, who'll attend the tournament with Chile. The very reason they're here is because they won the last Copa America, in fact, they won the last two.
Meaning after the 2018/19 season, Sanchez may have played pretty much non-stop since the 2013/14 domestic season began, with a World Cup in 2014, Copa America's in 2015 and 2016, a Confederations Cup this summer and a World Cup in 2018 sandwiched between seasons.
Oh, and did we mention there's a Copa America scheduled for the summer of 2019? Poor Alexis, when can he relax with his dogs?