With Wimbledon just around the corner we ask the most important question of our very own Andy Murray.
Can he do what no other British male has done since Fred Perry back in 1936 and win that elusive silver gilt cup?
Looking at his chances in this 2013 championship, even the most anti-Murray tennis fan must feel some kind of sympathy for the Portuguese supporting scot.ʠThe tennis gods have ճervedՠhim up a ըard-hittingՠdraw due to the controversial ranking system currently in place.ʠNot many can blame Murray for living up to his now legendary dour persona during interviews this week whilst discussing the order of play in this prestigious event.
Due to the one-year ranking rule Nadal has been ranked 5th in the tournament which potentially leaves him ominously looming in the quarter final stage to meet Murray.
Murray and Nadal have a history of long fought out games which in the past has put monumental stress on the players both physically and mentally.ʠNot what any player needs with two more rounds to the coveted prize.
The thought of putting Nadal out early would please the not so easily pleased scot, but knowledge of the impending Federer in the semis and Djokivic in the final certainly wonִ cheer Սuzzaՠup.
Murray would no doubt be praying for rain of biblical proportions between his matches to allow the respite his body requires at this level. The thought of Cliff Richard serenading the Wimbledon crowd for a couple of days would almost seem bearable for all Murray fans if it allowed him to be at the top of his game.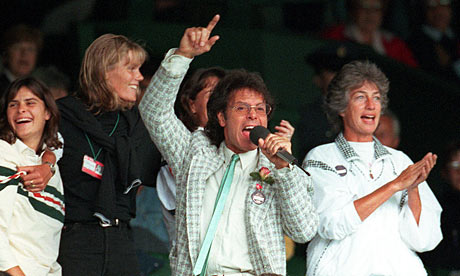 Murray is coming into this tournament with high expectations, indeed very high.ʠThe hoodoo of a grand slam finally broken, an Olympic gold medal and a fantastic 3rd win at what is fast becoming the Queenֳ Murray Club all in the last 12 months will have Murray floating into Wimbledon like a Pat Rafter drop shot.ʠUnfortunately for Andy it will take more than self belief to beat the three most formidable players on the circuit in succession.
A gargantuan effort, grit, will, ruthlessness, skill and a whole lot of luck will be required to succeed in this seemingly impossible challenge. ˏne accusation none of Murrays detractors can level at him is that he isnִ up for a challenge, he has fought all his life, with his fitness, the media, his adversaries and even his own demons yet he seems to have won almost every battle.
All of these skills have been shown in abundance with the guidance of Ivan Lendl.ʠIvan the Terrible has helped channel Murrayֳ aggression in a much more positive way and he is beginning to emulate the successes of his mentor.
Murray continues to prove his doubters wrong and I certainly wouldnִ bet against him sending Murray Mount into a state of frenzy on the final day of the tournament, ճlammingՠPippa Middletonֳ tennis etiquette guide sheet into the shredder.
Who can forget last years tears in his emotional loserֳ speech against Roger Federer?ʠAnd will it be tears again at the end of the fantastic fortnight? ˍy guess is yes but I֭ hoping for different reasons this time around.
With a huge thanks to guest writer Chris Wood.