Lisfranc Joint Injury Explained
A Lisfranc injury is a cause of foot pain that may be difficult to diagnose. This infrequent foot injury occurs when there is high energy trauma to the top of the foot. This trauma may occur in road traffic accidents or during sports such as football (soccer) when a player kicks the sole of an opponents boot. The Lisfranc joint injury refers to fracture dislocation or ligament sprain at the tarso-metatarsal joint. Typically, this injury affects 1 person per 55,000 each year.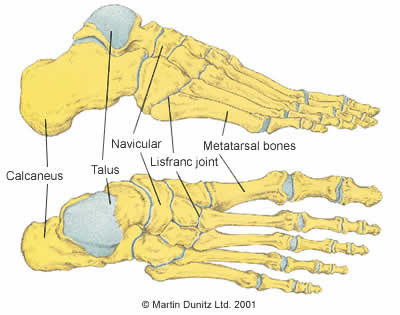 The tarso-metatarsal joint is referred to as the Lisfranc joint after Jaques Lisfranc, who was one of Napoleon's field surgeons. He first described an amputation through this joint for the treatment of gangrene in the foot in the nineteenth century and ever since his name has been associated with this joint.
Lisfranc Joint Injury Signs & Symptoms
The Lisfranc joint injury may be difficult to diagnose. Because of the history of direct trauma to the top of the foot it is difficult to differentiate from a tarsal bone fracture or bone bruising. This is because the signs and symptoms are similar – an inability to weight bear normally due to foot pain, tenderness to touch, swollen foot and bruising. Even an x-ray can be equivocal. As many as one in five Lisfranc joint injuries are not picked up on x-ray.
In the absence of an obvious fracture, or more subtle bony fragment on an x-ray, the thing to look for is displacement between the metatarsal and tarsal bones. For this reason the x-ray has to be taken while the patient is standing.
Lisfranc Joint Injury Treatment
What you can do
Consult a sports injury expert
Apply ice packs/cold therapy to reduce swelling
Wear a removable plastic cast for protection
Use a buoyancy aid for pool exercises
Use massage to help reduce swelling
Treatment is dependent on the severity of the injury. If there is a sprain (partial tear) of the tarso-metatarsal ligament, with no widening of the metatarsals evident on x-ray, then conservative management should suffice. The patient is placed in a removable plastic cast to immobilise the foot for between four and six weeks. Treatment with a chartered physiotherapist can be continued during this time usually aimed at increasing the strength of intrinsic foot muscles and addressing imbalances within the foot.
Ice therapy is very effective to relieve foot pain. Ice packs applied for twenty minutes every couple of hours may help with the pain but pain-relieving medication may also be necessary. An at home cryotherapy cuff is an effective method of providing ice therapy to the foot, whilst protecting the injured tissues from further damage. It can provide continuous ice cold water and compression for 6 hours and significantly reduce foot pain and swelling.
One of the many advantages of a walking ankle brace boot is that it allows the user to have regular therapy sessions. The cast can be removed and non weight bearing exercises, such as pool running using a floatation belt, can allow the user to maintain fitness. Removing the cast also allows the therapist to mobilize the ankle joint to prevent stiffness.
Avoiding tying shoe laces too tight may also help as the position of laces on the top of the foot can irritate this injury.
After six weeks of protected walking in a removable plastic cast, normal weight bearing can usually be resumed and the physiotherapist can perform mobilising techniques to relieve stiffness which may have developed in the foot joints. Massage can be helpful if there is still a swollen foot. A gradual return to sporting activities is then permitted alongside an exercise program to address weaknesses or imbalances within the foot musculature.
Where there is more severe tarso-metatarsal ligament damage, the prognosis is not so good. This ligament damage causes instability at the Lisfranc joint complex, which is evident on x-ray as widening between the tarso-metatarsal joints. If a person attempts to return to a sport such as soccer with this damage they will experience foot pain and have problems with activities such as kicking and turning. In the long-term, this instability can pre-dispose to osteoarthritis at the Lisfranc joint. For this reason many orthopaedic consultants advocate surgical fixation to restore the original tarso-metatarsal anatomy.
Depending on the surgeon's preference, wires or screws can be used to bring the bones back to their original position and allow the damaged ligaments to heal. Following surgery the patient must wear a ankle foot cast for between two and three months. After three months the patient can gradually return to weight bearing activities. In order to return to sports, particularly soccer the patient must discuss whether activity is appropriate with the screw or wire still in place. If the metal work has to be removed, there is usually a further six week period where the bone heals fully, before a return to activity can be considered.
Lisfranc Joint Injury Prevention
It is very difficult to prevent a Lisfranc injury, but wearing suitable footwear may be helpful during sports that involve the risk of direct trauma to the foot. Also having good proprioception, balance and intrinsic foot strength can help reduce the risk of sever injury.