Do your Knee Joints Suffer from Pain from Arthritis?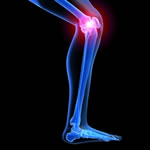 Arthritis of the knee (also known as Osteoarthritis of the knee) causes joint pain, stiffness, restriction of movement and a creaking noise known as 'Crepitus'. Knee Arthritis flare-ups can leave you with a painful swollen knee and impaired function. The symptoms of Knee Arthritis can severely affect everyday activities such as stair climbing and gardening. Eventually, Knee Arthritis can progress to the point where knee replacement surgery is the only option.
How can you Manage Knee Arthritis?
The symptoms of Arthritis needn't compromise your lifestyle. There is always something that can be done for Arthritis. With a sensible approach and supervised medical care it's possible for you to manage your knee joint pain and live an active, healthy life. Improved support for the knee joint can relieve the symptoms of Arthritis.
What can you do?
Keep Active & Healthy
Follow the advice of your doctor or Chartered Physiotherapist. A healthy diet can prevent weight gain and reduce inflammation in the affected joint. Regular non-weight-bearing exercises such as cycling or running in the pool with a Buoyancy Belt can help maintain muscle strength and range of movement.
Wear a Neoprene Knee Support
A Neoprene Knee Support can be effective in providing warmth and support to the knee joint. This can effectively reduce knee pain symptoms, particularly in cold weather.
Wear a Hinged Knee Brace
In more advanced cases of Knee Arthritis, a Hinged Knee Brace may be more appropriate. Hinged Knee Braces provide more physical restraint around the knee joint and help to restore knee stability.
Wear a Donjoy Knee Brace
For the ultimate in knee bracing for Knee Arthritis a Donjoy Arthritis Knee Brace (extra lite) is unsurpassed. It improves the mechanics of the knee joint to relieve the stress on the affected part of the knee joint. This not only provides relief from painful knee symptoms, but it also slows down the disease process of Arthritis. By slowing knee joint degeneration it delays the need for knee replacement surgery.