For some the disappointment will live on, while others are still basking in the glory of another successful campaign but for the majority this weekend will provide the ideal opportunity to start afresh with renewed vigour, blind-abandonment and unabated enthusiasm. It can only mean one thing Рthe new 2013/14 Premier League is upon us and this year we֬l be providing a quick overview of all the keyˣlose-season developments with the help of our friends across @fantasyYirma.
This season will see a fairly unique˰henomenon˷hereby each of last seasonsՠtop three finishers will enter the new campaign with a fresh man at the helm. SAF retires following 26 years of service, Mancini pays the price for failing to deliver after heavy investment and Chelsea turn to a familiar face to become the saviour of Stamford Bridge once again!
In the six years since Jose Mourinho left the Blues the management revolving door has swung open for seven different bosses but now the self-proclaimed Փpecial Oneՠis back!
The two-time Premier League winner returns to West London intent on breaking Manchestersՠdominance of the past few seasons to help the Blues secure a first league title in what will be four years.
New signings have arrived in the form of Andre Schurrle, Marco van Ginkel and veteran goalkeeper Mark Schwarzer, but perhaps and more important is the return of 20 year-old beast Romelu Lukaku. This brute of a Belgian striker impressed greatly in his loan spell at West Brom last season netting 17 league goals, almost a third of his teams total contribution and will be a welcome addition to the forward-line.
Mourinho as always will ensure that Chelsea are title contenders, which will inevitably see them go head-to-head with one of the Manchester sides for glory although an injury-free Arsenal team and an evolving Liverpool side cannot be discounted from causing a few upsets.
As for City, new boss Manuel Pellegrini wasted no time in stamping his authority at the club.
Fernandinho, Navas, Negredo and Jovetic have all arrived at The Etihad Stadium over the summer, a move engineered to apply his own brand and culture of football at the club eradicating the few remaining remnants of the Mancini era.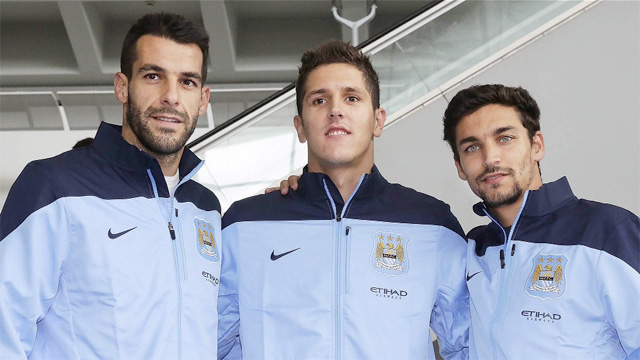 Add that to existing talent – Aguero, Toure and David Silva and The Blues make for a pretty potent force, exciting times indeed. Serious title contenders IMO, but Pellegriniֳ men will need to settle quickly.
Neighbours United could be forgiven this season for thinkingˡ 21st League Title is not of paramount importance during this transitional phase, as hopes firmly˲est on the shoulders of a Scotsman stepping into the one of the hardest roles within modern day football.
The 2013/14 Premier League season will be the first without the presence of legendary United boss Sir Alex Ferguson, with former Everton manager David Moyes the man who has been tasked with the enviable job of continuing this Manchester dynasty.
The summer acquisition ofˡn exciting but extremely raw Wilfried Zaha from Crystal Palace – one final parting shot from Sir Alex ː provides the sole significant signing to date, but the manager Moyes remains confident more players will arriveˢefore the close of the windowʭ
"I'm confident we'll have players in before the start.Ӽ/em>
However, and more importantly Moyes will need to find a way to his assert his influence over a club his predecessor once lived and breathed.
Moyesՠsettling in period promises to be the story of the season, but that isnִ to say that there wonִ be plenty more drama throughout the division.
Transfers have dominated matters at the two North London clubs, with Tottenham desperate to maintain the services of star man Gareth Bale with Real Madrid tempting Spurs resolve with a reported world-record bid for the Welshman.
Over at Arsenal Wenger has been keen to add some real finishing quality upfront which˨as often been their downfall˴o their impressive and attractive build-up play. The Gunners targeted the services of controversial Liverpool striker Luis Suarez, but as the transfer window draws closer the deal now looks to have gone cold despite Arsene Wenger announcing they –
"will be active until the end"
The Uruguayan is guaranteed to steal the headlines regardless, whilst Liverpool turn to a goalkeeper for their marquee signing bringing in the promising Belgium Simon Mignolet from Sunderland, forcing the a somewhat bewildered Pepe Reina to ply his trade elsewhere (for the moment at least). Across Stanley Park, Wigansՠrelegated but FA Cup winning manager Roberto Martinez was the man chosen to take the Blues forward, promising a fresher, more vibrant attacking style of play in the process. With a swift raid on his former club Martinez introduced the Toffees to Alcaraz, Kone and Robles however and more importantly has managed to maintain the services of Marouane Fellaini and Leighton Baines.
As for the new boys, they֬l enter the division with the excitement and innocence of a child on Christmas morning savouring the experience of playing amongst some of Europesՠelite.
Of course, Crystal Palace and Hull City have played top-flight Premier League football before and with experienced managers Ian Holloway and Steve Bruce undoubtedly providing a wealth of knowledge based upon their vast understanding of the game. But times are decidedly different across the North / South divide as Hull bring in a wealth of talent˷hich includes the likes of˄anny Graham, Tom Huddlestone and Yannick Sagbo. Whereas Ian Holloway has admitted they may struggle to fill their full 25 man Premier League quota.
Only Cardiff City are completely new to this elevated perch, but in manager Malky Mackay the club have a level-headed boss who wonִ let their Premier League status˧o to their heads Рalthough they maybe forgiven on Welsh derby day against Swansea City which is guaranteed to be a tasty affair! Gary Medel and Steven Caulker will hopefully prove to be wise investments.
So for the moment at least, we bid you farewell. Let the tinkering and tweaking commence, itֳ been far too long!
Author : Ben Dinnery and @Mark_Jones86
For PhysioRoom.com and' FantasyYIRMA.com
FantasyYIRMA.com was established in 2012,˴his niche Fantasy Football site is focused on providing news, views and insight for the English Premier League. Solid gameweek articles and Club features in addition to a top ranked free to play mini-league makes #FY a must read Fantasy source! Find us on twitter @FantasyYIRMA