After finishing the 2007/08 campaign just below mid-table and having featured in the top half for the majority of the season (even managing a week in pole position) optimism was high on Tyneside going into 2008/09. New signings Jonas Gutierrez, Danny Guthrie, Sabastien Bassong and Fabricio Coloccini were all welcome additions to the squad which we had hoped would carry Newcastle United onto the next level.
This was surely to be our year, a chance for silverware (of any sort) and as we approached a tricky opening fixture away in Manchester against Champions United. Newcastle fans were caught-up in a mixture of anticipation, excitement and hope as Katy Perry 'Kissed a Girl' sent our Geordie pulses racing.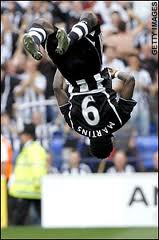 With a hugely satisfying point taken from Old Trafford (1-1, Martins) and a home victory against Bolton Wanderers (1-0, Owen) life at St James Park was good. The Magpie's had reached the dizzy heights of 4th place, albeit far too early for it to be considered anything more than a decent start!
But as the 'leaves turned brown and skies turned grey' the cracks were already beginning to appear, the artist formerly known as Mrs Brand had been toppled and the Kings of Leon occupied top spot. Although 'Sex may have only been the thing on Fire' as Newcastle plummeted into the bottom three on the back of four straight defeats in September (losing 5 from 7), the writing was already on 'another brick in the wall'.
'So What?'
You may well ask, but the similarities between then and now cannot be ignored although our blind-sighted belief maybe just starting to wane this year.
The Premier League fixture compiler provided Newcastle with the perfect opportunity to progress, gain momentum and issue a real statement of intent for the new season. With the exception of Man United and Arsenal away, Newcastle were expected to pick-up points in all of the games up until November, a great platform to push for European qualification during the second half of the year.
An opening not-to-dissimilar to 2012/13, Manchester City and Liverpool aside Newcastle could realistically take points in every game through until November.
And yet in 2008 we failed to capitalise on our fixture fortune amassing a meagre nine points against what was considered to be some of the leagues weaker sides.
'Black & White'
Of course not everything is as clear-cut as it first seems, there were other factors to consider. Newcastle picked up 11 significant injuries before the end of September, 20 in total before Christmas which led to a league high of 37 for the season.
Key players from the previous campaign had been ruled out – Alan Smith (07/08 : 33 games) picked up an Achilles injury keeping him on the side-lines for 158 days, Habib Beye (07/08 : 29 games) missed 51 days in August / September due to an Achilles problem before an ankle injury added another 85 days in December. Between them, Smudger and Beyewatch failed to muster 30 Premier League games between them.
Joey Barton's contribution was almost none existent, missing 64 days because of a knee injury in November with a metatarsal fracture in January effectively ending his season. He only managed one further 90 minute appearance in the 3-0 defeat to Liverpool.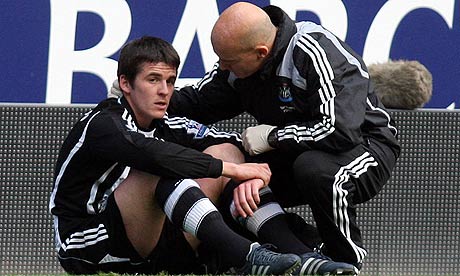 An injection of new blood momentarily offered hope as Kevin Nolan and Ryan Taylor were added in January. We beat West Brom away and drew with Everton at home, taking us to 13th but the dye had already cast.
'The Fear'
Lily Allen summed the feeling of the majority on Tyneside perfectly as Joe Kinnear fooled no-one with his 'Poker Face'; he could not hide the air of inevitability surrounding the club.
From the beginning of March Newcastle played 12 games, taking just 6 points in the process as injuries to Mark Viduka, Steven Taylor and Jose Enrique began to take its toll on a stretched squad. 'I'm Not Alone' graced the charts and Calvin Harris was right, Newcastle were drawn into a relegation dogfight, we precariously hovered around 18th stuttering and stumbling along while the teams around us picked up points – Portsmouth, Bolton and Blackburn.
Possibly the biggest travesty was the fact that even though Sunderland and Hull City were only able to collect 6 points between them, Newcastle still finished one point away from safety despite the fanfare of an Alan Shearer appointment in April.
'Bonkers'
Best described the happenings at Newcastle during one of my lowest points as a Newcastle supporter.
I would like to say with confidence that we have moved on, learned from our mistakes, turned the negatives from that experience into a positive steep learning curve, but I have my concerns.
Predictably Newcastle United feature once again amongst the Premier League elite for recorded injury incidence rates, even at this early stage. Despite a promising preseason and the introduction of Strength and Conditioning Coach Faye Downey, I guess Rome wasn't built in a day!
Allegedly this squad has "worked harder" than any other under the stewardship of Alan Pardew, and given development s (or lack of) over the past weeks pressure is certainly on Newcastle's only significant signing of the summer.
For a severely under-resourced squad, Newcastle United can ill-afford the injury failings from previous seasons. However, fans didn't need to wait long before seeing our first muscular problem of 2012/13.
'We Can't Stop'
Winger Jonas Gutierrez lasted barely 44 minutes of the opening day mauling in Manchester leaving the pitch having tweaked his hamstring. The Argentinian is still out, while team-mate Cheick Tiote was quick to follow. Although the Ivorian played the full 90 minutes at The Etihad Stadium, it came at a cost with the midfielder suffering a groin injury which ruled him out of subsequent games. Gabriel Obertan (hamstring), Davide Santon (hip), Mike Williamson, already an early season pattern is beginning to emerge. The omens are not good.
Author : Ben Dinnery
The following two tabs change content below.
Latest posts by Ben Dinnery (see all)