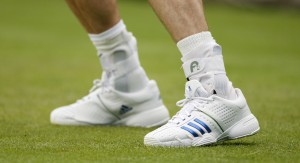 Whether it's Serena Williams applying kinesiology tape, or Rafael Nadal wrapping his knee for protection, it's not uncommon to see elite professional tennis players competing while wearing some sort of extra support.
With that in mind, even the more casual tennis fans may have noticed that Andy Murray always seems to play with some sort of contraption strapped over his socks. He even co-ordinates their colour with the rest of his tennis attire, choosing either white or black depending on what else he is wearing that day.
Due to previous injury problems, Murray has worn at least one ankle brace for as long as 11 years. The Aircast A60, available in
black
or
white
 at PhysioRoom, is his preferred choice to support and protect the area as he continues to compete at the highest level.
The Scotsman's first issues in that area occurred in his youth, when a bad twist to his left ankle rendered it more flexible and therefore more prone to turning. As an 18-year-old, he was given a wildcard for the 2005 Queen's Club tournament, but lost in the third round to Thomas Johansson after twisting the same ankle. From then on, he wore a brace on his left ankle to ensure its vulnerability did not hinder him on the court.
It wasn't until 2011 when Murray began to wear braces on both ankles, after suffering a partial tear to a tendon in his right ankle during his third-round French Open victory over Michael Berrer. After winning the first set 6-2, Murray was 2-1 ahead during the second when he sustained the injury chasing a drop-shot from the German. As onlookers winced in sympathy at the noticeable way his ankle twisted sharply while he slid to reach the ball, Murray hopped to the sidelines before lying down on the clay, clearly in intense pain.
He then spent eight minutes getting his ankle strapped before returning to the court and managing to battle on and take a 6-2 6-3 6-2 victory. After the match, he admitted: "I've never had a problem in my right ankle, I was obviously pretty worried."
Though he continued to tape his right ankle, Murray wore only one brace for the remainder of the tournament, beating Viktor Troicki and Juan Ignacio Chela before losing to Rafael Nadal in the semi-final. A large amount of "very, very strong" painkillers helped keep his ankle from troubling him as he competed.
Just three days after his clash with the Spaniard, Murray was pictured during a practice session at Queen's, this time wearing the Aircast A60 braces on both ankles. After taking expert advice on his injury as Wimbledon approached later that month, he was reassured that though competing in the tournament may slow down his recovery from his tendon injury, it was unlikely to make it worse. Murray continued to take painkillers as he got used to using a brace on his right ankle for the first time – and went on to win the title, beating Jo-Wilfried Tsonga in the final.
Following the decision to wear two ankle braces, Murray won his first ever grand slam in 2012, lifting the US Open title before winning an Olympic gold medal in London later that year.
After achieving his dream of winning Wimbledon in 2013, becoming the first British male since Fred Perry in 1936 to do so, he couldn't immediately match that success, reaching the quarter-finals and semi-finals of the competition in 2014 and 2015 respectively.
However, after a preparation which included winning the Italian Open and Queen's – for a record fifth time – as well as reaching the final of the Australian Open, the Madrid Open and the French Open, Murray clinched a second Wimbledon title in 2016 and is now eyeing the prestigious world number one spot, currently occupied by Novak Djokovic.
In terms of the ankle brace, it is easy to see why Murray opts for the Aircast A60. The white version was designed specifically for him, allowing him to stick to Wimbledon's strict clothing regulations, and is exclusive to PhysioRoom. A less bulky option than the Aircast Airsport, its sister product, the A60 is lightweight enough to wear comfortably over socks to minimise intrusion into his top-level game, while the stabiliser guards within the brace help protect his ligaments.
The A60 is ideal for those with weak or unstable ankles, or for sportsplayers who have suffered troublesome ankle injuries in the past.
Murray relies heavily on quick-footwork to perfect his aggressive counter-puncher style. The world number two and British number one is renowned for his 'serve and volley' game, and his ability to react quickly and anticipate opponents' shot selection turning defence in attack is a particular skill of his – which is why a lightweight and breathable support is so important. The Aircast A60 is his product of choice, providing the perfect combination of strength and protection to help prevent and minimise any further ankle damage.
A champion ankle brace for a champion British tennis star, the Aircast A60 is now half-price until July 29th, meaning Andy Murray won't be the only one afforded first-class levels of ankle support.
The following two tabs change content below.
Latest posts by PhysioRoom (see all)